SportsNation Blog Archives

Brock Lesnar
---
Lesnar vs. Overeem
Brock Lesnar and Alistair Overeem will face off for the right to face Junior dos Santos for the UFC heavyweight championship.

---
Diaz vs. Cerrone
Donald Cerrone will look to continue his six-fight winning streak against Nate Diaz, who has dominated the lightweight division.

---
Fitch vs. Hendricks
Jon Fitch returns to the Octagon in his first fight since February, facing off against fellow former collegiate wrestler Johny Hendricks.

---
Gustafsson vs. Matyushenko
Alexander Gustafsson is on a three-match win streak, while Vladimir Matyushenko is 5-1 in his past six bouts, his one loss to champion Jon Jones.

---
Assuncao vs. Pearson
Junior Assuncao wants to keep his seven-match win streak going, while Ross Pearson tries to come back from an August loss to Edson Barboza.

Tags:

MMA, UFC, Brock Lesnar, Nate Diaz, Donald Cerrone, Alistair Overeem, Jon Fitch, Johny Hendricks, Alexander Gustafsson, Vladimir Matyushenko, Junior Assuncao, Ross Pearson
There's been a lot of talk this week about shots to the head in the National Football League -- primarily of a "these are very bad and should be mitigated somehow" variety. Players have already experienced big-time fines for helmet-to-helmet hits, with more expected to come.
Somehow, we don't think that type of thing would fly at UFC 121. One of the main ways to win is a "knockout", after all. We'd imagine it's more than a little difficult to knock out someone by hitting them in the stomach (although we have no doubt that, were Brock Lesnar to punch us in our stomach, we would likely suffer a temporary bout of unconsciousness). The aforementioned Lesnar will be taking on undefeated Cain Velasquez this Saturday, which should prove to be a key fight in both fighters' careers. Top-ranked pound-for-pound fighter Jake Shields will also be in action, taking on Martin Kampmann. How will it all play out?
Belmir (DTV CC)
Who are you picking as winners this weekend?
MMA Live's Jon Anik
I am discouraged to pick winners for UFC 121 because I will be covering the event. Lesnar-Velasquez is really a pick 'em fight for me. I want to see them in-person before backing one or the other. That said, I still lean towards the bigger man. If I were in Las Vegas and betting the fight, I would probably take Velasquez +150.Full transcript
Tags:

Brock Lesnar, Cain Velasquez, Jake Shields, Martin Kampmann, MMA-UFC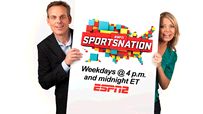 Michelle Beadle and Colin Cowherd promise to give you their undivided attention and watch U.S.-Mexico only during "SportsNation" TV commercial breaks today.
Argue the hot topics, vote on the biggest stories and chat during the show, on ESPN2 at 4 p.m. and midnight ET.
Note: Broadcast voting results as of afternoon ET.
Which fight are you more interested in watching?
Would you rather see a replay of Brock Lesnar versus Frank Mir or watch Gina Carano versus Cristiane "Cyborg" Santos live?

Have you ever sipped beer through a straw?
Maybe we should reword this question: "Are you male, and did you attend college?" And don't lie to us. Your mom won't see how you voted.

Who won Tuesday night's fight?
Kevin Youkilis gets points for the sprint, helmet toss and attempted tackle, but Rick Porcello took advantage of his momentum and ended up on top.
What do you think about Michigan's tackling dummies?
The Wolverines hit tackling dummies adorned with Ohio State stickers in practice. Is this a smart, motivational move or a dumb tactic?

Will the Rick Pitino story affect Louisville recruiting?
Pitino reportedly told police that he had consensual sex with and paid for an abortion for the woman who has been charged with trying to extort him.
What is "SportsNation" TV, and how do you make your voice heard? Read about the new ESPN show that features fan opinions with calls, tweets, polls, rankers and more.
Tags:

MMA-UFC, Brock Lesnar, Frank Mir, Cristiane Santos, Gina Carano, Louisville Cardinals, Louisville Cardinals, Boston Red Sox, Detroit Tigers, Kevin Youkilis, Rick Porcello, Michigan Wolverines, Ohio State Buckeyes