SportsNation Blog Archives

Shaquille O'Neal
September 21, 2015
Sep
21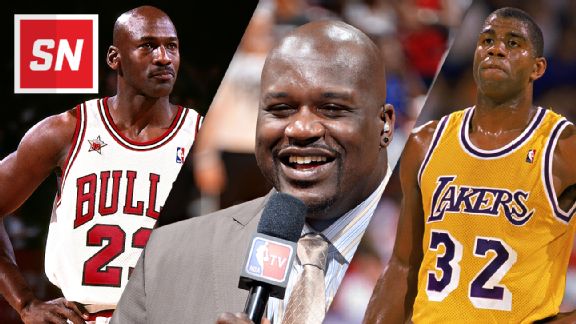 Getty Images
NBA top fives are in the air. Kevin Durant gave his list two weeks ago, and now, one of Durant's picks has made his own choices.
In an interview with The Times-Picayune of New Orleans, former Los Angeles Lakers (and Orlando Magic ... and Miami Heat ... and a few other teams) big man Shaquille O'Neal was asked his all-time starting five. His answer:
"Bill Russell won 11 championships. Charles Barkley is my guy, but I like Karl Malone. Then there's the guy who made me who I am -- Dr. J [Julius Erving]. I've got Michael [Jordan] at the two. Then, I'm going to go with the big guard with Magic Johnson at the one."
Now, O'Neal made sure NOT to put an exclamation point on his list, saying:
"I see a problem with answering these questions. A lot of people get their feelings hurt. Then some of you guys [reporters] be trying to start trouble, like Shaq leaving Kobe [Bryant] off. Then it's Shaq and Kobe.
"But that's my top five for playing reasons and what they did. Russell doesn't have high [statistical] numbers, but with 11 championships, nobody is beating that."
We're not doing that, Shaq! We know you're mending fences with former teammate Kobe Bryant and certainly wouldn't leave him off as a dig. Heck, he wouldn't be on this writer's top five, either -- not because Kobe hasn't been great (he has), but when you get to the upper reaches of the NBA's all-timers list, it's really, really, really competitive.
Having said that, O'Neal did make some interesting choices; Malone and Erving, in particular, don't appear on a great deal of these lists. So we ask you:
He went too soon: Darryl Dawkins, aka Chocolate Thunder, aka Dr. Dunk, died Thursday at age 58.
His combination of personality and backboard-shattering dunks made him a player no hoops fan could forget. So it's only natural that a social media outpouring followed the news, featuring current and former Philadelphia 76ers, big-time dunkers, other stars past and present, and even those who never played in the NBA:
RIP Chocolate Thunder pic.twitter.com/WFFCPqeELk

— Allen Iverson (@alleniverson) August 27, 2015
Rest In Peace Darryl Dawkins aka Chocolate Thunder pic.twitter.com/0FPKTUel6I

— SHAQ (@SHAQ) August 27, 2015
R.I.P to Orlando florida's own "Chocolate Thunder" Darryl Dawkins. You will be missed my friend. You paved ... http://t.co/NXoiej1nDP

— Vince Carter (@mrvincecarter15) August 27, 2015
So sad to hear that my friend, NBA Legend Darryl Dawkins aka "Chocolate Thunder" passed away.

— Earvin Magic Johnson (@MagicJohnson) August 27, 2015
Darryl Dawkins' bigger than life personality will be missed by all. He was a good friend and I will miss him dearly.

— Earvin Magic Johnson (@MagicJohnson) August 27, 2015
I couldn't wait to see Darryl at every NBA All-Star Weekend. He was always the life of the party!

— Earvin Magic Johnson (@MagicJohnson) August 27, 2015
#RIP #ChocolateThunder pic.twitter.com/PsHPFl7UCO

— Chris Paul (@CP3) August 27, 2015
#RIPDarrylDawkins #ChocolateThunder

— Kobe Bryant (@kobebryant) August 27, 2015
RIP Darryl Dawkins #chocolatethunder! All my prayers to family.

— Isiah Thomas (@iamisiahthomas) August 27, 2015
I can't believe the news about my friend Darryl Dawkins. A fun spirited, loving and family man I hope you rest easy. Praying for your family

— Tyrone Muggsy Bogues (@MuggsyBogues) August 27, 2015
RIP to Darryl Dawkins aka "Chocolate Thunder" - a great man, entertainer, athlete and ferocious dunker. He will be missed but not forgotten.

— Kevin Johnson (@KJ_MayorJohnson) August 27, 2015
Darryl Dawkins was an icon, as a Sixer legend but more as a person. He will be truly missed by all. RIP #ChocolateThunder

— Jahlil Okafor (@JahlilOkafor) August 27, 2015
I'm going to miss you so much Uncle Darryl. There will never be another Chocolate Thunder. Love you so much and going to miss you so much..

— Karl-Anthony Towns (@KarlTowns) August 27, 2015
RIP Darryl Dawkins... Dr Dunk... Chocolate Thunder... one of THE nicest men... you will be missed. Prayers to his family, friends & fans

— Gabrielle Union (@itsgabrielleu) August 27, 2015
R.I.P Darryl Dawkins "Chocolate Thunder"

— Chad Johnson (@ochocinco) August 27, 2015
Rest in peace Darryl Dawkins. Wonderful memories of the 1980 Championships vs. Philadelphia. You had your own style. #ChocolateThunder

— Jeanie Buss (@JeanieBuss) August 27, 2015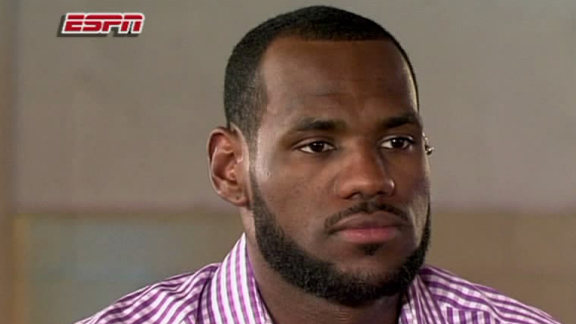 Five years ago today, LeBron James announced he was taking his talents to South Beach. But while his announcement garnered the most attention, he wasn't the only high-profile player to switch jerseys that summer. We revisit the other major "decisions" made that fateful summer, and which moves warrant a thumbs up -- or thumbs down.
Note: Dirk Nowitzki, Dwyane Wade, Joe Johnson and Yao Ming all re-signed with their respective clubs and therefore weren't included in the discussion.
• • •
Chris Bosh: From Toronto Raptors to Miami Heat
Thumbs up
Prior to "The Decision," Bosh swapped digits going from The 6 to the 305, incentivized by a "secret" agreement from LeBron to form a new Big 3 in Miami. The result: $110.1 million, one asinine welcome pep rally, five consecutive All-Star appearances, and not one, not two - well, we all know how that went.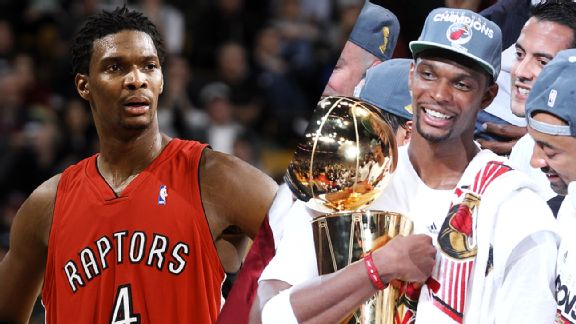 Getty Images, USA Today Sports
Amar'e Stoudemire: From Phoenix Suns to New York Knicks
Thumbs down
Concerns over his health led Amar'e to desert Phoenix for the Knicks' $100 million money grab. He was a Broadway hit while clinching three straight playoff berths, but fans turned on him (and the team) in a New York minute once injuries and a lack of chemistry with Carmelo Anthony made the franchise a punchline.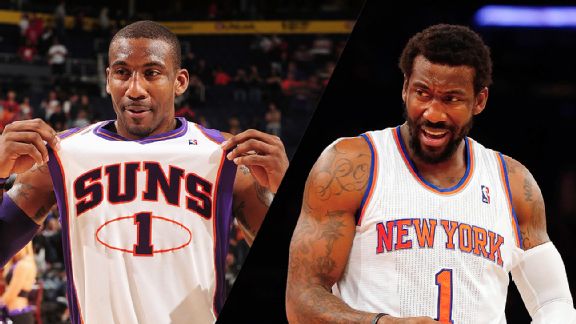 Getty Images
Carlos Boozer: From Utah Jazz to Chicago Bulls
Thumbs down
Boozer was productive in Chicago (averaging 15.5 points and 9.0 points per game), but the team could not overcome his horrible D, Derrick Rose's injuries or their Miami rivals to make his tenure a success. His Midwest move netted him close to $80 million, but resulted in an acrimonious divorce reminiscent of his exit from Utah.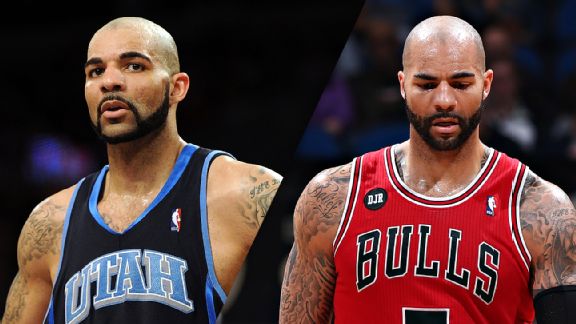 Getty Images
David Lee: From New York Knicks to Golden State Warriors
Thumbs up
Despite losing his spot in the rotation this year, Lee's decision to bolt Broadway was profitable both on and off the court. The stat-stuffing forward pocketed $80 million in a sign-and-trade deal that helped him escape the NBA's version of Alcatraz for greener (and championship gold) pastures.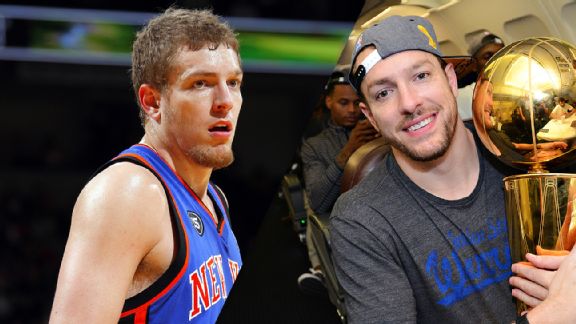 Getty Images
Shaquille O'Neal: From Cleveland Cavaliers to Boston Celtics
Thumbs up
At this juncture of his career, Shaq was in full title-chasing mode, willing to latch on to any squad with a glimmer of title hopes. That led to a forgettable, injury-riddled season on the court; but a wildly entertaining year off it, because, well, he's Shaq. Now can we get the "Shaq statue" a permanent home in Harvard Square?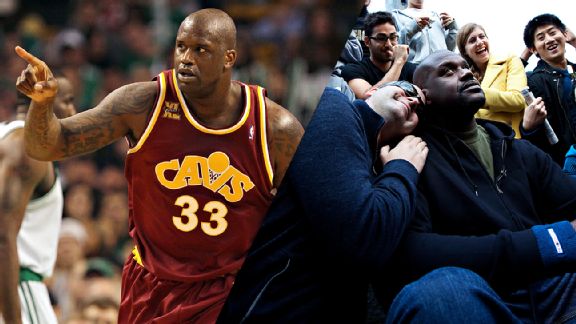 Getty Images
The world has its fair share of enormous human beings and big personalities, but never has someone combined the two quite like Shaquille O'Neal. The Big Aristotle (or insert nickname of your choice here) turns 43 today, which may or may not make us feel old but definitely reminds us of the many reasons he'd be a blast to celebrate with.
10. He would dominate karaoke.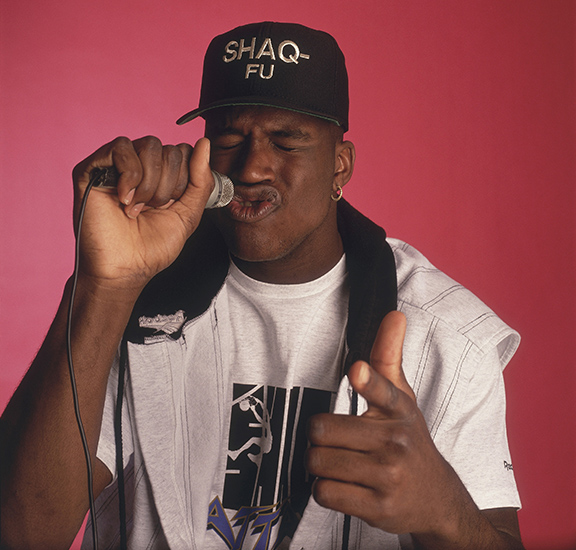 Focus on Sport/Getty Images
9. He might show up with a white tiger like he did for his "Scarface"-themed 34th birthday.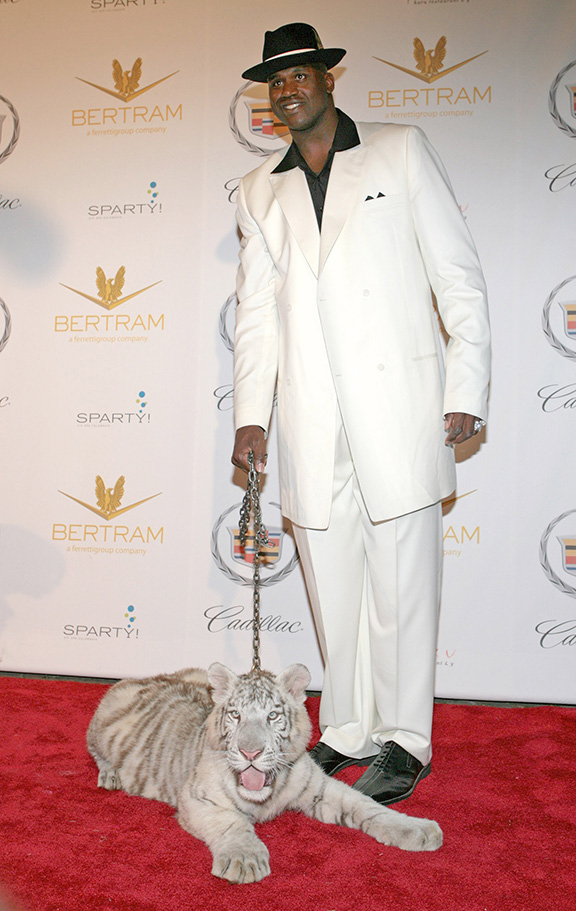 John Parra/FilmMagic
8. ... Or a panda. Look at this panda!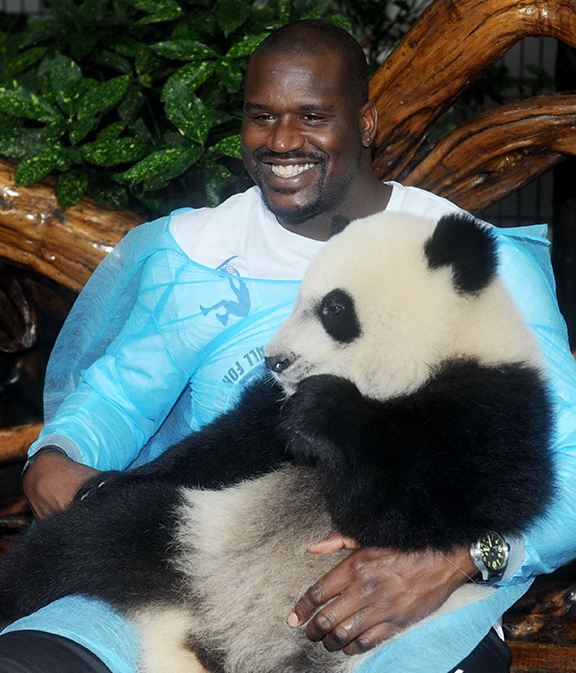 Lei Yuandong/ChinaFotoPress/Getty Images
7. We'd probably hang with famous people.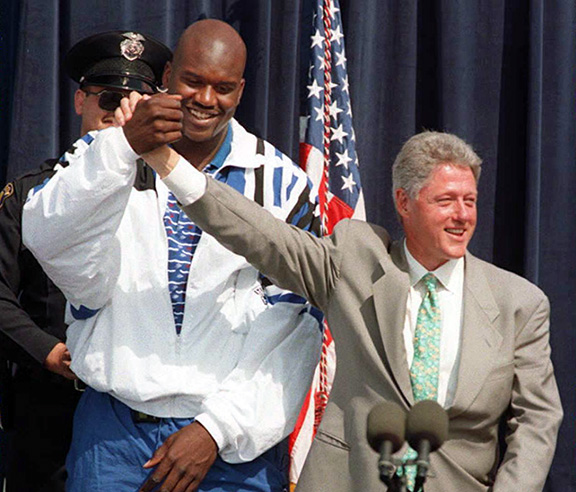 Vince Bucci/AFP/Getty Images
6. We could wear whatever we want. Gingham on gingham, plaid on plaid ...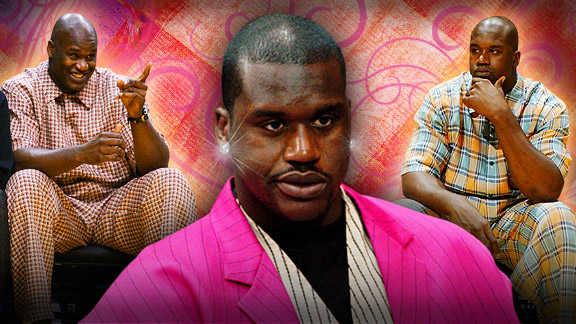 ESPN.com Illustration
5. ... Anyone who can rock overall jorts has to know how to have fun.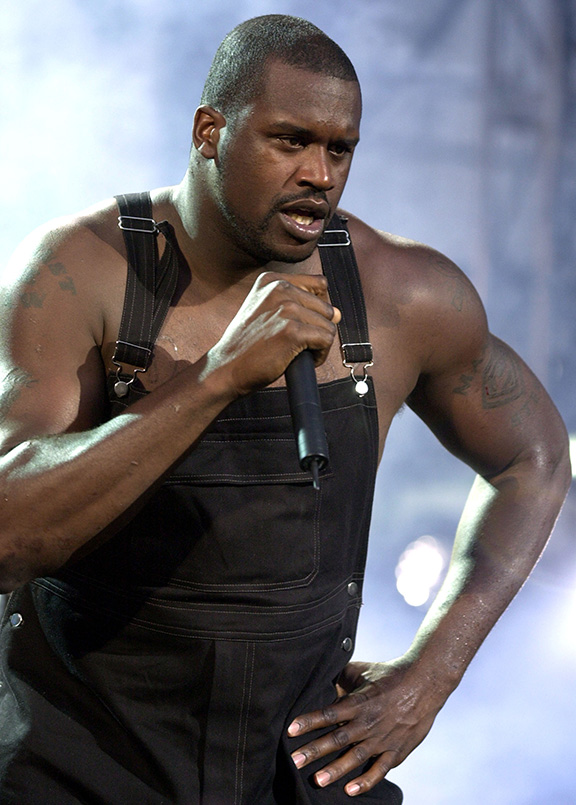 SGranitz/WireImage
4. We'd reminisce about his time in Orlando.
3. And Los Angeles. (He'd tell everyone how he *really* feels about Kobe. Possibly during karaoke.)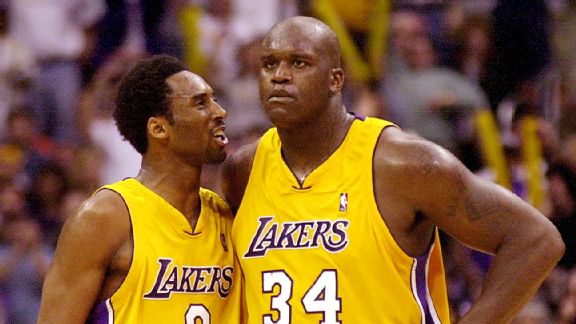 Vince Bucci/AFP/Getty Images
2. He would never object to a spontaneous dance party.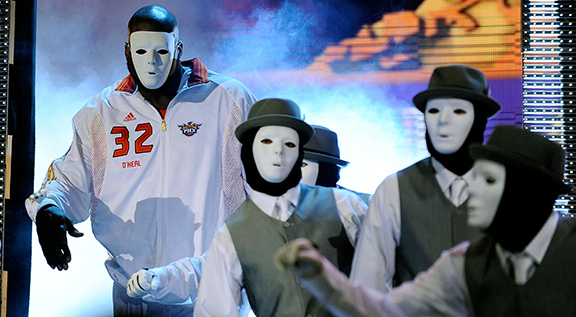 Kevork Djansezian/Getty Images
1. By the end of the night, there'd be many "quotatious" memories.
AP Photo/Mark J. Terrill
Shaq in a Marc Stein Q&A from 2008: "I don't live my life trying to win things back. In this world we live in, they either like you or they don't. But I'm not going to be the one trying to go out of my way to get you to like me. Nothing in the world that someone can say or do will make me go into a depression and drink rat poison."
Cheers to that! Happy birthday, Shaq.