SportsNation Blog Archives

Stephen Curry
On Wednesday we asked fans: Who, among the top four choices, is your pick for 2014-15 NBA MVP?
As of Thursday evening, the results were nearly unanimous: Stephen Curry, the prodigious point guard who has led the Golden State Warriors to be the best team in the NBA, is the one.
Unless you're an Oklahoman: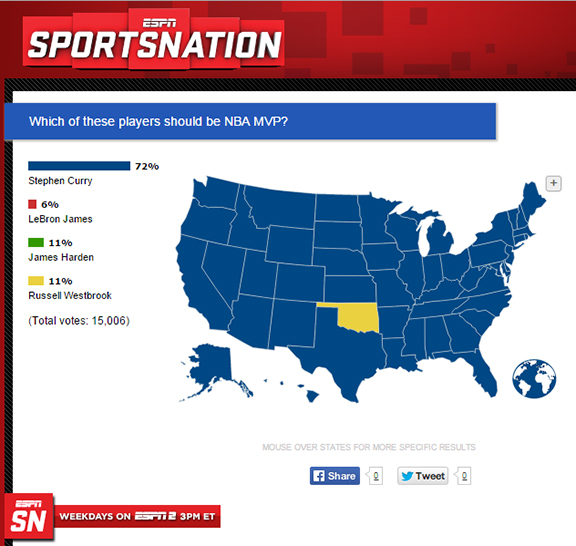 ESPN
Yes, Texas chose Curry over Houston Rockets star James Harden and, even more surprisingly, Ohio picked Steph over homecoming king LeBron James. But the Sooner State is standing with its own point guard: Russell Westbrook, whose recent triple-double binge has helped keep the Oklahoma City Thunder in playoff position despite the absence of Serge Ibaka and reigning MVP Kevin Durant.
If you haven't yet voted, now it's your turn: Do you stand with Oklahoma, or the rest of America?
By
Scott T. Miller
| ESPN.com
Surprise, surprise: Stephen Curry had some, um, advanced basketball skills as an eighth-grader. Playing against his dad Dell Curry in the video below, Steph -- who was No. 12 back then -- showed off impressive court vision, smooth handles and, of course, some deep range.
You see that pull-up 3 around the one-minute mark? Yeah, that looks a little familiar.
H/T: The Toronto Star
Stephen Curry and Klay Thompson combined to hit 484 3-pointers last season, making their nickname of the "Splash Brothers" more than appropriate. It seems like DeMarcus Cousins, who is practicing with Curry as part of Team USA and hit zero 3-pointers last season, was a bit envious of their success:
As you can see, Curry is less than impressed. It's not all bad for Cousins, though. At least he hit the rim twice in a row. That's pretty good! Fortunately for Cousins, if he keeps dropping 22 points and 11 rebounds per game, Sacramento Kings fans won't mind if he jacks up an ill-fated 3 every once in a while.
We all know that Stephen Curry is a once-in-a-generation talent as a shooter, but Kevin Durant is going one further -- he thinks Curry might be something much, much more:
Steph any day, best shooter to ever play RT @nickyokoyama: @KDTrey5 You or Steph Curry in a 3-Point Contest?

— Kevin Durant (@KDTrey5) January 23, 2014
High praise indeed from a guy who is treating defenders as something of a minor inconvenience this season. Curry's 3-point shooting percentage is actually down a bit this season, but he's making almost half of his two-pointers, and he is a constant threat to go on a run that will put any game out of reach. It'll be interesting to see if Curry's shooting prowess can translate into the Warriors' first title since 1975.
Durant calls Curry ''best shooter