SportsNation Blog Archives

Stephen Curry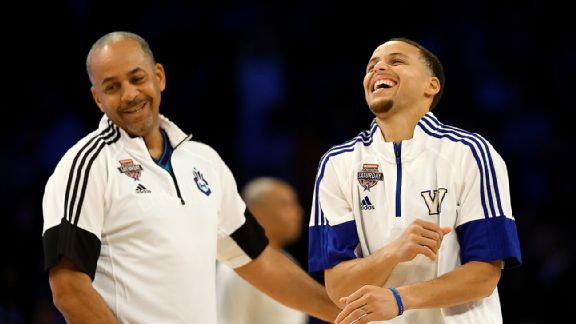 Elsa/Getty Images
The 2015 NBA MVP, Stephen Curry, is really good at basketball. Tell us something we don't know.
So it shouldn't come as a big surprise that he was a baller back in middle school as well. In Lee Jenkins' Sports Illustrated profile on the NBA superstar, Dell Curry (Stephen's father) reveals that he had to excuse himself from his son's eighth-grade basketball game in which he dropped 63 points. Why? Simply because Steph was making the other team look foolish:
"All these people were coming in to see what was going on, and there was so much commotion, it seemed like he was never going to stop," former NBA marksman Dell Curry recalls. "I had to get out of there. I felt bad for the other team. I couldn't watch what he was doing to those kids."
At least his eighth-grade foes can sleep easy knowing it wasn't them, it was Steph Curry.
Check out the full profile for more stories about the baby-faced assassin.