SportsNation Blog Archives

James Harden
Rejoice, the return of the NBA is upon us! It seems like only yesterday the Golden State Warriors captured their first NBA title in 40 years.
Scenes of Stephen Curry jubilantly hoisting the Larry O'Brien Trophy after a dejected LeBron James left the court are still ingrained in the minds of hoops fans everywhere.
While that might have been the end of the on-court action, it was just the beginning of a long summer of off-the-court entertainment courtesy of our favorite NBA stars.
These antics are worth revisiting:
1. Emoji Wars
The battle to keep/acquire DeAndre Jordan escalated quickly. In one of the stranger stories of the offseason, the involved parties turned to emojis to convey their opposing messages. But the real kicker was when Paul Pierce chimed in ... by tweeting a picture of a rocket emoji, because The Truth does what he wants -- or still has a flip-phone.
July 8, 2015
2. LeBron, Melo, DWade and CP3's bromantic vacation
The banana boat picture seen 'round the world. While no picture can quite compare to the one snapped of some of The Association's biggest names aboard a banana boat while on vacation, this one of them sipping some vino shouldn't be overlooked:
3. The Currys
Steph who? Yeah, this family gets its own section. The MVP was outshined by his daughter at every turn. Which says a lot considering Steph hit the golf course with President Obama. From gracing us with her rendition of the "Whip/Nae Nae" on her third birthday, to teaching Jeremy Lin how to break it down, Riley Curry's offseason was as strong as her postgame news conferences.
4. James Harden celebrates his birthday with the Kardashians
The Beard, rumored to be dating Khloe Kardashian at the time, spent his 26th birthday aboard a yacht flanked by members of the Kardashian clan, complete with fireworks. Why does this matter? Because of this picture of the Houston Rockets star photobombing Kanye West, who doesn't exactly appear to be bringing the energy:
Rager!!!! <‰<ˆ<Š<' pic.twitter.com/cYpPz6S43S

— Kim Kardashian West (@KimKardashian) August 26, 2015
5. Taylor Swiftmania
Oh, she's not an NBA player? Irrelevant. Tay Tay got support from some of the biggest names in the game this summer, showing that tough and "Swiftie" aren't mutually exclusive. Not only did Kobe Bryant present her with her own banner at the Staples Center ...
But Russell Westbrook posted videos of himself vibing to two of her hit songs:
6. Shaquille O'Neal and Scottie Pippen Instagram feud
What happens when NBA greats start dabbling in hypotheticals on Instagram? A full-fledged social media beef, that's what. Scottie Pippen and Shaq didn't hold back in their attack on one another. Complete with Photoshop edits like this one:
7. The player formerly known as Swaggy P
We don't know what to make of it. Is Nick Young abandoning the rules of "swagdom" for good? First, he caught our attention by getting Tupac Shakur's face tattooed on his arm that he had previously proclaimed was "strictly for buckets" ... and then this happened:
Nick Young: "I'm Nicholas this season. Call me Nicholas from now on."

— Arash Markazi (@ArashMarkazi) September 28, 2015
8. Michael Jordan gets trolled by camper with "What are those?!" Internet meme
If you are going to step to the GOAT -- why would one ever venture to do such a foolish thing? -- prepare to get served. That's exactly what happened when a young, exuberant camper decided to come at Jordan by inquiring: "What are thossssseeee?" The question, meant to humiliate someone for their ugly footwear, left MJ confused at first. Hey, he's 52 years old and probably doesn't spend a lot of time with childish Internet memes. But then he responded with a cool and collected rebuttal: "These are Jordan XX9 lows." Next ...
9. New York Knicks rookie Kristaps Porzingis sings some Chamillionaire
Oh Kristaps, what a guy. We don't care that Porzingis hasn't played a minute in the NBA yet, we are inclined to say he is clearly the answer to all the New York Knicks' problems.
10. @BDotAdot5 does spot-on NBA star impersonations
With the offseason came former Reno Bighorns (NBA D-League) player Brandon Armstrong's impersonations. Even players he mocked couldn't deny how accurate they were.
Tags:

LeBron James, Golden State Warriors, Cleveland Cavaliers, Houston Rockets, James Harden
NOV. 1 UPDATE: Through three games, Harden is shooting 22.2 percent from the field and 9.4 percent from 3-point range, and his Rockets are 0-3 with each loss coming by 20 points.
Lil B acknowledged this after just Game 2:
Yall see how James harden is playing because he won't acknowledge he does the lil b cooking dance sports celebration. Sad , cursed - Lil B

— Lil B THE BASEDGOD (@LILBTHEBASEDGOD) October 31, 2015
The curse ... is real?
ORIGINAL POST: Just when you thought it was safe ... he's back.
The start of the NBA season is mere days away. So it's only right that Lil B (a.k.a The Based God) would resurface with a good old-fashioned curse on his favorite target, James Harden.
What could The Beard possibly have done to aggravate Lil B before the regular-season action even gets underway?
Stop me if you've heard this one before: COOKING. Yep, it appears as if the Houston Rockets star still refuses to acknowledge Lil B as the creator of the "cooking dance," and thus the rapper was not amused when Harden posted this picture to Instagram:
Lil B expressed his displeasure over the matter to TMZ:
"The Curse is officially back active. It's disgusting. ... He's still in denial. ... He will pay for the blatant disrespect and no honor to the originator. All he has to do is show love."
Tell 'em why you mad, Lil B.
So, now that Harden has officially been put on notice (again), the question remains: will The Beard ever "show love" to The Based God?
Stay tuned. We have a feeling this won't be the last time we hear from the all-powerful rapper this season. ...
.@LILBTHEBASEDGOD reminds the crowd who owns the cooking dance. http://t.co/EtJqVLk42c

— NBA on ESPN (@ESPNNBA) May 28, 2015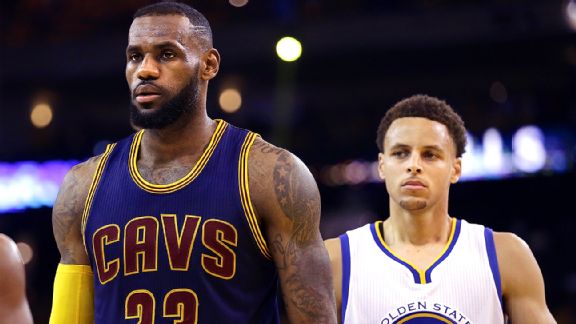 AP Photo/Ben Margot
Recently we brought you the top 10 players, as rated by the latest "NBA 2K" game.
The ratings for "NBA Live 16" also are here -- and they're quite a bit different.
Here's the top 10 (and ties):
1. LeBron James (97)
2. Kevin Durant (96)
T-3. Anthony Davis (95)
T-3. Marc Gasol (95)
T-3. Blake Griffin (95)
T-3. James Harden (95)
T-3. Chris Paul (95)
T-8. LaMarcus Aldridge (94)
T-8. DeMarcus Cousins (94)
T-8. Stephen Curry (94)
T-8. Russell Westbrook (94)
That's right: LeBron James (no surprise) is No. 1, 2014 NBA MVP Kevin Durant is No. 2, and a handful of talented stars across positions come in tied for third.
Meanwhile, the reigning NBA MVP is tied for eighth -- definitely an eye-opening number for a player many consider the best in the league. Then again, perhaps "NBA Live" is drawing upon more than just last season for its ratings; few before 2014-15 had Curry in that top-player-overall conversation.
Tags:

NBA, NBA, LeBron James, Cleveland Cavaliers, Kevin Durant, Anthony Davis, Marc Gasol, Blake Griffin, James Harden, Chris Paul, LaMarcus Aldridge, DeMarcus Cousins, Stephen Curry, Russell Westbrook, Oklahoma City Thunder, New Orleans Pelicans, Memphis Grizzlies, Los Angeles Clippers, Houston Rockets, Sacramento Kings, San Antonio Spurs, Golden State Warriors