SportsNation Blog Archives

James Harden
Appearing Wednesday on The Dan Le Batard Show, rapper and creator of the "cooking dance" Lil B (aka The Based God) discussed his gripe with James Harden, the origin of the cooking dance and why LeBron James might be the next NBA star to face his wrath.
Before heading to Oakland (where he sat behind the Houston Rockets' bench and watched James Harden fall to Steph Curry and the Golden State Warriors) on Wednesday night, the rapper aired his grievances with Harden, while emphasizing the importance of authenticity:
"People want original paintings. There are a lot of artists that might recreate Picasso's painting. So the gullible buyers, they might buy the off-brand Picasso painting. But for the real artist and the real people, they want that Picasso painting, which is Lil B."
It doesn't get much realer than calling someone fraudulent through a Pablo Picasso analogy. If only Harden had squadded up with Lil B when he had the chance.
In other news, J.R. Smith posted an Instagram video of himself, LeBron James, Kyrie Irving, Iman Shumpert and Kendrick Perkins getting hyphy to Chedda Da Connect's "Flicka Da Wrist" after clinching the Eastern Conference title.
Needless to say, Lil B noticed and was NOT pleased. This is because all dances that involve any cooking motion or wrist-flicking originate from Lil B's cooking dance. Therefore, the players -- specifically LeBron James -- must give credit to The Based God immediately or they are going to land themselves a classic case of "The Based God's Curse":
"That is what LeBron James, J.R. Smith, Kyrie Irving ... that is the celebration they all were doing ... but they called it something else. I think they are a bit misled."
Lil B went on to single out LeBron as the culprit behind this offense. He also questioned the leadership ability of the four-time MVP:
"Now the thing is, if LeBron James continues to be arrogant and with all his leadership, the supposed leader that LeBron James is, if he's doing dances and celebrations where he doesn't know the source, that shows a little bit about LeBron James' personality. If LeBron James is doing things where he doesn't really know the source, LeBron James might be the person who buys a fake Picasso painting too. He might do that."
Luckily one of King James' teammates, Iman Shumpert, isn't chancing letting a Based God's Curse get in the way of the Cavs winning an NBA title.
. @LILBTHEBASEDGOD Preciate the swag killa =L<þ. I cooks I chef <À all love

— Iman Shumpert I (@I_Am_Iman) May 27, 2015
And just like that, Shump appeased The Based God! "Major respect to the Cavaliers organization and for them having a great, stand-up, honorable player like Iman Shumpert to come out and say he is doing the Lil B cooking dance and he's been doing that," Lil B said.
LeBron: It might not be a bad idea to take his lead lest you risk ending up like Kevin Durant and James Harden. Just saying.
.@LILBTHEBASEDGOD reminds the crowd who owns the cooking dance. http://t.co/EtJqVLk42c

— NBA on ESPN (@ESPNNBA) May 28, 2015
Rapper Lil B might not be a household name at the level of Jay Z or Kanye West, but the Bay Area-born man also known as The Based God carries much power in NBA circles.
Which is why the following tweet and subsequent comment to TMZ are big deals.
Go warriors @warriors and let James harden no he doing the Lil B cooking dance if he doing that flickin wrist or whipping he mark - Lil B

— Lil B From The Pack (@LILBTHEBASEDGOD) May 21, 2015
And, to TMZ: "If Harden doesn't tell what he is doing, which is the Lil B cooking dance, he will be cursed. He needs to stop stealing Lil B swag without showing love."
Lil B of course is referring to this dance from James Harden, which caught on late in the Houston Rockets' season, as well as the rapper's dance from his song "I Cook" (whose NSFW video we can't embed here):
But why is this a big deal? Because Lil B's curses work.
Just ask Kevin Durant.
Years ago the Oklahoma City Thunder star tweeted the following:
I tried to listen to Lil B and my mind wouldn't let me do it....can't believe this guy is relevant

— Kevin Durant (@KDTrey5) January 29, 2011
Lil B was not pleased.
KEVIN DURANT WILL NEVER WIN THE TITLE AFTER HE SAID "LIL B" IS A WACK RAPPER, "THE BASEDGODS CURSE" #THEBASEDGODSCURSE ON DURANT - Lil B

— Lil B From The Pack (@LILBTHEBASEDGOD) May 26, 2011
So far? One MVP, sure, but no titles, only one NBA Finals trip, and this season an injury that helped keep the Thunder almost incomprehensibly out of the playoffs.
See? PROOF.
Note: There's a LOT more to this story, including a diss track, a temporary lifting of the curse, a return of the curse, a proposed truce, taking credit for the injury, and much more. Grantland broke it down last year -- warning, much NSFW language -- and Lil B commented on the injury this season.
Now, TMZ says Lil B is giving Harden until after Game 3 of the Western Conference finals against the Golden State Warriors before the curse comes into effect ... although the consequences likely would have to be greater than losing to the Warriors, which is a probable outcome even without a curse.
(But that doesn't mean Lil B is wrong! Please don't curse us, Based God!)
UPDATE: It appears Lil B did not wait until Game 3 to make his presence felt.
Toward the end of Game 2, Harden had the chance to win, but mishandled the play.
And then:
People that steal from Lil B will pay now or later all you have to do is pay respect to the original and the leader blind ones will - Lil B

— Lil B From The Pack (@LILBTHEBASEDGOD) May 22, 2015
Lil B clarified that this is just a warning, but ... point taken.
UPDATE PART II: And apparently it's a point well-taken by at least one NBA franchise. The Atlanta Hawks, one of four teams left standing in the playoffs, aren't taking any chances.
On Friday afternoon, their social media team pleaded mercy to the Based God:
Dear @LILBTHEBASEDGOD: We're not like the others. Please show mercy and spare us #THEBASEDGODSCURSE. =O Sincerely, The Hawks

— Atlanta Hawks (@ATLHawks) May 22, 2015
@ATLHawks I got love for the Hawks and Jeff Teague is a beast!! Hawks deserve great things and the city of Atlanta!!! - Lil B

— Lil B From The Pack (@LILBTHEBASEDGOD) May 22, 2015
H/T TMZ
On Wednesday we asked fans: Who, among the top four choices, is your pick for 2014-15 NBA MVP?
As of Thursday evening, the results were nearly unanimous: Stephen Curry, the prodigious point guard who has led the Golden State Warriors to be the best team in the NBA, is the one.
Unless you're an Oklahoman: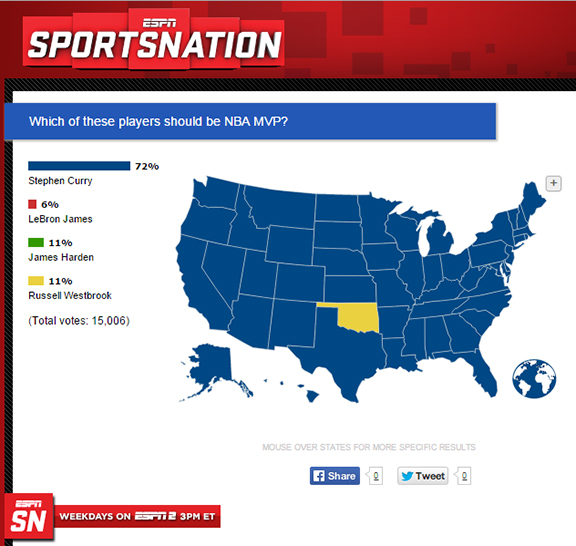 ESPN
Yes, Texas chose Curry over Houston Rockets star James Harden and, even more surprisingly, Ohio picked Steph over homecoming king LeBron James. But the Sooner State is standing with its own point guard: Russell Westbrook, whose recent triple-double binge has helped keep the Oklahoma City Thunder in playoff position despite the absence of Serge Ibaka and reigning MVP Kevin Durant.
If you haven't yet voted, now it's your turn: Do you stand with Oklahoma, or the rest of America?
Internet trolling requires a deft touch -- just the right amount of humor and truth so as to avoid being over-the-top mean.
And so we present to you a perfect example, as posted -- well, actually, reposted -- to Instagram and Twitter by Denver Nuggets guard Ty Lawson on Sunday. This image seizes upon two widely held opinions (or facts, depending whom you ask): 1) the Cowboys are bad at defense and 2) James Harden is bad at defense.
Caption: "Cowboys defensive coordinator #Rp"
That "#Rp" is an acknowledgment that this is not a Lawson original; as we see on Twitter, it seems to have come from Instagram user @vtdvito (whose account is private).
But Lawson has clearly popularized the image. Harden has yet to respond on social media but probably can fire back with an image from Spain, where the Houston Rockets guard is poised to win a FIBA World Cup gold medal with Team USA.
Happy Mother's Day! Here's hoping you sons out there didn't forget. A number of athletes sure didn't, taking to social media to share photos and deliver special messages to some of the most important women in their lives.
Kevin Durant, whose emotional NBA MVP acceptance speech included much love for his mother, Wanda Pratt, shared this powerful image before his Oklahoma City Thunder took on the Los Angeles Clippers in Game 4 of their Western Conference semifinal:
Teammate Russell Westbrook was among many other NBA stars to take time out -- some from their still-active playoff runs -- to show their love. Also among them: Paul George, the Indiana Pacers All-Star whose mother, Paulette, suffered a stroke when he was 10.
In the NFL, Seattle Seahawks Pro Bowl safety Earl Thomas paid tribute to his mother, Debbie, a cancer survivor who was diagnosed two years before Earl was born (she calls him her "miracle baby"):

San Francisco 49ers quarterback Colin Kaepernick sent a greeting to his mother and sister, while teammate NaVorro Bowman got his mom quite the gift:
Newly minted draft picks Sammy Watkins and Carlos Hyde joined NFL players Cameron Jordan and Chance Warmack in talking about their favorite mom-related memories:
Courtesy of Relativity Sports
And on the baseball diamond, where teams throughout Major League Baseball are using pink balls, bats, cleats and other accessories, the Milwaukee Brewers' Carlos Gomez went an extra step to show love for all the moms of the world: