SportsNation Blog Archives

James Harden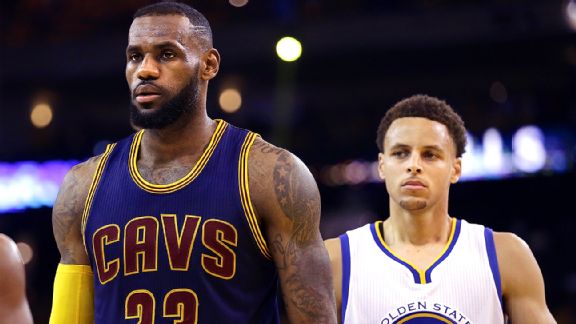 AP Photo/Ben Margot
Recently we brought you the top 10 players, as rated by the latest "NBA 2K" game.
The ratings for "NBA Live 16" also are here -- and they're quite a bit different.
Here's the top 10 (and ties):
1. LeBron James (97)
2. Kevin Durant (96)
T-3. Anthony Davis (95)
T-3. Marc Gasol (95)
T-3. Blake Griffin (95)
T-3. James Harden (95)
T-3. Chris Paul (95)
T-8. LaMarcus Aldridge (94)
T-8. DeMarcus Cousins (94)
T-8. Stephen Curry (94)
T-8. Russell Westbrook (94)
That's right: LeBron James (no surprise) is No. 1, 2014 NBA MVP Kevin Durant is No. 2, and a handful of talented stars across positions come in tied for third.
Meanwhile, the reigning NBA MVP is tied for eighth -- definitely an eye-opening number for a player many consider the best in the league. Then again, perhaps "NBA Live" is drawing upon more than just last season for its ratings; few before 2014-15 had Curry in that top-player-overall conversation.
September 23, 2015
Sep
23
The ratings for "NBA 2K16" are out, and -- unlike in "Madden" -- nobody in the league was given a 99.
In fact, the highest rating was a 94, given to a player whose name long has been synonymous with "best in the NBA."
The 10 overall ratings in #NBA2K16. What do you think? Let the debates begin. pic.twitter.com/qGyUIHajzA

— NBA 2K 2K16 (@NBA2K) September 22, 2015
That's right. Even Stephen Curry's MVP season -- which gave him a four-point jump over his score a year ago -- couldn't push him past LeBron James, although the latter dropped four points (partly due to, as Bleacher Report explains, a new way of calculating rankings).
James Harden's players' choice MVP campaign got him a four-point boost, as did the continued scary-goodness of Anthony Davis, but they still couldn't take down The King. Kevin Durant's injury, meanwhile, likely was the reason for his fall from second place and a 95 rating a year ago. (Interesting note: The three non-LeBron top-four players are on the cover.)
There were a couple of surprise inclusions on the list. Carmelo Anthony was 20th in player efficiency rating, 49th in real plus-minus and 81st in wins above replacement last season, yet checks in at No. 8. LaMarcus Aldridge (11th/25th/22nd) was also an eyebrow-raiser at tied for eighth/No. 10.
Not that either is bad, far from it, But still, no love for the best player on Aldridge's team?
Brandon Armstrong isn't the only basketball player with impressive impression skills.
OK, so these NBA rookies might not impersonate quite at a B.A. level. But in this video for SB Nation, the likes of Willie Cauley-Stein, Frank Kaminsky, Jahlil Okafor and more try their hand at mimicking LeBron James, James Harden, Allen Iverson and others ... with Los Angeles Lakers rookie D'Angelo Russell doing a surprisingly honest Kobe Bryant, as well.
Not bad! Although Kobe might take issue with that pivot foot, rook.
Personal other favorites: Kelly Oubre's swag-filled Nick Young, R.J. Hunter crawling across the floor as Matthew Dellavedova, Russell's herky-jerky Harden and Trey Lyles asking former Kentucky teammate Cauley-Stein, "Do you watch basketball?"
James Harden isn't always the flashiest, but he's nothing if not methodical and effective.
Even in a game that doesn't count in the NBA standings, and even after he gets dunked on by a lesser (but still pretty good) player.
That's what happened Sunday in the final of Los Angeles' Drew League, when the Southland native was absolutely put on a poster by Compton's own DeMar DeRozan, a onetime All-Star with the Toronto Raptors:
But true to form, the Houston Rockets star and players' MVP waited for his moment to strike ... then did this, over fellow Angeleno Nick Young, for what was the eventual game-winner:
Harden's team, LAUNFD (L.A. Unified), eventually beat Most Hated Players 98-93 in the final to continue a strong run in the Drew League.
4 titles in 6 years! LAUNFD defeats M.H.P. 98-93 to win the 2015 Championship! #thedrew

— Drew League (@DrewLeague) August 9, 2015
And Harden wasn't just a one-play wonder. As he does, Harden had a game.
.@JHarden13 finished with a game-high 37 points (10/18 FGs, 6/13 3s, 11/12 FTs), 4 rebounds, 5 assists for LAUNFD #thedrew

— Drew League (@DrewLeague) August 10, 2015
Is it NBA season yet?
H/T Bleacher Report
Appearing Wednesday on The Dan Le Batard Show, rapper and creator of the "cooking dance" Lil B (aka The Based God) discussed his gripe with James Harden, the origin of the cooking dance and why LeBron James might be the next NBA star to face his wrath.
Before heading to Oakland (where he sat behind the Houston Rockets' bench and watched James Harden fall to Steph Curry and the Golden State Warriors) on Wednesday night, the rapper aired his grievances with Harden, while emphasizing the importance of authenticity:
"People want original paintings. There are a lot of artists that might recreate Picasso's painting. So the gullible buyers, they might buy the off-brand Picasso painting. But for the real artist and the real people, they want that Picasso painting, which is Lil B."
It doesn't get much realer than calling someone fraudulent through a Pablo Picasso analogy. If only Harden had squadded up with Lil B when he had the chance.
In other news, J.R. Smith posted an Instagram video of himself, LeBron James, Kyrie Irving, Iman Shumpert and Kendrick Perkins getting hyphy to Chedda Da Connect's "Flicka Da Wrist" after clinching the Eastern Conference title.
Needless to say, Lil B noticed and was NOT pleased. This is because all dances that involve any cooking motion or wrist-flicking originate from Lil B's cooking dance. Therefore, the players -- specifically LeBron James -- must give credit to The Based God immediately or they are going to land themselves a classic case of "The Based God's Curse":
"That is what LeBron James, J.R. Smith, Kyrie Irving ... that is the celebration they all were doing ... but they called it something else. I think they are a bit misled."
Lil B went on to single out LeBron as the culprit behind this offense. He also questioned the leadership ability of the four-time MVP:
"Now the thing is, if LeBron James continues to be arrogant and with all his leadership, the supposed leader that LeBron James is, if he's doing dances and celebrations where he doesn't know the source, that shows a little bit about LeBron James' personality. If LeBron James is doing things where he doesn't really know the source, LeBron James might be the person who buys a fake Picasso painting too. He might do that."
Luckily one of King James' teammates, Iman Shumpert, isn't chancing letting a Based God's Curse get in the way of the Cavs winning an NBA title.
. @LILBTHEBASEDGOD Preciate the swag killa =L<þ. I cooks I chef <À all love

— Iman Shumpert I (@I_Am_Iman) May 27, 2015
And just like that, Shump appeased The Based God! "Major respect to the Cavaliers organization and for them having a great, stand-up, honorable player like Iman Shumpert to come out and say he is doing the Lil B cooking dance and he's been doing that," Lil B said.
LeBron: It might not be a bad idea to take his lead lest you risk ending up like Kevin Durant and James Harden. Just saying.
.@LILBTHEBASEDGOD reminds the crowd who owns the cooking dance. http://t.co/EtJqVLk42c

— NBA on ESPN (@ESPNNBA) May 28, 2015