SportsNation Blog Archives

Brandon Jennings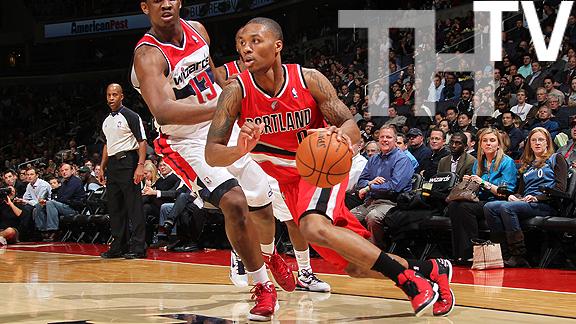 The crop of great young point guards in the NBA continues to grow each year, making it one of the deepest positions in the league. ESPN.com's NBA experts picked their top five point guards from the last five draft classes and now it's your chance to rank them. Cast your votes by clicking on the images below.


Best Young Point Guards

Eric Bledsoe

Eric Bledsoe
Los Angeles Clippers
2012-13 stats: 9.4 PPG, 2.9 APG
Stephen Curry

Stephen Curry
Golden State Warriors
2012-13 stats: 19.9 PPG, 6.3 APG
George Hill

George Hill
Indiana Pacers
2012-13 stats: 15.2 PPG, 5.3 APG
Jrue Holiday

Jrue Holiday
Philadelphia 76ers
2012-13 stats: 18.4 PPG, 8.9 APG

Kyrie Irving

Kyrie Irving
Cleveland Cavaliers
2012-13 stats: 23.6 PPG, 5.5 APG
Brandon Jennings

Brandon Jennings
Milwaukee Bucks
2012-13 stats: 18.0 PPG, 5.9 APG
Brandon Knight

Brandon Knight
Detroit Pistons
2012-13 stats: 14.5 PPG, 4.9 APG
Ty Lawson

Ty Lawson
Denver Nuggets
2012-13 stats: 14.5 PPG, 7.0 APG
Damian Lillard

Damian Lillard
Portland Trail Blazers
2012-13 stats: 18.8 PPG, 6.3 APG
Derrick Rose

Derrick Rose
Chicago Bulls
2011-12 stats: 21.8 PPG, 7.9 APG*
*Has not played in 2012-13 due to injury
Ricky Rubio

Ricky Rubio
Minnesota Timberwolves
2012-13 stats: 4.0 PPG, 6.5 APG
Jeff Teague

Jeff Teague
Atlanta Hawks
2012-13 stats: 13.3 PPG, 6.4 APG
Isaiah Thomas

Isaiah Thomas
Sacramento Kings
2012-13 stats: 9.7 PPG, 2.0 APG
Kemba Walker

Kemba Walker
Charlotte Bobcats
2012-13 stats: 18.8 PPG, 6.1 APG
John Wall

John Wall
Washington Wizards
2011-12 stats: 16.3 PPG, 8.0 APG*
*Has not played in 2012-13 due to injury
Russell Westbrook

Russell Westbrook
Oklahoma City Thunder
2012-13 stats: 21.1 PPG, 8.8 APG
Your Rankings
1.

2.

3.

4.

5.

6.

7.

8.

9.

10.

11.

12.

13.

14.

15.

16.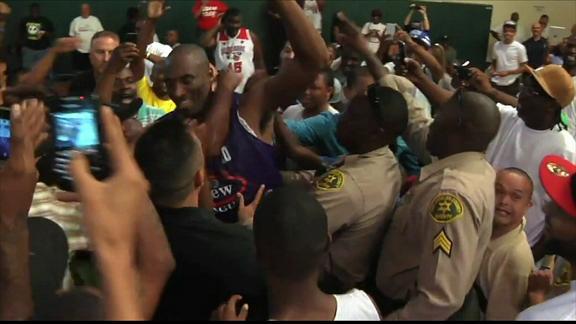 There might not be an NBA season this year, but if that means we get to see NBA players dropping in on streetball and pickup games and putting on a show, we won't be that upset. Imagine you're playing in a summer league, minding your own business, and then all of a sudden, Kobe Bryant shows up and drops 43 points on you. You think that might make your night? This doesn't happen nearly often enough in the other major sports, which is a big point in basketball's favor.
What was/is/will be your typical Sunday at 20 years old?
Pick up two hits and drive in three runs in an MLB game? (Granted, an MLB game in which someone named Bud Norris pitched.) Play 41 minutes on the road in the decisive game of a playoff series in the NBA? Drive 120 mph in traffic without incurring the wrath of the state police and beat Tony Stewart, Mark Martin and Dale Earnhardt Jr. to the finish line?
Let's just say Jason Heyward, Brandon Jennings and Joey Logano, respectively, aren't your typical 20-year-old slackers. But Sunday, they also weren't nearly the most impressive members of their demographic in professional sports. That honor goes to Rory McIlroy, who despite not being able to celebrate with a beer unless he waits a couple of days or makes a quick trip back to his native Northern Ireland, shot a 10-under 62 to fend off Phil Mickelson in the final round at Quail Hollow. And don't even get us started on 18-year-old Ryo Ishikawa shooting a 58 to win an event in Japan ... darn overachievers.
But does putting together one of the more memorable weekend performances in recent times, and doing it against Mickelson, make McIlroy as much of a household name as the likes of Heyward or Jennings? Vote!
"

I don't think Rory's a fluke, he'll have plenty more wins soon enough. Out of all the young "flash in a pans", he's always struck me as the most likely to mature into a consistent winner. Him and Anthony Kim. Not that this makes me some kind of fortune teller, it's a pretty common opinion from what I've seed/read.

"

-- CaptainTr1pps
"

Give credit where it's due. [Ishikawa] hits a 58, and only because he missed a birdie putt on the last hole. That's just sick. The only way anyone on this thread could do this is with a PS3 or Xbox 360. With mulligans.

"

-- broadway_joe_99
It appears Tyreke Evans will be the NBA's Rookie of the Year. After Brandon Jennings scored 25 points to lead the Bucks to a 3-2 series lead against the Hawks, it also appears he might be the most significant rookie playing in May. Possibly deep into May.
Which is to say, the debate about this year's rookie class isn't nearly over. Well, other than Hasheem Thabeet. We can all agree that isn't working out so well.
Evans isn't a controversial pick as rookie of the year. ESPN's TrueHoop Network went that way in overwhelming fashion when it handed out awards. After siding with Jennings early and Stephen Curry in March, SportsNation concurred at the close of the regular season. But when it comes to looking beyond rookie season? That is another story ...
Ben (NYC)
Who makes their teammates better the best? Jennings, Evans, Curry, Rose, Rondo, Westbrook??? I say Curry.
David Thorpe
Today Rondo, tomorrow probably Curry or Jennings. Full transcript
Between the Blazers learning Brandon Roy has some serious injury issues to deal with, the Raptors keeping their playoff hopes alive, the final game for the Nets at the Meadowlands (all right, scratch that one) and the rest of a full night of NBA action, you might not have paid much attention to the Rockets beating the Kings. But perhaps surprisingly, more than 14,000 fans in Sacramento did pay attention, in that they shelled out money for tickets and showed up to see the Kings suffer loss No. 56. Which brings us to Tyreke Evans, who put up 26 points, six rebounds and four assists against the Rockets.
Oscar Robertson, Michael Jordan and LeBron James.
Those are the only players in NBA history to average 20 points, five rebounds and five assists as rookies. But once Evans finishes up his final game this week, it's a list that will expand to four. Despite that kind of success, is it even clear Evans would be the No. 1 pick if there were a draft do-over? Vote.
SportsNation blogger ricodade admires Evans but not his situation in Sacramento.
"Evans is closer to "star" status than any of them. He isn't a prototypical point guard. He's a basketball player. At 6'6 he is a nightmare matchup for most point guards, and as quick and strong as any swingman in the league (excluding Flash and Lebron). The Kings are so high on Evans they shipped away Kevin Martin, who had been their most productive player the past two seasons. I'm so high on the rookie I have him on both of my fantasy basketball teams. The good news for Tyreke is he'll win Rookie of the Year. The bad news is he plays for the Kings." -- Read the full post.
Lee (Fargo)
Is Rubio worth waiting 3 years? How good could the a Rubio/Turner backcourt be?
Chad Ford

It should be 2 years. One more year in Europe and he has an out from his contract. The way he's been playing lately? I'd say yeah, he's going to be worth the wait. He's getting big time game experience in Europe, getting stronger. When he comes to the NBA, he has a chance to be a star. Full transcript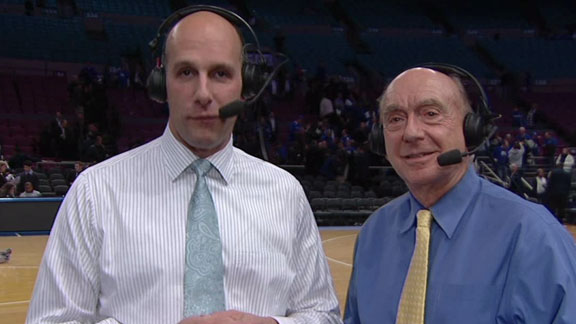 First came Brandon Jennings, the point guard Knicks fans watched their team pass on in the draft in favor of Jordan Hill. Next came John Wall, who put on a better show in a Kentucky uniform Wednesday night at MSG than anything Chris Duhon will manage this season. Playing with a young point guard like Wall sure seems like the kind of thing that might catch the eye of LeBron James. Too bad the Knicks already traded their 2010 first-round pick.
Wall scored a season-high 25 points to lead the Wildcats to an 64-61 comeback win against Connecticut. And maybe you don't get one without the other, but a majority of SportsNation contends the freshman sensation has been a bigger addition for Kentucky than John Calipari. But has Wall's college debut been even better than Jennings' pro debut?
As for Knicks fans, hey, Brooklyn won't be that far away.
Josh (Dallas, TX)
If the Nets get the 1st pick in the draft this year... do they take Wall despite having Harris?
David Thorpe
Without doubt. Take the value, and then adjust accordingly. Think Rose to Bulls even though they had Hinrich. Full transcript
Bobby (Seattle)
Is John Wall your unanimous #1 at the moment, and do you see anyone else taking over this spot between now and next summer's draft?
Chad Ford
Yes. He's been atop our board since it debuted on June 28th. I haven't talked to one scout or GM who has a player ranked above him. Though ... thought this was funny. Talked to one GM last week who told me, "Watched that John Wall kid. He's really good. You should probably have him in the lottery." Thanks for the heads up. Glad he's been reading our stuff. Full transcript
Let's start with some good news. Derrick Rose's assist-to-turnover ratio is in a heck of a lot better shape than Jay Cutler's touchdown-to-interception ratio. To that point, SportsNation would still rather build a franchise around Rose than trendy rookie Brandon Jennings.
Now the bad news: Bucks 99, Bulls 97.
With Monday's defeat, the Bulls have dropped five in a row, leaving them closer to the Pacers and Pistons of the world than the Cavaliers and, well, Bucks. Look at how the Bulls' stock has tanked in SportsNation's Power Rankings so far this season.
So is basketball season in the Windy City headed the same way as football season, or is Rose the guy to quarterback a comeback?
Ryan (Pontiac, MI)
Brad Miller for Elton Brand. Chicago gets a low post presence and Philly gets cap relief. What do you think?
Chris Sheridan

Throw Tyrus Thomas and Marreese Speights into that deal, and it might make sense both ways. Full transcript
Jeff (Chicago)
Watching Bulls offensive sets is reminiscent of watching a crappy pickup game at the local gym. Do you think that if we got a legit back to the basket presence, we would then be able to run a more effective screen roll system? If so, do you see us getting this type of player?
J.A. Adande

You don't necessarily need a back-to-the-basket guy. Jordan never had one. But he was Jordan. The screen-rolls would be more effective if more of their bigs could shoot. Can't run it with Noah or Thomas if they're not knocking down the jumpers consistently. Full transcript
Short being a teenage vampire (although he is almost still a teenager and he did play suspiciously close to Transylvania last season -- at least relative to any other current NBA player), it's tough to think of someone generating more buzz than Brandon Jennings. And there's a reason Stephenie Meyer didn't set her "Twilight" series in Milwaukee.
Kevin Durant could be headed for Team USA and an NBA scoring title. Derrick Rose is the reigning rookie of the year. But more SportsNation residents would pause the clicker to watch Jennings than either of the biggest stars to emerge from the 2007 and 2008 drafts. But give thanks; Jennings and Durant go head-to-head on ESPN on Friday night.
Have you caught the Jennings fever?
Jimmy (Seattle)
Adand"ay" - i saw your Around the Horn episode yesterday. Anyway, i had questions on the OKC Thunder. How much more improved to they seem to be, and where, in your mind, have they really improved the most? Is Kevin Durant a bona-fide star in the NBA yet, or does he have more to prove?
Greg (Portland)
Jennings point production gets most of the pub for Milwaukee's quick start. But it's his basketball IQ and work with Bogut that has been truly eye opening. With Bogut shelved for several weeks and Milwaukee going on the road, isn't this where we'll really see just how good Jennings is?
J.A. Adande

I'm throwing both of those questions in together because the same thing applies: in order to truly have cred in this league you have to carry your team to victories, then do it again in the playoffs. As dazzling as Jennings and Durant have looked, they have yet to do that so far. People forget, there were even questions about MJ before he started getting it done in the playoffs. Full transcript
We're not saying Brandon Jennings' rise has been meteoric, but less than two weeks ago, SportsNation ranked him behind Mo Williams and Aaron Brooks. Nothing against those guys, but their names are noticeably absent from the list of eight players who woke up Monday averaging 25 points per game. Then again, five months ago, voters didn't even put Jennings in remotely the same class as Ricky Rubio, Stephen Curry, Jonny Flynn and Ty Lawson among point guard prospects.
Jennings is keeping different company these days, namely the likes of Wilt Chamberlain and Elgin Baylor. That's what comes with scoring 55 points in a game as a rookie (even if the other team is coached by Don Nelson). Seven games makes for a pretty small sample size, but when it involves numbers like Jennings is posting, is it safe to think the NBA's small club of superstars has a new member in waiting?
Even before Jennings went for 55, John Hollinger hopped on the bandwagon.
Jeff (NY, NY)
Are you shocked at how good Brandon Jennings is this early? All the knocks on him, can't shoot, too skinny, seem to be way off the mark. Last night-he schooled Chauncey Billups. Some scouts/gms must be kicking themselves.
John Hollinger
Shocked, shocked, shocked. I talked to somebody last night who saw him in summer league and said he was completely blown away; in retrospect, I remember reading all the glowing reviews, but I'm so conditioned to ignoring summer league results that I paid no attention to it whatsoever. In the past, watching summer league has only made me dumber; Jennings is proving the exception.
J (Milwaukee)
I think that you have underestimated Skiles and the Bucks for the last two years. They were doing really well last year until the injury bug hit hard. And this year, you picked them to be one of the worst teams in the league. Aside from Jennings where else have the Bucks played well, position wise?
John Hollinger
Oh, how we forget. I was leading the Bucks' bandwagon until around the 40-game mark last season because they were much better than their record at that point. But with all the changes this year, I didn't see them as likely to keep it up. Obviously Jennings and a healthy (so far) Bogut make them better than we thought, but I'm still taking it with a few grains of salt since it's only five games. Full transcript