SportsNation Blog Archives

Milton Bradley
You're having a perfectly pleasant morning, sipping your coffee and enjoying a bagel and cream cheese and then you see it. Your favorite team is about to sign Pacman Jones. It's the same feeling fans in Seattle got when they saw the Mariners had traded their souls for the promise of a few RBIs with Milton Bradley (only substitute 'triple-shot, no-foam, extra-hot skinny hazelnut latte' for 'coffee' on the menu). There are some players you just don't want.
Bradley was back in the news for the wrong reasons Tuesday, when he reportedly exited Safeco Field in a huff after he was pulled from the lineup after striking out twice as the cleanup hitter for a team that can't score.
And now the Bengals, who already signed a guy in Matt Jones with more baggage than career touchdowns, are on the verge of adding the guy arguably most synonymous with NFL bad behavior? As you breathe a sigh of relief it's not your team plagued by these guys, who would you least want to wake up and find on your roster? Rank 'Em.
Alan (Chicago)
So when does the countdown start on the Mariners releasing Milton Bradley? Before or after Memorial Day?
Jerry Crasnick
Alan, If Milton messes this up, he might be looking for a job in the Atlantic League. He's got a great manager, sympathetic fan base, relatively low-stress media environment, and a club filled with guys who are supportive. Even if he can't hit, nobody else on that team can hit, either. All he has to do is keep his mouth shut and try hard. So far that's been a challenge. Full transcript
"

love this [Jones] move anyone who has not had a early slip in life is a bore who has no personality by now maturity has set in glad i didnt have old squares watching my every move(arent you guys... nerds dont answer) in the navy and college 17-24 was rough for me 2 and im better 4 it

"

-- bigghago22
"

Hey!!! Welcome back Bengals! I knew you couldn't stand to see the Steelers getting all the bad press.

"

-- cityofrain11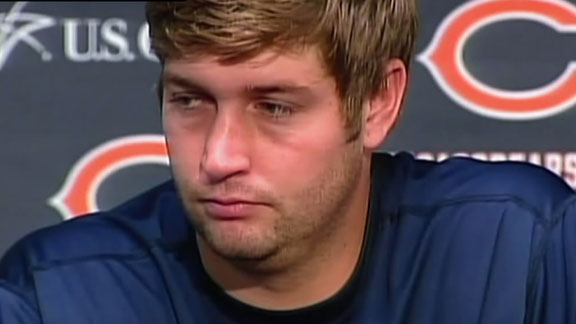 We assure you that starting the day on sports hatred has nothing to do with waking up to another round of Brett Favre stories. Purely coincidental. We swear. But a couple of stories out of one of the Great Schism's rival cities, Chicago, have us thinking hate.
First, Jay Cutler is apparently prepping for a weekend visit to Denver by making nice with the fans gearing up to greet him. Cutler was all praise when it came to Broncos coach Josh McDaniels and his time in Denver, a far cry from how things seemed for much of this year.
Across town, Milton Bradley, in the time he didn't spend hitting a home run against the Nationals, was talking about how difficult it is to do his job with fans hating him. And here we thought it was because of how much right-handed pitchers hated him this season.
But whether it's a free-agent bust weighing down the season or a former star returning in another uniform, how close to pure hatred do you come as a fan?
"

This dude needs to quit whining. They could pay me $10 Mil a year just to strike out and get booed all season long. I'll even take a few beers over the head. Hell I'd do it for $50,000 a year. You get paid MILLIONS just to play baseball man.

"

-- meltdeez
"

Don't worry Milt, it's not just Chicago that hates you.

"

-- packman66
"

Jay Cutler you have got to be joking. Now that Jay is going to have to be at the same place as McDaniels hes going to get scared and now praise the guy that he said betrayed him. Jay Cutler is the biggest baby in the NFL. Im going to go as far as say that this guy is worse then Jim "Chris" Everette.

"

-- ajp_
Sticks and stones may break bones, but batting helmets never seem to hurt anyone.
In another baseball brouhaha that was more sports creationism than sweet science, Kevin Youkilis charged the mound after being hit by Rick Porcello in the second inning of Tuesday's game between the Red Sox and Tigers. And it would seem to us that if you have a helmet in one hand and a bat in the other, and you elect to take the former into combat and leave the latter at the plate, you're pretty much admitting you shouldn't be going out there at all.
But aside from making for amusing video and brightening Ozzie Guillen's day, the brawl also got us wondering which batter would you least want to see rumbling toward the mound?
"

Man, I could watch Kevin Youkilis get slammed down by Porcello all day every day. Classic!

"

-- Bro_Montana
"

Youk 220 and porcello 200....and youk is 6'1 and porcello is 6'5....youk was dumb to go high...got to go low if you want to knock him down...Youk tackles like the Lions....

"

-- afkas4242
A full weekend of interleague play produced plenty of talking points beyond basketball, including but not limited to, Brian Bruney and K-Rod talking celebrations of the non-championship variety, Luis Castillo needing to use two hands and Milton Bradley ... continuing to make everyone who isn't a Cubs fan thankful that he exists.
Then there is the case of the team that plays in the most famous launching pad this side of the Bronx. After the first week of the regular season, SportsNation tabbed the Rockies No. 22 in MLB. On May 26, days before manager Clint Hurdle was fired, they had slipped to No. 29.
Now the Rockies have won 11 in a row and are in striking distance of the wild card, even if they're having a tough time catching the Giants, let alone the Dodgers, in the NL West.
Rank all 30 teams (or all 29 teams and the Nationals) in this week's Power Rankings.
"

nice to see the giants crack the top 10. they have been pitching lights out and have been one of the 3 most dominant home teams in the big leagues so far. NL west is starting to pick up steam with dodgers staying hot, the giants really playing well over their last 20 games, and the rockies my god they just cant lose right now

"

-- vikg43
"

As a lifelong Giants sufferer, I am so happy that we are actually contending for a playoff spot in June instead of wishing our old players would just retire like we have for the last four years. The Giants have a little payback for '02 to give LAA this week. Oh, who am I kidding, it won't be enough ... I am STILL not over it.

"

-- cmurray3927