SportsNation Blog Archives

Derek Jeter
The year-long Derek Jeter retirement tour kicked off Wednesday night in Houston, where the Astros -- and several Houston-connected athletes -- feted the New York Yankees superstar on the field at Minute Maid Park.
And what would be a retirement party without gifts? Take a look at Jeter's haul: a pair of Yankees-themed cowboy boots, a cowboy hat and a set of golf clubs (presented below alongside two-time major champion Mark O'Meara):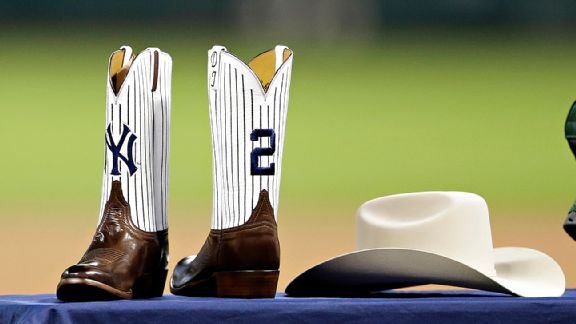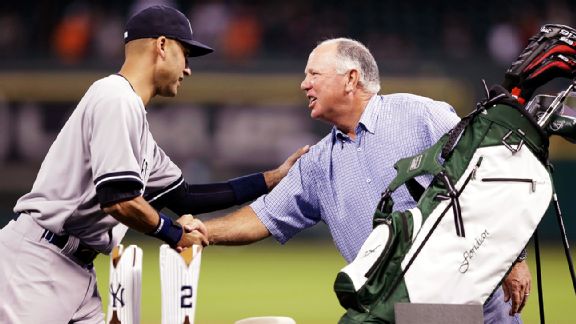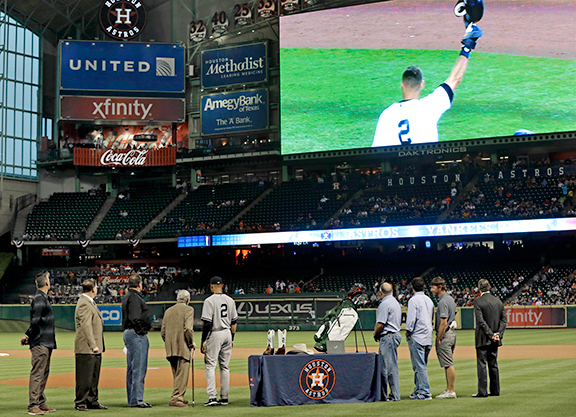 Images: Pat Sullivan/AP Photo
Derek Jeter has announced that 2014 will be the final season of his long and storied career. Jeter ranked seventh on ESPN New York's list of the 50 Greatest Yankees of all time, but now that his career is coming to an end, we're giving you the chance to give your take. Where does Jeter rank among the finest players to ever put on pinstripes?


The 20 Greatest Yankees
Yogi Berra
Bill Dickey

Joe DiMaggio

Whitey Ford
Lou Gehrig

Lefty Gomez

Ron Guidry

Reggie Jackson
Derek Jeter

Tony Lazzeri
Mickey Mantle
Don Mattingly
Thurman Munson
Andy Pettitte
Mariano Rivera

Phil Rizzuto
Alex Rodriguez

Red Ruffing

Babe Ruth

Bernie Williams
Your Rankings
1.

2.

3.

4.

5.

6.

7.

8.

9.

10.

11.

12.

13.

14.

15.

16.

17.

18.

19.

20.

Jeter to retire after 2014
Derek Jeter's long and storied career is coming to an end. The legendary Yankees shortstop posted a note on his Facebook page saying that the 2014 season will be his last. Jeter started off the lengthy post thanking fans for their support and said that his recent injuries and struggles made baseball start to feel like a job, and that feeling made him sure that it was about time to stop playing. He capped it off by promising fans he'd try to help the team win a World Series championship this season -- if he did manage to pull that off, it'd be his sixth title with the team.
The Pittsburgh Pirates won the 2013 headlines. The Boston Red Sox won the 2013 World Series. But neither -- at the moment -- figures to be among the biggest stories of 2014. Not with the AL West packed, Alex Rodriguez's appeal still up in the air and the new commissioner to be chosen -- among many other things. Check out Buster Olney's top 10 storylines for the new year and rank them according to your interest level. Simply click on the images to submit your ballot!

More Top 10 Rank 'Em's: Lineups | Rotations | Bullpens

Top 2014 MLB Storylines

AL West race

AL West race

Will the A's repeat? Will the Rangers bounce back? Or will the Angels and Mariners have something to say about it?

A-Rod resolution

A-Rod resolution

Will his 211-game suspension be upheld?

Expanded replay

Expanded replay

How much will it change the game?

Jeter's future

Jeter's future

How much does he have left?

Kershaw, Scherzer

Kershaw, Scherzer

Will the Cy Young winners and free-agents-to-be stay in their respective cities?

Mattingly's job status

Mattingly's job status

Is Don Mattingly a Dodger for good?

Milestones

Milestones

Albert Pujols could reach 500 HR (he's at 492), 1,500 RBIs (1,498) and 1,500 runs (1,425). Alex Rodriguez is closing in on 3,000 hits (2,939) and 2,000 RBIs (1,969).

New MLBPA head

New MLBPA head

What will the future be like under new leader Tony Clark?

Selig's successor

Selig's successor

Is Rob Manfred the man?

Tipping points

Tipping points

Will the Phillies, Royals, Diamondbacks and Orioles trend upward or downward?

Your Rankings

1.

2.

3.

4.

5.

6.

7.

8.

9.

10.

Tags:

MLB, MLB, Alex Rodriguez, Clayton Kershaw, Albert Pujols, Derek Jeter, New York Yankees, Los Angeles Dodgers, Oakland Athletics, Texas Rangers, Los Angeles Angels, Seattle Mariners, Philadelphia Phillies, Detroit Tigers, Max Scherzer, Arizona Diamondbacks, Kansas City Royals, Baltimore Orioles