SportsNation Blog Archives

Derek Jeter
September 28, 2014
Sep
28
Of all the tributes to Derek Jeter from fans, fellow athletes, celebrities and, really, everyone, this -- from Ashley Kelly, wife of Boston Red Sox pitcher Joe Kelly -- might be the best:
When I was 12, I thought I would marry Jeter. Instead I married the guy that took a selfie w/ him during his ceremony pic.twitter.com/3BrkWBQHgy

— Ashley Kelly (@ashleynicokelly) September 28, 2014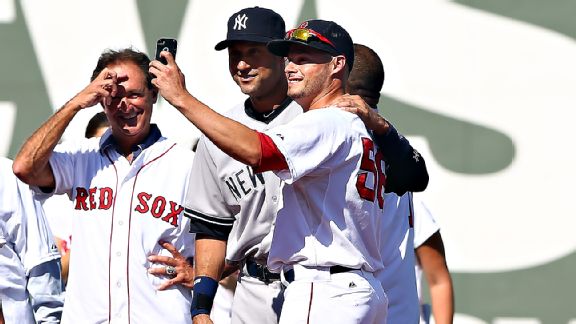 Elsa/Getty ImagesTake a guess as to which one is Derek Jeter.
So there you have it. This post goes out not only to Jeter, but to all the ladies who have had to settle for us non-Jeters. Our condolences.
Meanwhile, here is Kelly's selfie. Sorry, his #2ELFIE.
#RE2PECT #2ELFIE pic.twitter.com/s5ZfaVYSLf

— Joseph Kelly Jr. (@JosephKellyJr) September 29, 2014
H/T Bleacher Report
Tags:

MLB, MLB, Boston Red Sox, New York Yankees, Derek Jeter, Joe Kelly
Rob Carr/Getty Images
Trout MVP in Jeter's final ASG
Beloved New York Yankees shortstop Derek Jeter helped the American League to a 5-3 All-Star Game win Tuesday night, going 2-for-2 with a double and a run in his final Midsummer Classic. MVP honors, however, went to the almost-undisputed best player in baseball, Mike Trout; the Los Angeles Angels outfielder went 2-for-3 with a double, triple and two RBIs -- including the game-winner. St. Louis Cardinals pitcher Adam Wainwright, meanwhile, stirred some controversy by saying he intentionally took it easy on Jeter (he later walked back a bit on his comments). Did Jeter get snubbed? Do you have a problem with Wainwright?
Jim Rogash/Getty Images

MLB All-Star Game rosters?

The rosters for the 2014 Major League Baseball All-Star Game are set, with leading vote-getters Jose Bautista (American League) and Troy Tulowitzki (National League) among the many players headed to the July 15 contest in Minneapolis. Of course, not all selections were without controversy; Nelson Cruz made the team less than a year after his 50-game suspension, while Derek Jeter received a farewell start at AL shortstop. What is your take on the teams?

The year-long Derek Jeter retirement tour kicked off Wednesday night in Houston, where the Astros -- and several Houston-connected athletes -- feted the New York Yankees superstar on the field at Minute Maid Park.

And what would be a retirement party without gifts? Take a look at Jeter's haul: a pair of Yankees-themed cowboy boots, a cowboy hat and a set of golf clubs (presented below alongside two-time major champion Mark O'Meara):

Images: Pat Sullivan/AP Photo