SportsNation Blog Archives

Amare Stoudemire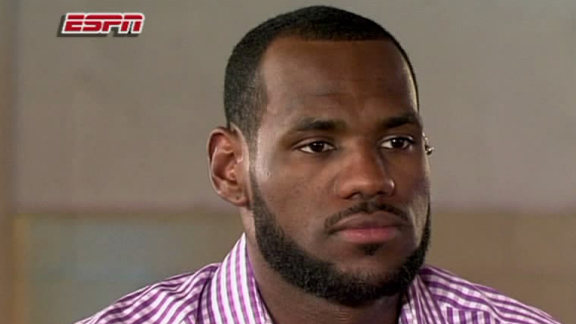 Five years ago today, LeBron James announced he was taking his talents to South Beach. But while his announcement garnered the most attention, he wasn't the only high-profile player to switch jerseys that summer. We revisit the other major "decisions" made that fateful summer, and which moves warrant a thumbs up -- or thumbs down.
Note: Dirk Nowitzki, Dwyane Wade, Joe Johnson and Yao Ming all re-signed with their respective clubs and therefore weren't included in the discussion.
• • •
Chris Bosh: From Toronto Raptors to Miami Heat
Thumbs up
Prior to "The Decision," Bosh swapped digits going from The 6 to the 305, incentivized by a "secret" agreement from LeBron to form a new Big 3 in Miami. The result: $110.1 million, one asinine welcome pep rally, five consecutive All-Star appearances, and not one, not two - well, we all know how that went.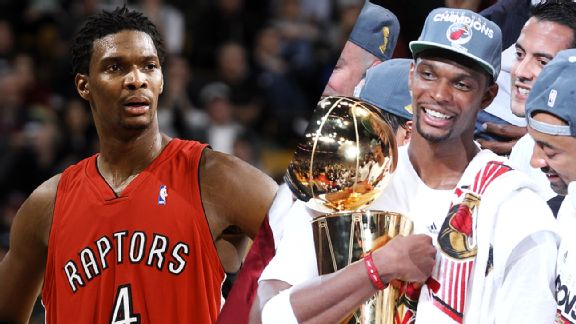 Getty Images, USA Today Sports
Amar'e Stoudemire: From Phoenix Suns to New York Knicks
Thumbs down
Concerns over his health led Amar'e to desert Phoenix for the Knicks' $100 million money grab. He was a Broadway hit while clinching three straight playoff berths, but fans turned on him (and the team) in a New York minute once injuries and a lack of chemistry with Carmelo Anthony made the franchise a punchline.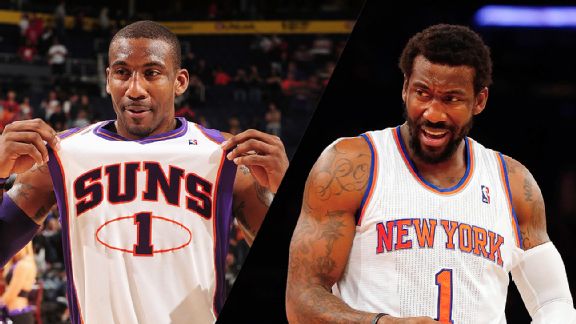 Getty Images
Carlos Boozer: From Utah Jazz to Chicago Bulls
Thumbs down
Boozer was productive in Chicago (averaging 15.5 points and 9.0 points per game), but the team could not overcome his horrible D, Derrick Rose's injuries or their Miami rivals to make his tenure a success. His Midwest move netted him close to $80 million, but resulted in an acrimonious divorce reminiscent of his exit from Utah.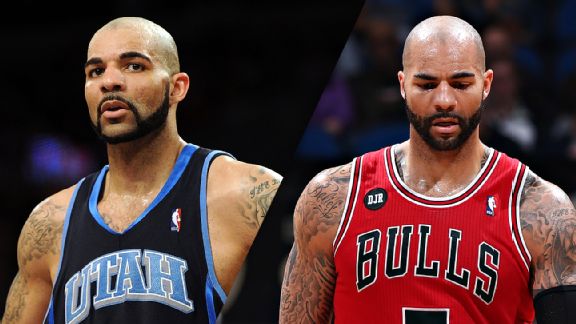 Getty Images
David Lee: From New York Knicks to Golden State Warriors
Thumbs up
Despite losing his spot in the rotation this year, Lee's decision to bolt Broadway was profitable both on and off the court. The stat-stuffing forward pocketed $80 million in a sign-and-trade deal that helped him escape the NBA's version of Alcatraz for greener (and championship gold) pastures.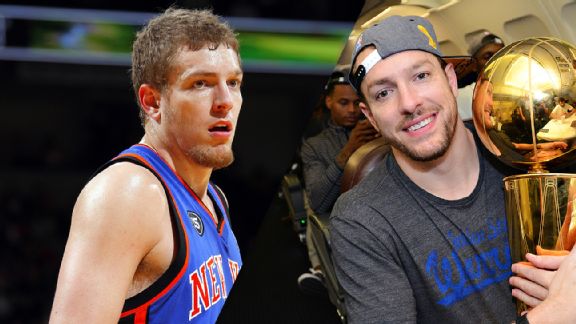 Getty Images
Shaquille O'Neal: From Cleveland Cavaliers to Boston Celtics
Thumbs up
At this juncture of his career, Shaq was in full title-chasing mode, willing to latch on to any squad with a glimmer of title hopes. That led to a forgettable, injury-riddled season on the court; but a wildly entertaining year off it, because, well, he's Shaq. Now can we get the "Shaq statue" a permanent home in Harvard Square?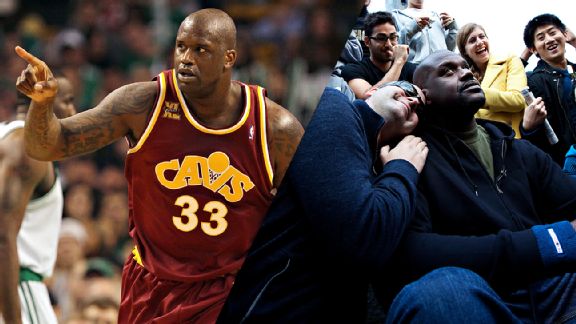 Getty Images
Late-night prankster extraordinaire Jimmy Kimmel has pulled another one.
His latest: convincing Metta World Peace he was speaking at a charity event, only to have co-conspirator Cousin Sal as his driver and Metta's former New York Knicks teammate Amar'e Stoudemire. The result, predictably, was gold:
Now, we must disclaim: This could all be an elaborate prank on us viewers.
After all, Kimmel is a master of the hoax ... Mr. World Peace kept his cool far better than you or we probably would have.
The Knicks picked up a much-needed win Saturday, but suffered a bigger loss off the court when they found out Amar'e Stoudemire will miss the next six weeks due to a knee injury. Stoudemire had been thriving in his new sixth-man role, averaging 17 points per game on 57 percent shooting in March. Now the Knicks -- currently tied for second in the East -- will have to make their final playoff push without him. Can they hold on to home-court advantage in the first round? Cast your vote!
---
STAT out for six weeks
The Knicks were just 16-13 with Amar'e Stoudemire in the lineup this season, compared to 22-9 without him.

---
STAT out of New York?
Amar'e Stoudemire has two years and more than $45 million left on his contract after this season, which might make him hard to move.

The Jeremy Lin phenomenon captivated Knicks fans this season, but his agent is telling fans that it's no guarantee that Lin will be back in New York. Lin is a restricted free agent this summer, and while New York gave him the shot that made him a household name, he could potentially use his star status to land in a more appealing situation. Knicks coach Mike Woodson said that Lin would "definitely" be back with the Knicks, but is the coach's confidence in Lin's return misplaced?
---
Lin's future?
Lin could see where his marketability would take him. Teams are always looking for talented point guards to run their offenses.

---
Where would Lin thrive?
That being said, Lin could have something special with the Knicks -- if he ends up meshing well with Carmelo Anthony and Amare Stoudemire, the Knicks could be championship contenders.

---
Would Lin have made a difference?
This year, the Knicks were definitely not championship contenders. They managed to win onyl one game against an (apparently) beatable Heat team despite several close misses. Tellingly, Lin was out with an injury the entire time.

The Knicks' soap opera of a season ended Wednesday night with a seemingly inevitable loss to the Heat, which means it's time for the annual edition of "What do the Knicks do now?" Amare Stoudemire is on record as saying that Steve Nash would be a great fit on the team, which would leave no room for the somewhat-phenom that is Jeremy Lin. Amare himself is under scrutiny, as he and Carmelo Anthony haven't quite clicked yet. The team also has questions to answer at coach -- Mike Woodson seemed a good fit for New York, but the Knicks considered reaching out to former coach Phil Jackson. It doesn't look to be a boring offseason at Madison Square Garden.
---
Trade Amare?
Amare Stoudemire and Carmelo Anthony have had a hard time getting on the same page, which might signal the need for a trade in New York.

---
Nash or Lin?
That said, if they do end up keeping Amare, the Knicks must decide whether to pursue Steve Nash or keep Jeremy Lin. Someone has to dish it to Stoudemire, after all.

---
Woodson's potential?
Mike Woodson did an admirable job taking over for Mike D'Antoni after his departure, but is he a long-term solution?

---
Is Jackson done?
The Knicks were reportedly interested in Phil Jackson, but never reached out to him because they weren't certain he would take the job.