SportsNation Blog Archives

DeMarcus Cousins
There are so many variables that can lead to an awkward high-five -- timing, intensity, accuracy, hand cupping. But by far the most embarrassing is when an eager high-five is met with utter disregard from the intended recipient. Case in point: Kings center Kosta Koufos trying to congratulate teammate DeMarcus Cousins and failing miserably: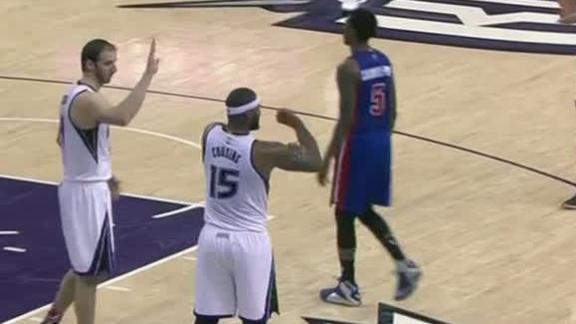 If you're going to get left hanging like that, might as well make the most of it and high-five yourself followed by a sarcastic "just kidding" finger point, right? Or you could go with the missed-high-five-into-air-fist-pound like Buck Showalter. Anything to avoid the Tom Brady strategy, really.
Not to worry though, Boogie hit him back with a social high-five:
@kostakoufos my bad bro for leaving u hanging <ÿ #highfive

— DeMarcus Cousins (@boogiecousins) November 12, 2015
And the apology was accepted:
@boogiecousins no worries bro! <û=

— Kosta Koufos (@kostakoufos) November 12, 2015
Tags:

NBA, DeMarcus Cousins, Kosta Koufos, Sacramento Kings, SportsNation
After a lengthy negotiation, on Wednesday the Cleveland Cavaliers and big man Tristan Thompson agreed to a five-year, $82 million deal.
Shortly after the news broke, Sacramento Kings All-Star big man DeMarcus Cousins tweeted:
How much??? =3

— DeMarcus Cousins (@boogiecousins) October 21, 2015
Now, we can't be certain Cousins was responding to Thompson's deal; perhaps he's a frugal eater and rightfully subtweeted a friend who blindsided him with an invite to an unexpectedly expensive restaurant.
But it's highly likely Cousins was reacting to the big money given, and one can see why: Cousins by virtually every metric is better than Thompson -- many consider him to be the best center in the league -- and yet in 2013 he signed for four years, $62 million.
Then again, this is the world of the new salary cap, which has contracts skyrocketing (see: Reggie Jackson getting five years, $80 million and Enes Kanter getting four years, $70 million).
In other words: Don't worry, Boogie. You'll get a whole lot, very soon.
Tags:

NBA, NBA, Cleveland Cavaliers, Tristan Thompson, Sacramento Kings, DeMarcus Cousins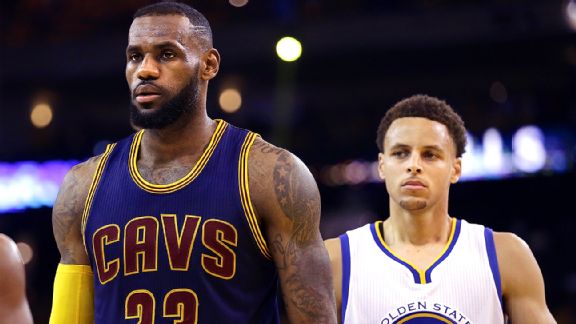 AP Photo/Ben Margot
Recently we brought you the top 10 players, as rated by the latest "NBA 2K" game.
The ratings for "NBA Live 16" also are here -- and they're quite a bit different.
Here's the top 10 (and ties):
1. LeBron James (97)
2. Kevin Durant (96)
T-3. Anthony Davis (95)
T-3. Marc Gasol (95)
T-3. Blake Griffin (95)
T-3. James Harden (95)
T-3. Chris Paul (95)
T-8. LaMarcus Aldridge (94)
T-8. DeMarcus Cousins (94)
T-8. Stephen Curry (94)
T-8. Russell Westbrook (94)
That's right: LeBron James (no surprise) is No. 1, 2014 NBA MVP Kevin Durant is No. 2, and a handful of talented stars across positions come in tied for third.
Meanwhile, the reigning NBA MVP is tied for eighth -- definitely an eye-opening number for a player many consider the best in the league. Then again, perhaps "NBA Live" is drawing upon more than just last season for its ratings; few before 2014-15 had Curry in that top-player-overall conversation.
Tags:

NBA, NBA, LeBron James, Cleveland Cavaliers, Kevin Durant, Anthony Davis, Marc Gasol, Blake Griffin, James Harden, Chris Paul, LaMarcus Aldridge, DeMarcus Cousins, Stephen Curry, Russell Westbrook, Oklahoma City Thunder, New Orleans Pelicans, Memphis Grizzlies, Los Angeles Clippers, Houston Rockets, Sacramento Kings, San Antonio Spurs, Golden State Warriors