SportsNation Blog Archives

NBA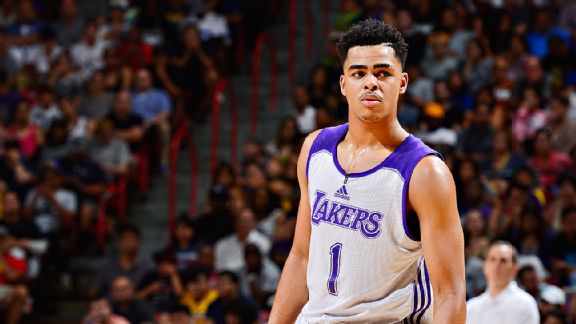 David Dow/NBAE/Getty Images
D'Angelo Russell sent out a since-deleted tweet earlier this month, claiming that the talented-but-oft-injured Tracy McGrady "might have been the GOAT."
This raised eyebrows; after all, Russell's new Los Angeles Lakers teammate is Kobe Bryant -- himself an all-time great who gets labeled by some fans as the "best ever" (despite, you know, this guy).
Kobe himself responded, leading to a good-natured exchange between rookie and legend that has seemingly quashed any thoughts of bad blood.
All good in Laker Land? Well ...
This weekend the No. 2 overall pick spoke with the Los Angeles Daily News about his first offseason as a Laker, and that infamous tweet. Here's the key McGrady-related quote in a story that covers much more:
"There's a lot of spoiled Lakers fans. I wasn't downgrading Kobe at all. I was just watching a highlight tape of Tracy McGrady and I got excited. I tweeted and the whole state of California went crazy."
(Insert flushed emoji here.)
Now, it's hard to deny that fans of this franchise -- winner of 16 overall titles, 11 since moving to Southern California, five in the Kobe era and at least two during the lifetimes of pretty much anyone who's reading this -- have had it just a little bit good.
But if some Lakers fans went after him for the McGrady tweet, this might not exactly endear him to those same fevered supporters.
Then again, if he lives up to the hype, we're guessing they'll forgive it all.