SportsNation Blog Archives

Carmelo Anthony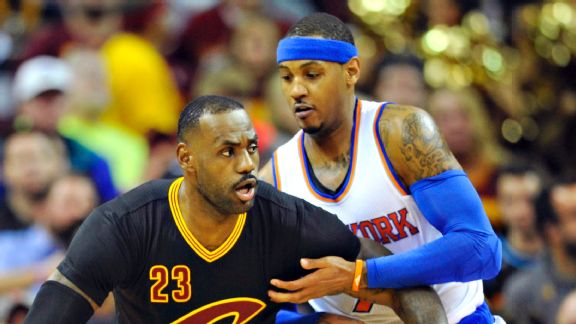 David Richard/USA TODAY Sports
Carmelo Anthony started to get a little wistful Wednesday morning while talking about ex-teammates Iman Shumpert and J.R. Smith.
"It seems like LeBron [James] took all my family from me," he said hours before the Knicks-Cavs game.
It was a funny line in a light-hearted moment from Anthony.
But he has a genuine bond with Shumpert and Smith, who were traded to James' Cavaliers last January.
Anthony watched both players -- and his buddy LeBron -- with the pride of an older brother during the NBA Finals last season.
"It was more kind of [like] seeing your family out there than anything," he said. "I didn't watch it kind of from a competitive standpoint. I watched two guys -- J.R., I've known him, I've been with him for almost 10 years; Shump is a guy who came in and was kind of a little brother to me; and of course LeBron, who I've been with, kind of connected to since high school. So to see all three of those guys competing at that level, it was more watching my family out there."
Tags:

NBA, NBA, Iman Shumpert, J.R. Smith, LeBron James, Carmelo Anthony, Cleveland Cavaliers, New York Knicks
September 23, 2015
Sep
23
The ratings for "NBA 2K16" are out, and -- unlike in "Madden" -- nobody in the league was given a 99.
In fact, the highest rating was a 94, given to a player whose name long has been synonymous with "best in the NBA."
The 10 overall ratings in #NBA2K16. What do you think? Let the debates begin. pic.twitter.com/qGyUIHajzA

— NBA 2K 2K16 (@NBA2K) September 22, 2015
That's right. Even Stephen Curry's MVP season -- which gave him a four-point jump over his score a year ago -- couldn't push him past LeBron James, although the latter dropped four points (partly due to, as Bleacher Report explains, a new way of calculating rankings).
James Harden's players' choice MVP campaign got him a four-point boost, as did the continued scary-goodness of Anthony Davis, but they still couldn't take down The King. Kevin Durant's injury, meanwhile, likely was the reason for his fall from second place and a 95 rating a year ago. (Interesting note: The three non-LeBron top-four players are on the cover.)
There were a couple of surprise inclusions on the list. Carmelo Anthony was 20th in player efficiency rating, 49th in real plus-minus and 81st in wins above replacement last season, yet checks in at No. 8. LaMarcus Aldridge (11th/25th/22nd) was also an eyebrow-raiser at tied for eighth/No. 10.
Not that either is bad, far from it, But still, no love for the best player on Aldridge's team?
Tags:

NBA, NBA, LeBron James, Stephen Curry, James Harden, Anthony Davis, Kevin Durant, Russell Westbrook, Chris Paul, Carmelo Anthony, Blake Griffin, LaMarcus Aldridge, Cleveland Cavaliers, Golden State Warriors, Houston Rockets, New Orleans Pelicans, Oklahoma City Thunder, Los Angeles Clippers, New York Knicks, San Antonio Spurs
Even the very best get confused.
Case in point: Here is Russell Westbrook, absolutely one of the NBA's top players, completely botching a drill (according to the tweeter, "two dribbles to score" -- as in, he's supposed to score here in two dribbles or less).
LeBron and Melo lose it when Russell Westbrook defeats the whole purpose of the drill (2 dribbles to score) pic.twitter.com/7tnWaHwaa0

— Hoopmixtape.com (@Hoopmixtape) August 13, 2015
LeBron James and Carmelo Anthony's reactions were wonderful. But let's not ignore Westbrook, who often comes off as impossibly serious, being able to laugh at himself. And it's not the first such instance this summer.
Good times.
H/T Bleacher Report
Tags:

NBA, NBA, LeBron James, Cleveland Cavaliers, Russell Westbrook, Carmelo Anthony, New York Knicks, Oklahoma City Thunder