SportsNation Blog Archives

Carmelo Anthony
Milwaukee Bucks veteran swingman Jared Dudley was at ESPN on Wednesday and, in the spirit of his #nextcareer claim, he did not hold back on his opinions.
When asked about the most overrated player during an appearance on The Herd with Colin Cowherd, Dudley quickly named Carmelo Anthony.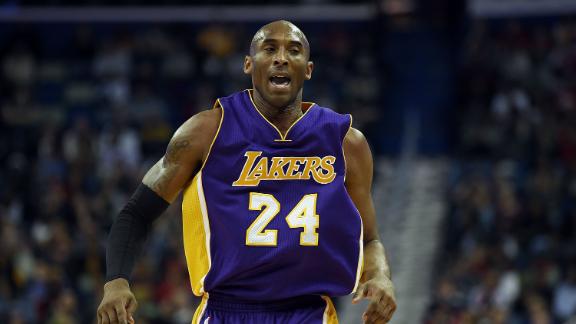 But perhaps Dudley's most eye-opening take was on Kobe Bryant, whose shoot-first (and second, and third) ways, Dudley said, are why "it'll [take] a while for the Lakers to get good, because no stars ... want to go there."
Naturally, there was some backlash -- a little about Melo, but mostly about Kobe. Dudley addressed it.
You gotta love the Lakers fan! You gotta understand its goin to take a very unique Star to come FA, KD and Russ. No hate just keep in it 100

— Jared Dudley (@JaredDudley619) May 27, 2015
When dealing with Superstars they have egos that have to be stroke! That's why you hear about Kevin love leaving. Role players don't care

— Jared Dudley (@JaredDudley619) May 27, 2015
RT @SteelzKitchen: @JaredDudley619 I've seen melo cook you bro .. ( he def has.. No one said melo not good.. )

— Jared Dudley (@JaredDudley619) May 27, 2015
RT @kingjazz24: U don't wanna play with Kobe cuz ur not a true winner! ( I would play with him! Most stars wouldn't taking less $ and shots)

— Jared Dudley (@JaredDudley619) May 27, 2015
Ok Kobe fans listen to the interview. I said Kobe one of the greats! I'm laughing about his shot attempts . Most people not taking less $

— Jared Dudley (@JaredDudley619) May 27, 2015
RT @Ugly_Anna: Apologize @JaredDudley619 ( im sorry!!!!! Lol )

— Jared Dudley (@JaredDudley619) May 27, 2015
On Monday, Carmelo Anthony sat down with the good people of Facebook to answer all the hard-hitting questions. That is, all the questions he could answer in 60 seconds. Throughout this brief-yet-entertaining Q&A, Melo gave us some insight into what we all have been longing to know. Check it out:
If a biopic of Melo is ever created, who would play the lead? He chose Will Smith, and now we can't help but envision the "I Am Legend" star rocking one of Melo's signature floppy hats while Spike Lee calls the shots from the director's chair. Sort of overwhelming, yet sort of awesome. One can dream.
The NBA star also let us all in on another secret. No, he didn't betray the East Coast (he chose Biggie over Tupac) and he refused to be baited into voicing favoritism for one NYC icon over another (Nas or Jay Z). But he let us in on his fear of cats. House cats? Wild cats? Who knows, but the thought of Melo running the other direction in fear of a furry feline is highly amusing.
It is also amusing that he said he enjoys playing basketball in Los Angeles, because clearly that means he wants to be traded there, right? He really should be more discreet.
European money machine and reigning UEFA Champions League winner Real Madrid currently is in the U.S., training at UCLA for games in Berkeley, California, and Dallas.
New York Knicks star and big-money player Carmelo Anthony is almost always in the U.S., and he too spent some time at UCLA on Wednesday with friend Dontaye Draper ... who happens to have played for Real Madrid's basketball team.
And so the two famous entities met, with Anthony and son Kiyan playing a little soccer -- albeit not against any of los Galacticos -- taking photos with stars such as Gareth Bale and Xabi Alonso, and answering questions about (naturally) new Knicks teammate/Spanish basketball star Jose Calderon.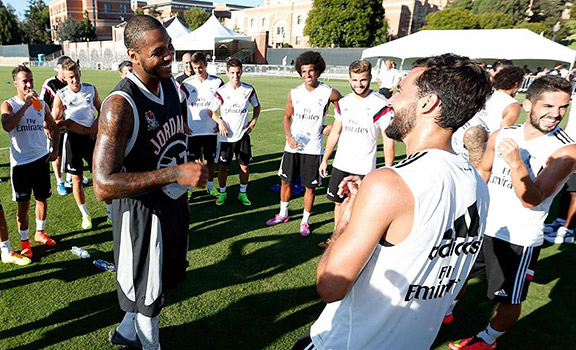 Real Madrid/FacebookCarmelo Anthony with several Real Madrid players.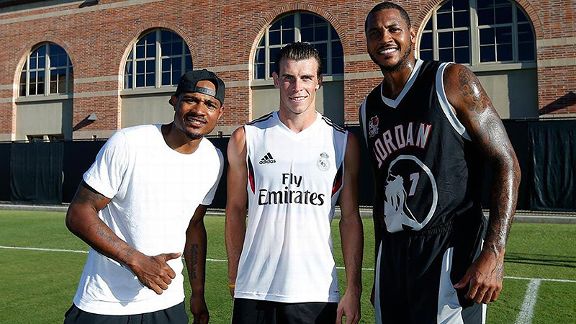 Real Madrid/FacebookCarmelo Anthony, right, with Dontaye Draper, left, and Gareth Bale.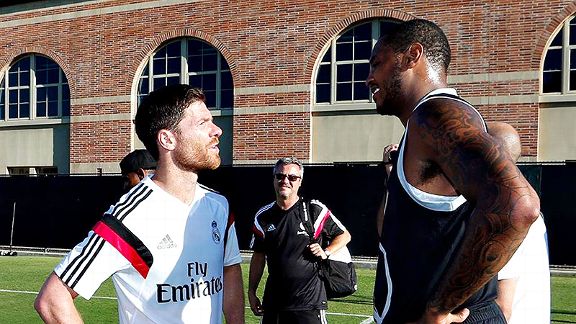 Real Madrid/FacebookCarmelo Anthony with Xabi Alonso.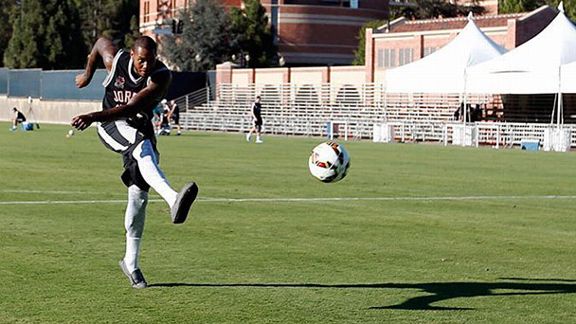 Real Madrid/FacebookCarmelo Anthony goes for goal.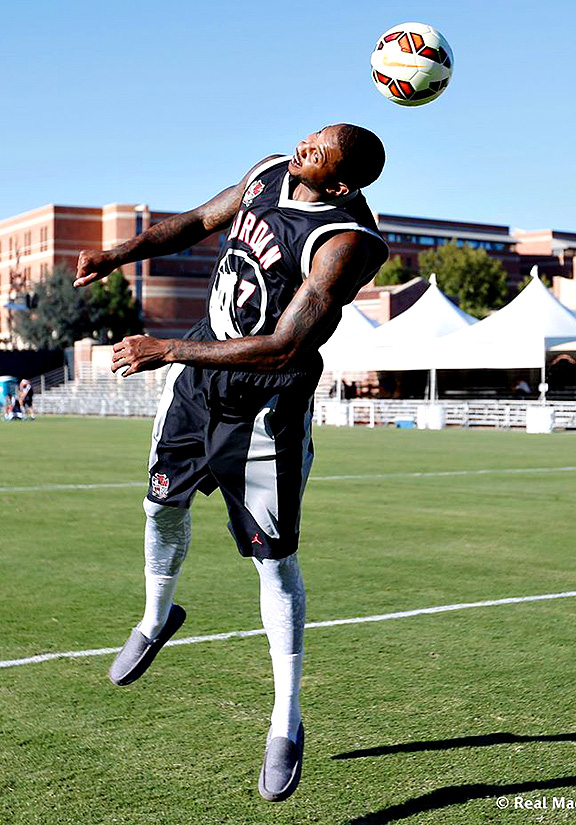 Real Madrid/Facebook Carmelo Anthony goes for a header.
This comes about six weeks after Real Madrid's own top star, Cristiano Ronaldo, tried his hand at American football.
So we ask: Who would be better at their new sport, Ronaldo or Melo?
Getty Images
Favorites in NBA's East?
Less than a week into the NBA's official free agency, nearly all of the big names have made their decisions. And while the Western Conference saw little movement, the East saw some deals that will certainly shake things up.
LeBron James, in case you hadn't heard, left the Miami Heat for the Cleveland Cavaliers. The Heat, though, kept Chris Bosh and Dwyane Wade, and added Luol Deng in the process. The Chicago Bulls picked up Pau Gasol and brought over Montenegro-born Nikola Mirotic from Spain to team with a (presumably) healthy Derrick Rose. And the Indiana Pacers on Wednesday saw Lance Stephenson go to the new-look Charlotte Hornets. (Also, let's not forget about Carmelo Anthony staying with the New York Knicks and Jason Kidd leaving the Brooklyn Nets to coach the Milwaukee Bucks.) Naturally, there are a lot of questions ...
Carmelo Anthony stays with Knicks

LeBron James is moving. But Carmelo Anthony is staying, re-signing with the New York Knicks for a reported five years and $122 million. Anthony chose New York over the Chicago Bulls and Los Angeles Lakers among others, deciding to stick with new team president Phil Jackson. But will the Knicks, who recently traded Tyson Chandler, compete anytime soon?