SportsNation Blog Archives

Dwyane Wade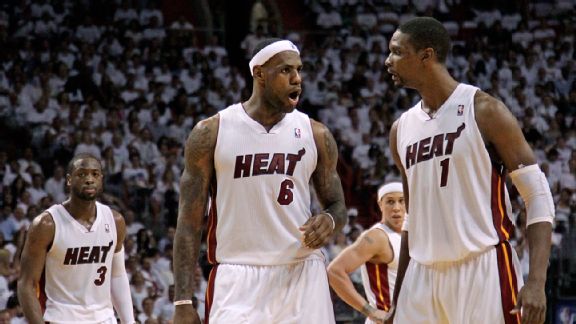 Al Diaz/Miami Herald/Getty Images
According to a source, Dwyane Wade has decided not to pick up his option with the Miami Heat for 2015-16, thus becoming a free agent.
This is a big move for the man who inspired "Wade County," and money supposedly is behind it. Wade stood to make $16.1 million next season, but he is said to want a three-year deal with an average salary of at least $16 million. The Heat, meanwhile, prefer to maintain future flexibility.
Wade is no longer the player he once was; his play, while still very good, has fallen off, and he has missed at least 20 regular-season games in three of the past four seasons.
Still, Wade surely knows he's an 11-time All-Star, won the 2006 NBA Finals MVP for what former ESPN analyst John Hollinger called the best Finals performance of all time ... and yet, he has never been the highest-paid player on his own team.
Per ESPN Stats & Info:
Will Wade buck this trend? That's to be seen. If he stays with the Heat, he'll once again be behind Bosh (due about $22.2 million next season). But as 2015 free agency begins, more than half the league is without a player who makes $16 million per year.
So it's possible ...
Getty Images
Favorites in NBA's East?
Less than a week into the NBA's official free agency, nearly all of the big names have made their decisions. And while the Western Conference saw little movement, the East saw some deals that will certainly shake things up.
LeBron James, in case you hadn't heard, left the Miami Heat for the Cleveland Cavaliers. The Heat, though, kept Chris Bosh and Dwyane Wade, and added Luol Deng in the process. The Chicago Bulls picked up Pau Gasol and brought over Montenegro-born Nikola Mirotic from Spain to team with a (presumably) healthy Derrick Rose. And the Indiana Pacers on Wednesday saw Lance Stephenson go to the new-look Charlotte Hornets. (Also, let's not forget about Carmelo Anthony staying with the New York Knicks and Jason Kidd leaving the Brooklyn Nets to coach the Milwaukee Bucks.) Naturally, there are a lot of questions ...
Steve Mitchell/USA TODAY Sports

Where will LeBron James play?

Although LeBron James opted out of his contract, conventional wisdom suggested he would re-sign with the Miami Heat and give things another go with the rest of the Big Three. But now that's not so clear, as reportedly James, Chris Bosh and Dwyane Wade aren't quite on the same page. Meanwhile, with James himself on vacation, sources say his agent, Rich Paul, might have met with representatives for the Dallas Mavericks, Houston Rockets and Phoenix Suns and possibly the Cleveland Cavaliers. Will James really leave South Florida?

Getty Images

NBA free agency predictions?

July 1 marks the beginning of NBA free agency, and what a time it should be. LeBron James is available. So are Carmelo Anthony, Chris Bosh, James' and Bosh's fellow Big Three member Dwyane Wade and -- perhaps briefly, if he re-signs as expected -- Dirk Nowitzki. That's not to mention restricted free agents such as Eric Bledsoe and Gordon Hayward, plus trade targets like Kevin Love. What will happen when the players start moving?