SportsNation Blog Archives

NBA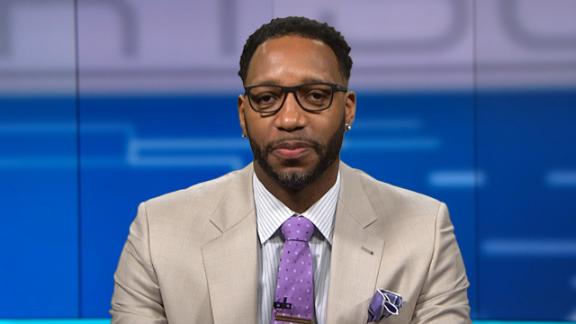 Tracy McGrady was quite the basketball player. Los Angeles Lakers rookie D'Angelo Russell even said (controversially) that he "might have been the GOAT."
So he knows a thing or two about NBA greats. We got him to give us his all-time NBA top five, and he laid it out in the form of a lineup -- with one notable position switch.
PG: Magic Johnson
SG: Michael Jordan
SF: LeBron James
PF: Hakeem Olajuwon
C: Shaquille O'Neal
Check the video above to hear McGrady explain his picks, and see which one is his own personal favorite.
Then, let us know:
Mario Chalmers might not be on the Miami Heat anymore, but that doesn't mean the guard -- traded last week to the Memphis Grizzlies after seven seasons and two titles in South Florida -- is forgotten.
Look at Monday night. Chalmers broke out (29 points on 13 shots in 23 minutes of a 122-114 win over the Oklahoma City Thunder), and after a big 3-pointer, Dwyane Wade chimed in, unprompted, on Twitter.
Rioooooooooo!!!!!!

— DWade (@DwyaneWade) November 17, 2015
Then, proving he wasn't just having a good time watching an animated movie about macaws with his kids, Wade sent this one out after the game:
Proud big bro iam. @mchalmers15 way to take that champion swagger to Memphis lil bro..

— DWade (@DwyaneWade) November 17, 2015
Teammates for life.
Karl-Anthony Towns is a burgeoning double-double machine for the Minnesota Timberwolves and an early front-runner for rookie of the year honors, but before he cruised through a heralded one-year stint at Kentucky into the NBA, he was a Kevin Durant fan, just like everyone else.
In a clip that recently resurfaced on MSGVarsity.com, "Karl Towns" -- then just a talented high schooler from New Jersey -- got a chance to interview Durant, whom he called one of his "basketball idols."
TNT dug up the footage to air during the Warriors-Timberwolves game Thursday night in Minneapolis.
Towns, who turns 20 on Sunday, hides any nervousness pretty well, especially for a kid right in the middle of his awkward teen years. According to HoopsHype, the exchange left an impression on Durant as well.
"He was really sharp," Durant said. "He was wise beyond his years and that's something I picked up on really as soon as I started talking to him."
Towns, who is averaging 16.1 points and 10.5 rebounds a game this season, will get his first chance to share an NBA court with Durant, now 27, on Jan. 12, when Minnesota travels to Oklahoma City.
h/t r/NBA
There are so many variables that can lead to an awkward high-five -- timing, intensity, accuracy, hand cupping. But by far the most embarrassing is when an eager high-five is met with utter disregard from the intended recipient. Case in point: Kings center Kosta Koufos trying to congratulate teammate DeMarcus Cousins and failing miserably: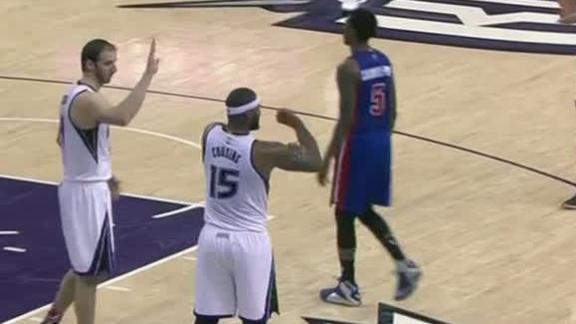 If you're going to get left hanging like that, might as well make the most of it and high-five yourself followed by a sarcastic "just kidding" finger point, right? Or you could go with the missed-high-five-into-air-fist-pound like Buck Showalter. Anything to avoid the Tom Brady strategy, really.
Not to worry though, Boogie hit him back with a social high-five:
@kostakoufos my bad bro for leaving u hanging <ÿ #highfive

— DeMarcus Cousins (@boogiecousins) November 12, 2015
And the apology was accepted:
@boogiecousins no worries bro! <û=

— Kosta Koufos (@kostakoufos) November 12, 2015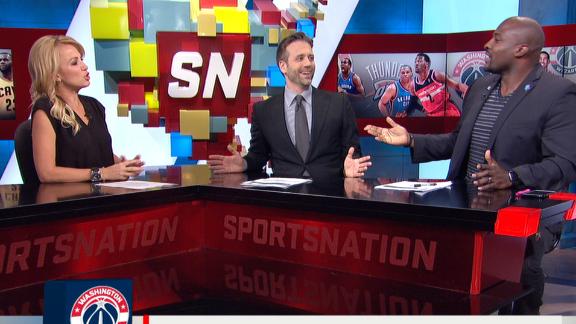 Washington Wizards fans aren't exactly hiding their desire to have hometown kid Kevin Durant return as a free agent.
Durant, though, isn't exactly a fan of their actions, calling them "kind of disrespectful" to current Wizards players.
Max Kellerman agrees. But the SportsNation crew wasn't unanimous. And apparently some Wizards fans didn't take too kindly to Durant's words, reportedly booing him when he touched the ball during Tuesday night's game between the Oklahoma City Thunder and Washington.
Your take?