SportsNation Blog Archives

NBA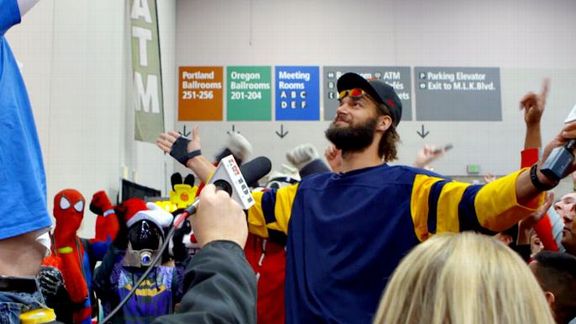 @trailblazers/TwitterRobin Lopez went to Wizard World Portland in 2014. Now he's taken his comic-loving talents to NYC.
NEW YORK -- Robin Lopez had a few reasons to look forward to Wednesday night.
The center, who signed a four-year, $54 million deal in the offseason, was making his New York Knicks debut in front of the home crowd at Madison Square Garden.
But Wednesday was also the eve before New York Comic Con, a four-day convention on the city's west side that is expected to draw more than 140,000 attendees -- including at least one 7-foot-tall NBA player.
"I am [planning on going]," said Lopez, who finished with six points and four rebounds in 16 minutes in his first game with the Knicks.
Lopez has attended conventions in the past, including Wizard World Portland in 2014 when he was a member of the Trail Blazers and served as a special ambassador for the show.
Moving to a new city means an opportunity to attend a new show, but it also meant finding a new comic book shop, something Lopez turned to his brother for.
"Brook's taken to me to Midtown [Comics], obviously," he said. "And I forget the name of the store, it's over by Washington Square, I stumbled upon that one."
Lopez said he leans toward books from DC over Marvel -- his favorite superhero is the Wally West version of The Flash -- and reads "anything Grant Morrison puts out. And Mark Waid, obviously. Nothing surprising about that I guess."
"I grew up with a lot of '90s comics, Mark Waid's 'Flash,' 'JLA,' 'Starman,' all of that."
Unlike most comic fans, Lopez doesn't necessarily go see every movie adaptation, and he expressed some trepidation about next year's DC tentpole film, "Batman v Superman: Dawn of Justice."
"I think they're establishing a different tone from the Marvel films," he said, "and I'm not sure it's exactly for me. But I think there are interesting things about it. It's nice that they're finally getting Wonder Woman in the movies for example."
As for what he's looking forward to most at this weekend's show, Lopez turned to the world of movies.
"I hear Christopher Lloyd [from 'Back to the Future'] is going to be there, and they're going to hand out the Pepsi Perfect bottles to people dressed up as Marty McFly."
So is Lopez -- whose brother has campaigned for a role in the new Star Wars movie as a Wookie -- going to dress up?
"I might," he said. "We'll see."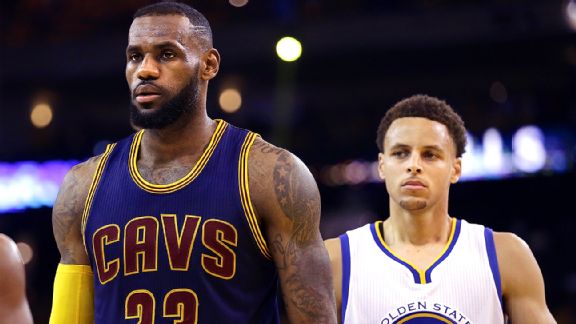 AP Photo/Ben Margot
Recently we brought you the top 10 players, as rated by the latest "NBA 2K" game.
The ratings for "NBA Live 16" also are here -- and they're quite a bit different.
Here's the top 10 (and ties):
1. LeBron James (97)
2. Kevin Durant (96)
T-3. Anthony Davis (95)
T-3. Marc Gasol (95)
T-3. Blake Griffin (95)
T-3. James Harden (95)
T-3. Chris Paul (95)
T-8. LaMarcus Aldridge (94)
T-8. DeMarcus Cousins (94)
T-8. Stephen Curry (94)
T-8. Russell Westbrook (94)
That's right: LeBron James (no surprise) is No. 1, 2014 NBA MVP Kevin Durant is No. 2, and a handful of talented stars across positions come in tied for third.
Meanwhile, the reigning NBA MVP is tied for eighth -- definitely an eye-opening number for a player many consider the best in the league. Then again, perhaps "NBA Live" is drawing upon more than just last season for its ratings; few before 2014-15 had Curry in that top-player-overall conversation.
There have been plenty of "pinch me" moments for LeBron James and his buddies-turned-business partners as they've gone from kids growing up in poverty-stricken neighborhoods in Northeast Ohio to living the good life.
They've spent time with President Obama, developed a television series loosely based on their lives, and they've been recognized for being young leaders in their field.
James has brought childhood friends Maverick Carter, Randy Mims and Rich Paul along for the ride as he has crossed over from basketball phenom to renaissance man, experiencing success in everything from acting to investing.
And now his pals are starting to experience acclaim of their own.
Carter was a guest speaker at the Harvard Business School on Tuesday to share the story behind LRMR, the firm that James established with his friends in 2005 to manage all the marketing and business opportunities that came his way.
Illustrating how James' crew supports one another to this day, after Carter posted a photo speaking to the Harvard students on his Twitter account, Mims and James posted a collage of photos depicting Carter playing professor to their respective Instagram accounts.
"I think it's pretty cool the professors there would even allow Maverick and allow us to use our case study for their students," James said Wednesday, alluding to the case study that Harvard professors Anita Elberse and Jeff McCall published in 2009 about James and his friends' business venture. "To be at Harvard and to be very respected there, it's a true definition of continuing to learn over the years, continue to push the envelope, push the boundaries of what we can do not only on the floor but off the floor."
When James fired agent Aaron Goodwin in 2005 and subsequently established LRMR, there were plenty of naysayers. James heard the same criticism in 2012 when he parted ways with agent Leon Rose and put Paul in place as his primary representative.
Meanwhile, James has nothing but praise for the way his friends, and Carter in particular, have managed his career.
"I think he's handled it the best way he could handle a situation like this," James said. "It's a rare case of me being the person I am both basketball player and off the floor. We've all learned, we've had bumps and bruises along the way, but it has only made us stronger and made us who we are today.
"About 12 years ago when I decided to part ways with my agent, there were 150 million articles about how I was making a mistake to hire the people around me that I trusted -- Maverick, Rich and Randy -- and start LRMR and how everything would fall to pieces. Those pieces have made a beautiful portrait at this point."
September 23, 2015
Sep
23
The ratings for "NBA 2K16" are out, and -- unlike in "Madden" -- nobody in the league was given a 99.
In fact, the highest rating was a 94, given to a player whose name long has been synonymous with "best in the NBA."
The 10 overall ratings in #NBA2K16. What do you think? Let the debates begin. pic.twitter.com/qGyUIHajzA

— NBA 2K 2K16 (@NBA2K) September 22, 2015
That's right. Even Stephen Curry's MVP season -- which gave him a four-point jump over his score a year ago -- couldn't push him past LeBron James, although the latter dropped four points (partly due to, as Bleacher Report explains, a new way of calculating rankings).
James Harden's players' choice MVP campaign got him a four-point boost, as did the continued scary-goodness of Anthony Davis, but they still couldn't take down The King. Kevin Durant's injury, meanwhile, likely was the reason for his fall from second place and a 95 rating a year ago. (Interesting note: The three non-LeBron top-four players are on the cover.)
There were a couple of surprise inclusions on the list. Carmelo Anthony was 20th in player efficiency rating, 49th in real plus-minus and 81st in wins above replacement last season, yet checks in at No. 8. LaMarcus Aldridge (11th/25th/22nd) was also an eyebrow-raiser at tied for eighth/No. 10.
Not that either is bad, far from it, But still, no love for the best player on Aldridge's team?
September 21, 2015
Sep
21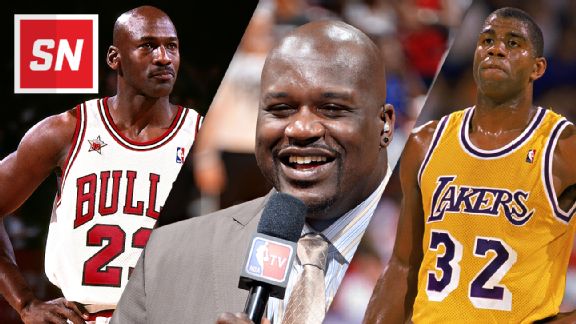 Getty Images
NBA top fives are in the air. Kevin Durant gave his list two weeks ago, and now, one of Durant's picks has made his own choices.
In an interview with The Times-Picayune of New Orleans, former Los Angeles Lakers (and Orlando Magic ... and Miami Heat ... and a few other teams) big man Shaquille O'Neal was asked his all-time starting five. His answer:
"Bill Russell won 11 championships. Charles Barkley is my guy, but I like Karl Malone. Then there's the guy who made me who I am -- Dr. J [Julius Erving]. I've got Michael [Jordan] at the two. Then, I'm going to go with the big guard with Magic Johnson at the one."
Now, O'Neal made sure NOT to put an exclamation point on his list, saying:
"I see a problem with answering these questions. A lot of people get their feelings hurt. Then some of you guys [reporters] be trying to start trouble, like Shaq leaving Kobe [Bryant] off. Then it's Shaq and Kobe.
"But that's my top five for playing reasons and what they did. Russell doesn't have high [statistical] numbers, but with 11 championships, nobody is beating that."
We're not doing that, Shaq! We know you're mending fences with former teammate Kobe Bryant and certainly wouldn't leave him off as a dig. Heck, he wouldn't be on this writer's top five, either -- not because Kobe hasn't been great (he has), but when you get to the upper reaches of the NBA's all-timers list, it's really, really, really competitive.
Having said that, O'Neal did make some interesting choices; Malone and Erving, in particular, don't appear on a great deal of these lists. So we ask you: