SportsNation Blog Archives

NHL
On Friday night the Tampa Bay Lightning-New York Rangers series came to a culmination in Game 7 at Madison Square Garden. Needless to say, tickets were going for a pretty penny. To be rinkside? That was really going to cost you.
Good thing one super-chill bro was willing to dish out the cash necessary to get a coveted front-row seat and give this entertaining interview:
His reasoning for throwing out hundreds like candy is very sound:
"Benjamin Franklin is killin' the game!"
He was also unfazed when asked whether he knew tickets were going for as much as $19,200, and that he could have turned quite a profit:
"Yeah I know, that would have been cool, but you know what? I gotta see the Rangers win. I could have blown all that money on water. I don't really drink alcohol. It's cool."
It's cool, bro. Everything's cool.
If only the Rangers had won and we could watch the chillest bro in the game flash his bling rinkside for another series. Oh well, it's cool.
Is Steven Stamkos a computer? The obvious answer is: No! Of course not. He's a human being who spends his time breaking things with his ridiculous slap shot and scoring more than 200 goals in his NHL career. The only reason we ask is that Stamkos apparently has a photographic memory when it comes to those goals:
We're not saying Stamkos is a computer. We're not saying that at all. We're just saying he might be half-computer. Like some kind of awesome cyborg. We can't even remember what we had for lunch yesterday.
Growing up, Patrick Kane played on local rinks throughout his native Buffalo, New York.
Recently, the two-time Stanley Cup champion and 2013 Conn Smythe Trophy-winning Chicago Blackhawks forward returned to his hometown to do that once again.
So this Kane guy showed up to the @Piranhas3DPuck game last night... he was pretty good pic.twitter.com/vX5WaXTNYS

— Px Hockey League (@PxHockeyLeague) July 22, 2014
The results, naturally, were devastating. For his opponents, anyway. Five goals. Five assists. A 13-5 win.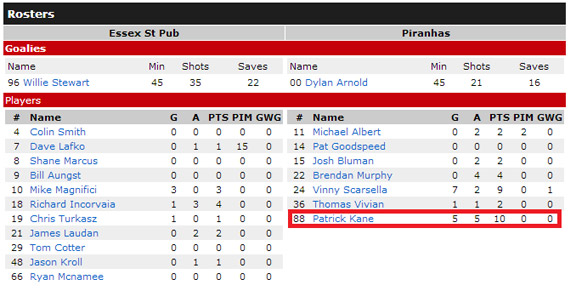 Performax Hockey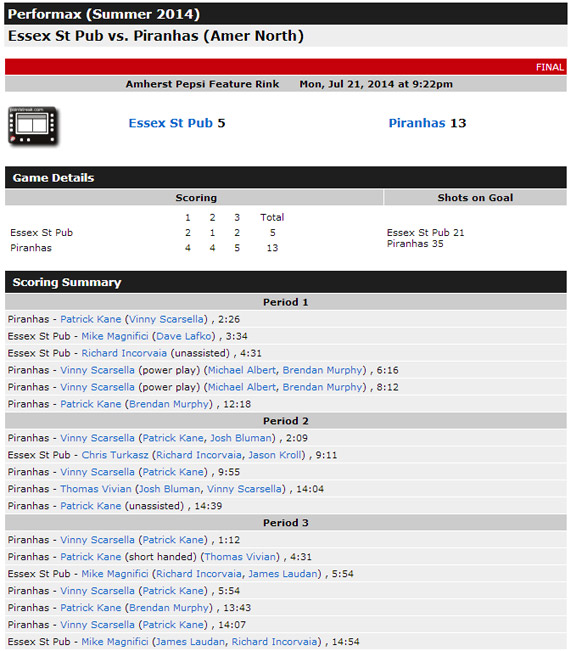 Performax Hockey
Let's not overlook the man on the receiving end of Kane's five assists: Vinny Scarsella, a 24-year-old most recently of the ECHL's Utah Grizzlies, who scored seven goals and added two assists.
Nor should we ignore the fact that this is Kane's second game with Piranhas -- and he only tallied one goal and two assists in the first (a 12-1 win).
WHAT HAPPENED IN THAT GAME, KANE?
H/T BarDown