SportsNation Blog Archives

Brad Pickett
Dominick Cruz hasn't entered the octagon since October of 2011, which means his top spot in the division is up for grabs. Our experts have Renan Barao as MMA's top bantamweight, but is he your pick? What about Tyson Nam, who's entered the top 10 after winning his first two professional fights? Click our photos below to set your rankings!


MMA bantamweight fighters
Raphael Assuncao

Raphael Assuncao
Record: 19-4-0

Renan Barao

Renan Barao
Record: 30-1-0
Eduardo Dantas

Eduardo Dantas
Record: 15-3-0

TJ Dillashaw

TJ Dillashaw
Record: 8-1-0

Mike Easton

Mike Easton
Record: 13-2-0

Urijah Faber

Urijah Faber
Record: 27-6-0

Bibiano Fernandes

Bibiano Fernandes
Record: 13-3-0

Marcos Galvao

Marcos Galvao
Record: 13-6-1

Scott Jorgensen

Scott Jorgensen
Record: 14-6-0

Michael McDonald

Michael McDonald
Record: 15-2-0


Tyson Nam

Erik Perez

Brad Pickett

Brad Pickett
Record: 22-7-0

Eddie Wineland

Eddie Wineland
Record: 20-8-1

Your Rankings
1.

2.

3.

4.

5.

6.

7.

8.

9.

10.

11.

12.

13.

14.

---
Silva vs. Gustafsson
Alexander Gustafsson and Thiago Silva make their living primarily as strikers, although Brett Okamoto thinks this match could be decided on the ground.

---
Stann vs. Sakara
Alessio Sakara is making his comeback in this match after being sidelined for a year. Brian Stann is looking to get back on track after a loss to Chael Sonnen

---
Thiago vs. Bahadurzada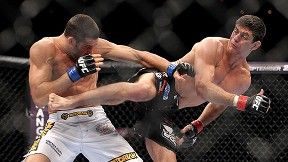 Both Paulo Thiago and Siyar Bahadurzada are coming off wins, although Bahadurzada hasn't fought since mid-May of last year.

---
Siver vs.Nunes
Dennis Siver lost by submission to Donald Cerrone in his last matchup, while Diego Nunes managed a decision over Manvel Gamburyan.

---
Page vs. Pickett
Brad Pickett and Damacio Page will be fighting to reverse bad trends -- Pickett lost his last match to Renan Barao, while Page is on a two-match losing streak.