SportsNation Blog Archives

Wil Myers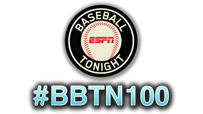 How do the top right fielders in Major League Baseball stack up? That question has been answered by our experts in the latest installment of the Baseball Tonight 100 (#BBTN100), a project to rank the top players across all 30 teams. We'll reveal a new position each day and unveil the overall 1-100 rankings March 27.
Do you agree with the experts' take on right fielders? Simply click on the images of the top 10 below to submit your ballot.


Rank: #BBTN100 Top Right Fielders
Jose Bautista

Jose Bautista
Toronto Blue Jays
BBTN Rank: 4
Carlos Beltran

Carlos Beltran
New York Yankees
BBTN Rank: 8
Ryan Braun

Ryan Braun
Milwaukee Brewers
BBTN Rank: 1
Jay Bruce

Jay Bruce
Cincinnati Reds
BBTN Rank: 7
Jason Heyward

Jason Heyward
Atlanta Braves
BBTN Rank: 5
Wil Myers

Wil Myers
Tampa Bay Rays
BBTN Rank: 6
Hunter Pence

Hunter Pence
San Francisco Giants
BBTN Rank: 10
Yasiel Puig

Yasiel Puig
Los Angeles Dodgers
BBTN Rank: 3
Giancarlo Stanton

Giancarlo Stanton
Miami Marlins
BBTN Rank: 2
Jayson Werth

Jayson Werth
Washington Nationals
BBTN Rank: 9
Your Rankings
1.

2.

3.

4.

5.

6.

7.

8.

9.

10.

Yasiel Puig took MLB by storm in 2013 -- and wasn't even voted best rookie in his league. That honor went Monday to Jose Fernandez, the Miami Marlins ace who went 12-6 with a 2.19 ERA and 187 strikeouts, and received 26 of 30 first-place votes. The American League, strangely, saw its top votes more divided, with Tampa Bay Rays outfielder Wil Myers (.293/.354/.478, 13 HR in 88 games) taking 23 of 30 first-place votes to beat out fellow finalists Jose Iglesias and Chris Archer. What do you make of the picks? What does the future hold for these honorees and finalists?
---
Best in NL?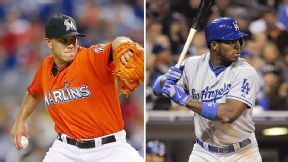 Puig posted a .319/.391/.534 line, but his performance tailed off late in the season.

---
Best in AL?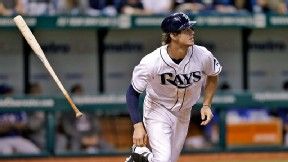 Myers went up against a defensive shortstop (Iglesias) and a starting pitcher (Archer).

---
Brightest future?
Myers and Puig are 22, while Fernandez is just 21. But pitchers aren't always durable ...

Stephen Dunn/Getty Images
Who gets your MLB awards?
All that's left to do in the 2013 MLB season is hand out the hardware. There are some pretty tight races in both the American and National Leagues, which is a good sign as it shows just how many strong performances there were this year. Our experts have given their choices for the American League and National League Rookie of the Year awards. Do you agree? Cast your votes now!