Michael Jordan, of course, is a Chicago Bulls legend.
Jimmy Butler isn't one -- yet -- but he's an All-Star and, arguably, the new face of the franchise.
So what better idea than to have the two of them face off in a shootout at Michael Jordan's Flight School basketball camp in Santa Barbara, California, with a little help from a pair of young ballers?
Spoiler: MJ hits a J at the buzzer: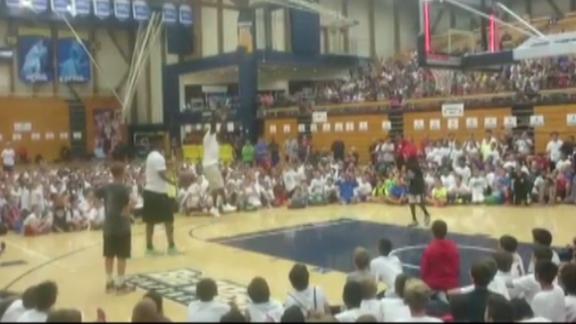 Now, we're not sure who won. It appears His Airness & Co. came out victorious, and with the stroke Jordan still has at age 52, this isn't a shocker.
Butler, to the surprise of no one, showed respect to the greatest ever to play his sport.
Don't think Jordan is the greatest? Take it up with Butler; "la cabra" is Spanish for "the goat."
H/T The Big Lead.
By
Amanda Anderson
| ESPN.com
This week we learned that college rivalries never die (even in marriage), Dikembe and Hakeem still got it, and that you should never give up on your dreams, even if someone will pay you only $12 to live them.
Don't forget to follow
@espn
on Instagram.
Ronda Rousey has plenty on her mind heading into her match with Bethe Correia.
But she took a moment to reflect on the death of wrestling icon "Rowdy" Roddy Piper, who died on Friday of a heart attack at age 61, in a poignant Instagram post moments after the WWE announced his death.
According to several reports, Rousey requested permission to use Piper's "Rowdy" nickname earlier in her career, which he happily obliged. The undefeated UFC women's bantamweight champ will now be looking to pay him back by honoring his legacy with a win in Brazil.
When it comes to fishing there are impressive catches, and then there is this insane, freakishly large, gigantic specimen. Behold the Shaquille O'Neal of blue marlins:
Courtesy: Waiopai Sport Fishing Charters/Facebook
This beauty weighed in at a whopping 1,368 pounds. Marlin? More like a whale.
That's heavy enough to earn this big bubba the title of largest blue marlin caught off Kona in 23 years -- the eighth-largest blue marlin ever caught in Hawaii.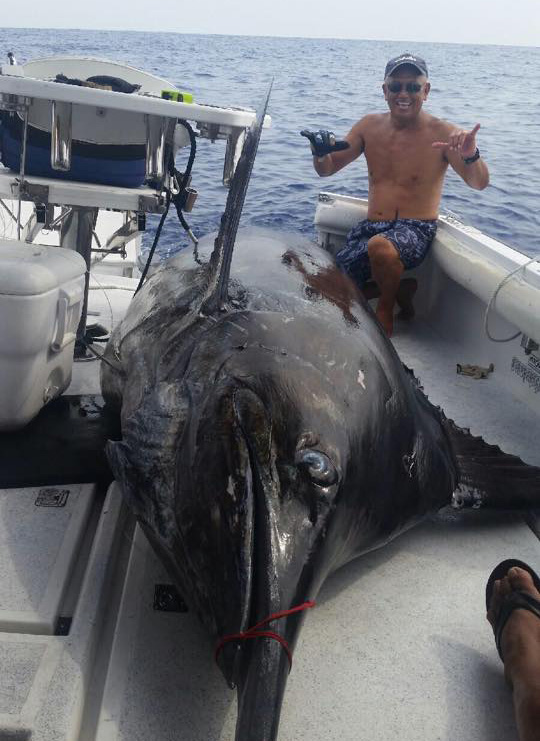 Courtesy: Waiopai Sport Fishing Charters/Facebook
Yeah, we're just going to leave this here. ...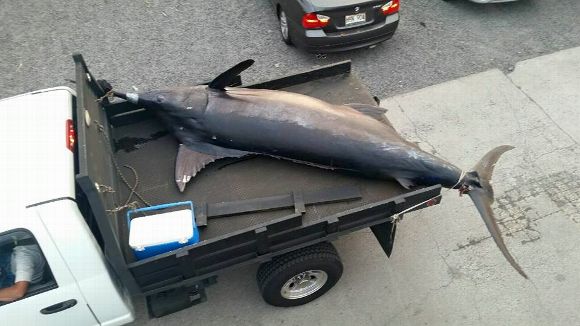 Courtesy: Waiopai Sport Fishing Charters/Facebook
By
Hannah Whitten
| ESPN.com
What's better than a five-time league MVP Peyton Manning? A Peyton Manning made of chocolate, naturally.
Its creator, Tim King, is a professional sculptor from Longmont, Colorado. He's sculpted all sorts of things, including a Christmas ornament for President George W. Bush in 2012.
He had no experience sculpting an NFL icon -- until now: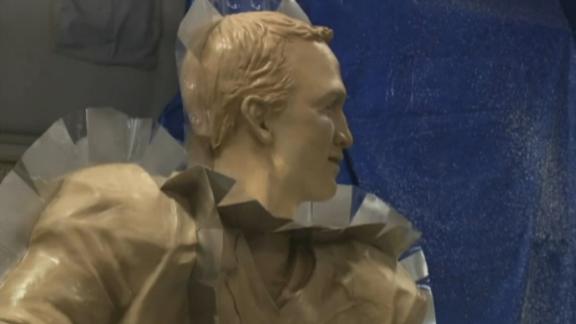 The sculpture of the Broncos superstar is 30 percent larger than life-sized and will be featured at an event called Choctober Fest in Colorado.
Creating the sculpture is a lengthy process, estimated to take about a month. King started with a clay mold, then cast that mold in plaster. Once cured, the entire thing will be sprayed in liquid chocolate.
"I wouldn't want Peyton's arm to fall off right before the festival," King said in his interview with Fox 31 Denver.
If the real Peyton Manning, set to begin his 18th season in the NFL, is any precedent, King has little reason for concern.