Brian Urlacher left the NFL in 2012, after a 13-year, eight-Pro Bowl, defensive player of the year-winning career with the Chicago Bears.
Let's check in on what the former linebacker is doing now, via his Twitter account:
Good day on the linebreaker! #americanredsnapper pic.twitter.com/inkGKm0Fze

— Brian Urlacher (@BUrlacher54) June 29, 2015
June 29, 2015
Yup! She caught it! #linebreaker #blackgrouper pic.twitter.com/zIWfTbXNkD

— Brian Urlacher (@BUrlacher54) June 29, 2015
Mine is Bigger!! #Muttonsnapper #Brandon pic.twitter.com/PeYkUMr9OD

— Brian Urlacher (@BUrlacher54) May 25, 2015
Fishing with my homies! #smashingAJs pic.twitter.com/1aqKvbDwYt

— Brian Urlacher (@BUrlacher54) May 3, 2015
Yes, Urlacher is pretty into this fishing thing. According to the Naples Daily News, he and some business partners own a charter boat called "The Linebreaker" and based in southwest Florida.
The name isn't just a simple play on Urlacher's former position. Via Kelly Merritt, in 2011:
On a fishing trip prior to Urlacher purchasing his boat, the line kept snapping from the big fish they were catching. One of the guys on the boat said, "You're not a linebacker -- you're a line breaker," and the name was born.
It doesn't seem the line was breaking too much on those catches, though.
H/T For The Win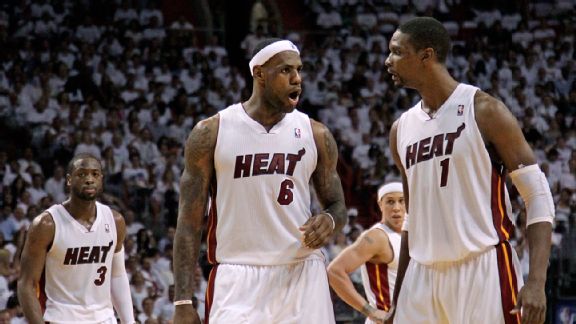 Al Diaz/Miami Herald/Getty Images
According to a source, Dwyane Wade has decided not to pick up his option with the Miami Heat for 2015-16, thus becoming a free agent.
This is a big move for the man who inspired "Wade County," and money supposedly is behind it. Wade stood to make $16.1 million next season, but he is said to want a three-year deal with an average salary of at least $16 million. The Heat, meanwhile, prefer to maintain future flexibility.
Wade is no longer the player he once was; his play, while still very good, has fallen off, and he has missed at least 20 regular-season games in three of the past four seasons.
Still, Wade surely knows he's an 11-time All-Star, won the 2006 NBA Finals MVP for what former ESPN analyst John Hollinger called the best Finals performance of all time ... and yet, he has never been the highest-paid player on his own team.
Per ESPN Stats & Info:
Will Wade buck this trend? That's to be seen. If he stays with the Heat, he'll once again be behind Bosh (due about $22.2 million next season). But as 2015 free agency begins, more than half the league is without a player who makes $16 million per year.
So it's possible ...
There might come a time when the sports fan world at large is familiar with the name Eddy Pineiro.
Here's why:
Yes, that's Pineiro -- who has committed to the University of Alabama -- hitting a 73-yard field goal. The NFL record is 64.
All the usual caveats apply here, of course: This is the Internet, so we can't trust anything to be 100 percent real. It's also a non-competition moment, so we aren't suggesting Pineiro will one day get the Crimson Tide three points from their own end zone. And then there's this: The kick took place in Davie, Florida, and likely aided by winds from one of South Florida's notorious storms.
Still, wow.
Not bad for a guy who, according to AL.com, originally was set to play soccer at Florida Atlantic, ended up at ASA College in his native North Miami Beach, Florida, because of NCAA clearance issues, recently switched to football, has yet to kick in a college game ... and was a virtual unknown to major college coaches until a kicking camp earlier this month.
H/T Bleacher Report
In back-to-back years, the Philadelphia 76ers ended up with lottery-pick big men: Nerlens Noel in 2013 and Joel Embiid in 2014.
So, when the Los Angeles Lakers selected D'Angelo Russell with the No. 2 pick, thus leaving Duke center Jahlil Okafor available, the Twitter-savvy Embiid had a reaction:
OK........... Lol

— Joel Embiid (@JoelEmbiid) June 25, 2015
Now before we start any scandal rumors, we must remember two things: (1) Embiid, who missed the entire 2014-15 season, might still be injured, and (2) the Cameroonian quickly followed that tweet with a bit of love for Okafor, whose father is of Nigerian descent.
Aye my boy is in philly with me #AfricanConnection

— Joel Embiid (@JoelEmbiid) June 25, 2015
Embiid's wasn't the only amusing NBA player Twitter reaction from Thursday night's draft.
After the Minnesota Timberwolves took Karl-Anthony Towns No. 1 overall, point guard Ricky Rubio couldn't help but start the hazing process.
Hello @KarlTowns !! You ready to pick up my dry cleaning tomorrow ?? #WelcomeRook

— Ricky Rubio (@rickyrubio9) June 25, 2015
Towns, whose mother is Dominican, became the first Hispanic player ever to go No. 1 overall in the NBA draft. Atlanta Hawks big man Al Horford, who is from the Dominican Republic, tweeted congratulations to Towns in English and Spanish.
Congrats @KarlTowns so proud. All your hard work is paying off, but you are just getting started! Welcome to the NBA!

— Al Horford (@Al_Horford) June 25, 2015
Felicidades a @KarlTowns me siento muy orgulloso de ti en verte crecer y desarrollarte como jugador. Ahora empieza lo bueno! #NBA #NBADraft

— Al Horford (@Al_Horford) June 25, 2015
When Kristaps Porzingis went No. 4 overall to the New York Knicks, the fans didn't like it. And oh, the players noticed.
The Knicks fans HOT!!!!!!!!!!!! Omg

— BRANDON JENNINGS (@BrandonJennings) June 26, 2015
Yall gotta give him a chance Knicks fans

— BRANDON JENNINGS (@BrandonJennings) June 26, 2015
June 26, 2015
Funny the reactions of NY fans about a player they don't know.

— rudy gobert (@rudygobert27) June 26, 2015
But its ok they might buy his jersey pretty soon anyway =

— rudy gobert (@rudygobert27) June 26, 2015
Lol that lil Knicks fan is going to be on ALL the memes

— Spencer Dinwiddie (@SDinwiddie_25) June 26, 2015
This lil kid is priceless...... Give Porzingis a chance

— Ekpe Udoh (@EkpeUdoh) June 26, 2015
He's very good man... Super talented

— Kyle Lowry (@Klow7) June 26, 2015
Knicks fans are my TL are straight comedy lol

— SLOWMO (@KyleAnderson5) June 26, 2015
A pair of big names welcomed late-lottery picks to their respective new homes:
Congrats to @IAmJustise on getting drafted! Very excited to have you! #wegotagoodone #NBADraft #luckylefty

— Chris Bosh (@chrisbosh) June 26, 2015
Welcome to the family youngin @Original_Turner! #PacerNation

— Paul George (@Yg_Trece) June 26, 2015
Kendall Marshall, meanwhile, thought Myles Turner bore a striking resemblance to Dave Chappelle's character from "The Nutty Professor."
with the 11th pick, Indy selects Reggie Warrington.

— Kendall Marshall (@KButter5) June 26, 2015
(And wouldn't you know, he wasn't alone in making that comparison.)
"He looks like Reggie from the Nutty Professor." -@AminESPN on Myles Turner #NBADraft #analysis pic.twitter.com/Mg4R1m52Av

— ESPN (@espn) June 26, 2015
It appears Rubio wasn't the only veteran point guard ready to haze his new teammate -- this time a player who went to the same school (Kentucky).
Welcome to the valley @DevinBook ... Got your backpack ready!

— Eric Bledsoe (@EBled2) June 26, 2015
Meanwhile, Nick Young seems to think all the young players owe him a nod for their hairstyle.
The haircut is real

— Nick Young (@NickSwagyPYoung) June 25, 2015
I shoulda trademark this haircut

— Nick Young (@NickSwagyPYoung) June 26, 2015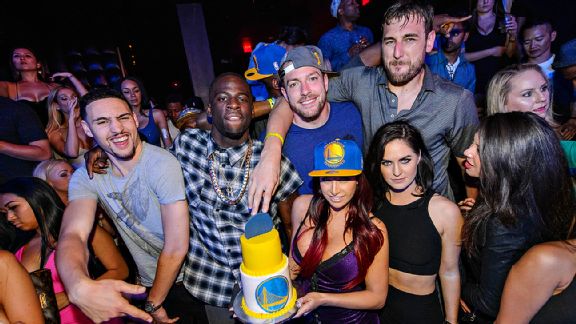 AP Photo/Al Powers
After their championship the Golden State Warriors, as you do, flew as a team to Las Vegas for a celebration.
They hit some big clubs, including Marquee (pictured above). "Chaperoned" by non-drinker Andre Iguodala, they had a good time, according to the NBA Finals MVP.
And, as revealed by coach Steve Kerr on Tuesday's The Lowe Post podcast, it was all courtesy of veteran David Lee.
"I thought it was great that the team went to Vegas together," Kerr said. "David Lee treated the whole team, by the way. He flew them out there. He put them up in hotels. It was an incredibly generous gesture by David."
Especially because Lee, an All-Star as recently as 2013, saw his minutes slashed drastically as the team he's been with since 2010-11 ascended to the top of the league. Lee played just 49 regular-season games, started four, and averaged 18.4 minutes, 7.9 points and 5.2 rebounds per game after posting 33.2, 18.2 and 9.3 a season ago. In the playoffs Lee sat out eight games, and averaged less than 10 minutes per in the four Finals contests he did appear in.
"That was sort of what David and I talked about throughout the season, when things were not going well," Kerr said. "And he kept telling me, 'I just want to win a championship. I've never done that. I want to win. This is frustrating but I want to be a part of it. And I thought he handled himself really well."
Lee reportedly might have played his last game for the Warriors. But that's not a bad way to go out.
Find The Lowe Post on the Grantland podcasts page.