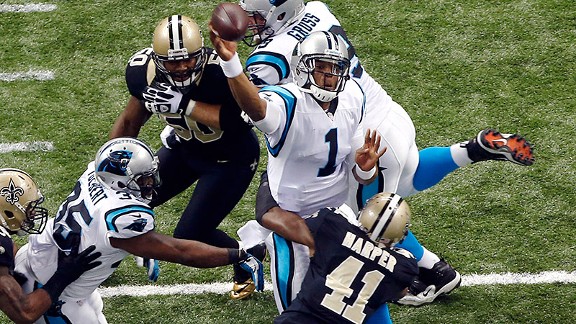 Chris Graythen/Getty Images
NFL Week 14 -- Panthers at Saints
The New Orleans Saints' consolation prize for a blowout loss to the Seattle Seahawks on Monday? A home game against the team that might just steal away the NFC South title. That's right, Cam Newton & Co. have won eight in a row, pulling even with Drew Brees' team atop the division. Oh, and these teams meet again at Carolina in two weeks.
2013 BCS National Championship

Florida State easily rolled to an ACC championship, and, with it, earned a spot in the BCS National Championship. Meanwhile, Ohio State's shot at two straight undefeated seasons fell short with a loss to Michigan State in the Big Ten title game. So, does that mean Auburn gets a chance to give the SEC eight straight national titles?

AP Photo/Rick BowmerAfter finishing the season 1-2, Mack Brown faces questions about his job security at Texas.

Expectations at a school like Texas are, and always will remain, very high. That is why even after an 8-4 regular season and a second-place finish in the Big 12, 16-year head coach Mack Brown faces questions about his job security, as he hasn't had a final BCS ranking any higher than No. 19 in four seasons. With the 2005 national championship firmly in the rearview mirror, and even the 2009 title game appearance old news, Texas has a decision to make.

Here's a sampling of what readers had to say in our Facebook conversation on the story:

Chris James: "When you consistently have one of the best recruiting classes in the NCAA, as well as the most funding, and you lose continuously for 4 straight seasons, it's time for a change. 16 years has been long enough. Not to mention he passed up RG3, Manziel and Jameis Winston and didn't even bother to pursue Andrew Luck. All 4 of those QB's dreamed of playing for Texas. He's lost a step, it's time."

Ed Devine: "Texas needs to keep Mack. I think he's done a tremendous Job since the BYU game for them to even be in contention for a Big 12 title. It speaks volumes for his coaching ability. And, no, I don't believe he's forgotten how to coach. Every team has a down year, and given where they started to what they've become, he deserves to continue righting the ship."

Todd Lacey: "Time to go Mack. Thanks for the memories, but it's time."

Jake Pool: "I really didn't think Baylor could hold a QB to 12-of-34 with 2 picks. Case McCoy dispelled that theory easily. Sorry Longhorn fans but McCoy is hands down the worst college QB I've seen. You are Texas and can't recruit a QB! Mack Brown needs to go."

Jim Mendiola: "Bye bye Mack Brown. Welcome home Nick Saban!"

Robin Russell McCasland: "I love Mack and I wish him well. Baylor played a great game [Saturday]! Can't wait to see who our next coach will be!"

Carlos Beltran to the Yankees

Have the Yankees of old returned? Even though the Bronx Bombers passed on spending $240 million on Robinson Cano, they still have spent nearly $300 million so far this offseason, with the latest acquisition being Carlos Beltran's three-year, $45 million deal. How are the new-look Yankees shaping up? Will it be enough?

Mariners sign Robinson Cano

For the first time in a long time, the Yankees have been outspent on a player. Robinson Cano, perhaps New York's best player over the past five years, has signed a 10-year, $240 million contract with the Seattle Mariners. It's one of the largest contracts in baseball history and is a huge statement by the Mariners, who may be looking to establish themselves as a nationally relevant team again. Cano's skills are undeniable, but 10-year contracts have a way of backfiring on the teams that make them -- just ask Angels fans how Albert Pujols' contract is looking after his second year with the team.