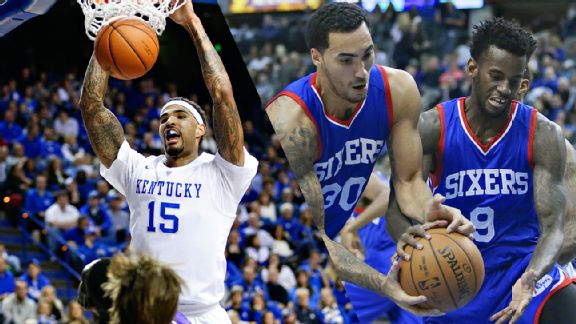 Getty Images
On a Wednesday SiriusXM NBA Radio appearance, Phoenix Suns guard and former Kentucky Wildcat Eric Bledsoe said his school -- fresh off a 72-40 dismantling of the fifth-ranked Kansas Jayhawks -- would beat the 0-11 Philadelphia 76ers in a seven-game series.
"I'm definitely taking Kentucky," Bledsoe said when presented with the scenario. "I think Philly would probably get maybe one game."
Bold statement. Philadelphia indeed is terrible and Kentucky appears to be great. But would a cast of current NBA players really lose to future ones?
(Side note worth mentioning: The Suns play at Philadelphia on Friday.)
Breaking news: J.J. Watt did amazing things (touchdown reception, fumble recovery) in the Houston Texans' 23-7 win at the Cleveland Browns on Sunday.
What will J.J. Watt do next? We asked ...
Replace Ben Affleck as Batman. #WhatJJWattWillDoNext

— SportsNation (@SportsNation) November 16, 2014
... and you answered. Here are some of our fans' best responses. (Note Watt's surprising affiliation with the Dark Side of the Force.)
Dunk on Yao Ming. #WhatJJWattWillDoNext pic.twitter.com/bIvcJhVWfU

— SportsNation (@SportsNation) November 16, 2014
@SportsNation go in at quarterback and throw passes to himself #WhatJJWattWillDoNext

— Riley brown (@Riley_brown35) November 16, 2014
@SportsNation he's gonna beat up the Hulk in the new @Avengers movie #WhatJJWattWillDoNext

— Jose Venegas (@josejv21) November 16, 2014
@SportsNation Beat Usain Bolt in a foot race. #WhatJJWattWillDoNext

— Joshua Mahlum (@Joshua_mahlum) November 16, 2014
@SportsNation #WhatJJWattWillDoNext Make #GrumpyCat smile.

— Christian Ross (@C_Ross88) November 16, 2014
@SportsNation drop 30 vs LeBron and his cavs #WhatJJWattWillDoNext

— Sagar Singh (@SagDad_) November 16, 2014
@SportsNation RKO Randy Orton #WhatJJWattWillDoNext

— Anthony Saldivar (@ASaldivar15) November 16, 2014
@SportsNation go back in time to the ncaa preseason and make the three drake air balled #ThingsJJWattWillDoNext

— Mark B (@Mark_Bercini) November 16, 2014
@SportsNation save the Death Star #WhatJJWattWillDoNext

— Jameson Detweiler (@Jameson_D) November 16, 2014
@SportsNation change his name to Mr. Incredible #WhatJJWattWillDoNext pic.twitter.com/jXRCcECMtV

— ITSA Daley (@philmoredaley) November 16, 2014