Saturday's Heisman ceremony will likely end with Jameis Winston hoisting the trophy, joining the ranks of college football's greatest players. The award isn't always a ticket to NFL stardom, however; for every Barry Sanders, there's an Eric Crouch. The past 10 winners of the award have experienced varying degrees of NFL success. Can you name them all?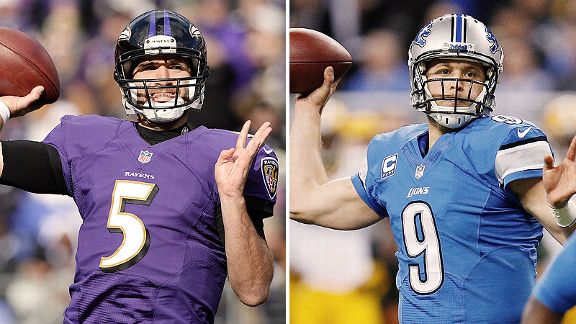 Getty Images
NFL Week 15 -- Ravens at Lions
The Baltimore Ravens and Detroit Lions enter Monday with identical records, but not-so-identical situations. Detroit is tied atop -- and leads by tiebreaker -- the NFC North. Baltimore is second in the AFC North, tied for the conference's final playoff spot. Moreover, Detroit seems to be playing the most difficult of its final three games this weekend, while Baltimore's tall task is one of three on the way in. Which team stays above .500?
Here is an uncontroversial statement: Jameis Winston is very probably going to win the Heisman Trophy. What's controversial is Winston's candidacy itself. Though his play on the field is top-notch, the fact that he was accused (although not charged) of a sexual assault has cast something of a pall over the proceedings. None of the other candidates have done enough to jump ahead of Winston in the voters' rankings, meaning he'll likely become the second straight freshman winner of the Heisman. Whether or not he should, of course, is still an open question.

LaMarcus Aldridge goes off

Normally, it would be worth talking about a 32-point, 17-rebound performance from Dwight Howard, but not today. Instead, we're marveling at LaMarcus Aldridge scoring 31 points and grabbing 25 rebounds in a 111-104 win over the Rockets. Aldridge has really come into his own this season; through 23 games, he's averaging 23.5 points and 10.6 rebounds per game, both far above his career averages. If he keeps this up -- and the Trail Blazers remain atop the tough Western Conference -- he might be in line for the NBA's top award.

Welcome to SportsNation! On Friday, Robert Lipsyte stops by to chat about his role as ESPN's latest ombudsman.

Throughout his 18-month appointment, Lipsyte, who started in June 2013, will offer his independent examination and analysis of ESPN's TV, radio, print and digital offerings. He succeeds the Poynter Review Project as ombudsman, as well as Don Ohlmeyer, Le Anne Schreiber and George Solomon.

During a long and distinguished media career, Lipsyte previously worked for the New York Times, CBS Sunday Morning, NBC Nightly News, PBS, in addition to contributing to other ESPN projects such as the "SportsCentury" series. He earned an Emmy in 1990 as the host of PBS' "The Eleventh Hour." Lipsyte is also a two-time winner of the Mike Berger Award for distinguished reporting and won the Margaret A. Edwards Award for lifetime achievement in Young Adult literature, while also being a 1992 finalist for the Pulitzer Prize in commentary.

Send your questions now and join Lipsyte Friday at noon ET!

More Robert Lipsyte: @ESPN_Lipsyte | Ombudsman Blog | Feedback