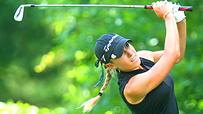 Gulbis starts her 2010 season February 18 at the Honda PTT LPGA Thailand in Chon Buri, Thailand.
Welcome to SportsNation! On Monday, we're going to help launch ESPNLosAngeles.com with style befitting the City of Angels when California native and LPGA golfer Natalie Gulbis stops by to chat.
Gulbis was born in Sacramento and currently lives in Las Vegas. She went to the University of Arizona for one year before turning pro and playing the 2001 season on the Futures Tour. She earned her LPGA card in 2002. For her career, she has over $3 million in winnings and her only career win came in 2007. She has 33 top 10 finishes, including two from the 2009 season.
Send your questions now and join Gulbis Monday at noon PT/3 p.m. ET!
More ESPNLosAngeles.com: Index | Previous chats | SportsNation
Derrick (Chicago)
What do you need to do to be more consistent next season and within your game what needs the most fine tuning.
Natalie Gulbis
(3:03 PM)
When I look at my 2009 stats, the ones I'd look to improve on the most are greens in regulation. That really comes down to the fundamentals of my golf swing, that I will be working on in the offseason. Typically a player at the top of that list is tops on the money list as well.
Sam (Portland, OR)
Do you have any input on product development at Taylormade? What would you consider the top breakthrough in club technology in the past 5 years?
Natalie Gulbis
(3:05 PM)
I don't have input in product development, but they are definitely ahead of the project curve. They have their next few drivers for the next few years already done and are just waiting to release them. I do have impact on feedback. I don't know if this is within the last five years, but hybrids have made a big impact. Long irons were one of the hardest and most inconsistent clubs, but now with the hybrid driving iron, we have the ability to hit more consistent shots. They are very forgiving.
TS (Portland)
What did you think of Pumpkin Ridge? Do you like the move to play the Safeway Classic there?
Natalie Gulbis
(3:06 PM)
I love Pumpkin Ridge. It's an incredible golf course. I've played both courses for two different events. I had played seven years on the previous course, Columbia Edgewater, and it was a little bit extra work to map out the course, but once the tournament started, I was really happy to have moved. The players, sponsors, and pro-am participants were excited to play Pumpkin Ridge for the tournament.
John (St. Louis)
Natalie, what have been your favorite places to visit and where would you like to go that you haven't been to yet?
Natalie Gulbis
(3:08 PM)
In the U.S, my favorite places to play golf are Carmel, California on Pebble Beach. I love to play golf internationally in Dubai, the British Open, St. Andrews and Turnberry. What makes golf so special is that you can play in so many countries all over the world. There's a course in Latvia, which is where my heritage lies, and I would love to play that course.
Andrew (WI)
Present company excluded, who do you predict to be the best golfer of, say, the next 10 years?
Natalie Gulbis
(3:09 PM)
Michelle Wie. She is very, very talented. She does not have any weaknesses in her golf game. She has a good short game, has turned into a fantastic putter, hits the ball a long way off the tee, and on top of that, has a very strong work ethic.
Buzzmaster
(3:14 PM)
Hey everyone, looks like we lost Natalie there for a second. We're trying to reconnect.
Buzzmaster
(3:27 PM)
We've got Natalie!
Marc (Charlotte)
Natalie, it looks like you are working on getting the club set earlier in the backswing? What is the hardest part of making that swing change?
Natalie Gulbis
(3:30 PM)
I am. The hardest part is having to do it in competition. It's easier to do it in practice when it doesn't count, but during a competition is much harder.
John (MPLS)
Hi Natalie, do you enjoy playing/watching other sports? If so, which ones and who are your favorite teams?
Natalie Gulbis
(3:31 PM)
I love to watch all sports. I'll be going to the bowl game here in Las Vegas. I'm a huge Sacramento Kings fan, and my favorite sport to watch is basketball.
Bob (NYC)
Out of curiousity, how far do you drive a golf ball on average?
Natalie Gulbis
(3:31 PM)
I drive the ball an average of 250 off the tee. From there, it depends on conditions.
jen (stamford, ct)
What is your proudest moment? professionally
Natalie Gulbis
(3:32 PM)
The first time we won the Solheim Cup, six years ago. It was the first time playing in the Solheim Cup team, U.S. vs. Europe. I was playing for my hero growing up, Nancy Lopez. Representing my country and playing alongside the best players in the world was my favorite experience.
TS (Portland)
Who will you be rooting for? Oregon State or BYU?
Natalie Gulbis
(3:33 PM)
Oregon State. I went to school at the University of Arizona, so I'm a Pac-10 fan.
TS (Portland)
If you could choose 1 person from any of the tours to play with in a team format, who would it be?
Natalie Gulbis
(3:34 PM)
Probably Lorena Ochoa. We were teammates at Arizona. It would be fun to play a team event with her.
Tracy (Salt Lake City)
Is the battle inside a golfers head, the no. 1 problem with winning on Sunday and how do you block out the nervousness?
Natalie Gulbis
(3:36 PM)
The key to blocking it out is to embrace the nerves. Most pro golfers have admitted to being nervous. I myself am nervous when I have a chance to win. What breaks down is not only the mental side, but the mechanics breaking down.
Natalie Gulbis
(3:36 PM)
I hope everybody has a good Christmas, thanks for joining!