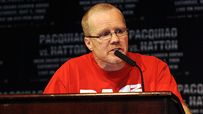 Roach will train Manny Pacquiao for his March 2010 fight with Flyod Mayweather Jr.
Welcome to SportsNation! On Wednesday, we'll be celebrating this week's launch of ESPNLosAngeles.com with style befitting the City of Angels when famed boxing trainer Freddie Roach stops by to chat.
Roach currently trains the No. 1 pound-for-pound fighter Manny Pacquiao, who has won seven world titles in seven different weight classes. He will continue to train Pacquiao for his 2010 fight with Floyd Mayweather Jr. Roach, a Massachusetts native, won the trainer of the year award in 2003, 2006 and 2008. He has worked with other boxers such as: Oscar De La Hoya, Mike Tyson, Bernard Hopkins and James Toney.
As a professional boxer, Roach went 39-15 before retiring in 1986.
Send your questions now and join Roach Wednesday at 10 a.m. PT/1 p.m. ET!
More ESPNLosAngeles.com: Index | Previous chats | SportsNation
Khalil (Atlanta, GA)
Freddie, is Floyd scared to fight Manny, or is he really scared to fight Manny?
Freddie Roach
(12:59 PM)
I think he was looking for a way out of the fight, and he came up with this rule that is not a commission or sanctioned body rule. I think he's scared to fight Pacquiao, yes.
Ron Parmiter (Vancouver B.C.)
Manny is truly a treasure not only to the Philippines but now to the boxing world. Is Manny now at his peak as a boxer? And secondly who is faster Manny or Floyd?
Freddie Roach
(1:00 PM)
Manny's pretty much at his peak. He's become a great fighter but is still hungry for knowledge. We love the Mayweather fight and want that fight, as long as it's withing the commission rules. I believe Manny would win a 12-round decision with Mayweather.
Kevin V (Orlando, FL)
Do you want Manny Pacquiao to retire after the Floyd Mayweather Jr. fight?
Freddie Roach
(1:00 PM)
I would, yes. I think that's the icing on the cake. There would be nothing more to accomplish.
Joel Alexander (Orlando,FL)
Happy Holidays Freddie Roach, In your opinion what has been Pacquiao's biggest improvement throughout the years.
Freddie Roach
(1:01 PM)
His improvement has been his right hand. It has developed into a great power shot. Mentally, he understands the ins and outs of the game and has become a complete fighter.
Andrew (Charleston, WV)
Freddie: When you watch film to study an opposing fighter, what do you look for?
Freddie Roach
(1:02 PM)
I look for their habits. I'm studying Floyd against southpaws right now. I'm not looking for mistakes, because everyone makes them; I'm looking for habits, because everyone has something they can't stop doing.
Andrew (Sunyvale, CA)
Freddie-If he really wants the fight..why not just take the test? It seems like a small concession for a big payday and big gift for all boxing fans?
Freddie Roach
(1:03 PM)
They can't guarantee me they won't take blood right before the fight, and I won't let my fighter go into the fight not mentally prepared. We will do any urine or saliva tests, which contain the exact same things.
Alexander Tarampi (Brooklyn, NY)
Freddie, do you think this Mayweather fight is gonna happen?
Freddie Roach
(1:03 PM)
Yes I do. Where else does Mayweather have to go? It's a fight the world wants. It will happen.
Nats Gepega (Philippines)
How was it working with Shaq?
Freddie Roach
(1:04 PM)
A lot of fun! Shaq is a great guy. He learned a lot in one day. He's a great athlete.
sunny (cleveland)
what do you think will be the outcome of the fight?
Freddie Roach
(1:05 PM)
It'd be a great boxing match, very tactical. We want to put pressure on Mayweather, but not make too many mistakes. He's very good defensively, but that does not win fights, so we would work on breaking him down. Manny would be more offensively-focused than Mayweather.
Erick (Aurora, CO)
When do you start training for the Mayweather-Pacquiao bout and how should Pacquiao adjust for Mayweather's good defense?
Freddie Roach
(1:06 PM)
I want to start training January 1st. We have press conferences on the 6th and 8th, then we're back in camp.
Jay (Saint Paul, MN)
Floyd Mayweather obviously does not have the Knockout power to KO Manny as much as Cotto does, and Manny walked through Cotto's punches. Knowing that Mayweather is a smarter fighter than Cotto, will this still mean that you're going to be more aggressive in this fight than you will be with the Cotto fight?
Freddie Roach
(1:06 PM)
We're definitely going to be aggressive in the fight, but Mayweather is a great counterpuncher and can walk you into his shot, like he did with Hatton. We'll have to be smart with him.
wency (Oregon)
Is there a firm plan on the training location for Pacquiao?
Freddie Roach
(1:07 PM)
The Wild Card Gym.
Zaldy (Chino Hills, CA)
If you trained Floyd, would he beat Manny? Where would you rank Manny among the greats in the history?
Freddie Roach
(1:08 PM)
Winning that many world titles, he's up there with the Durans and Armstrongs. Floyd trains himself, and he's a very natural fighter.
Tino (Detroit, MI)
Freddie, What all time great would you have like to see Manny fight and what do you think the outcome would be?
Freddie Roach
(1:09 PM)
I would love to see him fight Roberto Duran in his prime fight Manny in his prime. I would pick Duran in a decision.
stan (union city)
how is manny's ear? has it healed and is it a concern of yours?
Freddie Roach
(1:09 PM)
A hundred percent. The doctor gave him the A-OK.
James (Atlanta)
Does Amir Kahn have a shot to become as great as Manny?
Freddie Roach
(1:10 PM)
He has a lot of potential. He is a great athlete. It took Manny about eight years to get where he is right now, so I'll have a better idea then!
Dan (South Philly)
Any plans on singing a duet with Pac?
Freddie Roach
(1:10 PM)
Nope, that's not gonna happen.
Freddie Roach
(1:11 PM)
Thanks for the questions. I look forward to starting training for the fight. Merry Christmas and Happy New Year's.