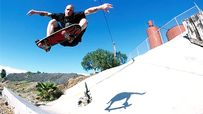 Vallely started his pro career at 16.
Welcome to SportsNation! On Tuesday, we'll be celebrating this week's launch of ESPNLosAngeles.com with style befitting the City of Angels when skateboarder, musician and actor Mike Vallely stops by to chat.
Vallely began his skateboarding career at the age of 16, when in 1986 Powell Peralta Skateboards offered him a sponsorship. He has since expanded into video games, appearing in the Tony Hawk Pro Skater game, as well as movies, such as "Paul Blart: Mall Cop," "The Hangover" and the remake of "Red Dawn" which is due out in 2010.
Vallely also is the lead singer of the band Revolution Mother and he has a skateboarding video game coming out on the iPhone and iPod Touch named Do or Die.
Send your questions now and join Vallely Tuesday at 11 a.m. PT/2 p.m. ET!
More ESPNLosAngeles.com: Index | Previous chats | SportsNation
Buzzmaster
(1:56 PM)
Skateboarder Mike Vallely will be here at the top of the hour to take your questions!
Buzzmaster
(2:00 PM)
Mike is here!
Kelly P. (Coatesville, PA)
Hey Mike, what do you find to be the hardest part of being a professional skateboarder?
Mike Vallely
(2:01 PM)
The hardest part? At this stage of my career, nothing is very difficult for me. I'm not at a point where I feel like I have to compete with anyone or keep up with anyone. I feel like I'm at the best place I could possibly be as a pro.
dan
When does your ipod game come out?
Mike Vallely
(2:02 PM)
It's hard to pinpoint a specific date, because the Apple application process for getting the game approved isn't in our control. We're submitting our game to Apple in the middle of January, so hopefully around then it's up.
David (Florida)
What is the hardest trick you have ever tried?
Mike Vallely
(2:04 PM)
I was recently working on a Battle Commander for the Barracks website. The Battle Commander came out in July. I had a lot of fun filming the part, but the last three days of filming I didn't land one trick and these were supposed to be the ones I wanted to end the video with. I didn't feel like any of them were too far out of my abilities, I just hit a wall. Sometimes the things that are easy come difficult and sometimes the hard things come easy. The guys thought the video was solid without it. But I didn't land a trick for 16 hours.
Thomas (Trenton)
What movie was more fun to make hangover or pauly blart?
Mike Vallely
(2:05 PM)
Well, being in The Hangover was a lot of fun. It kind of just came up really quick. I knew prior to doing it, how big the film was going to be. But Paul Blart, I worked on it the entire time of the production. And I had a character that helped move the story along. Hangover was great and I'm really proud of it, but Paul Blart really helped me get the acting bug. Plus when you're working with someone like Kevin James every day, it's a riot.
Joseph P. (Austin, TX)
Hey, Mike... I've noticed you've been popping up more and more in various movies, is cinema a medium you're trying to break into with tremendous rigor?
Mike Vallely
(2:06 PM)
The funny thing is that I've never persued on my own being in movies. I just get phone calls from people asking me to be in them. I recently did the remake of Red Dawn. I've befriended some stunt men and I've gotten in with them. I've gotten bitten by the bug and I'm looking to do more for sure.
Brad (Gadsden,Alabama)
Mike, What is your favorite Christmas movie?
Mike Vallely
(2:07 PM)
That's a good one. Emmitt Otter's Jug Band Christmas. But I really like River Bottom Nightmare band. I really liked it for that, maybe not the heartwarming story.
Sally (Baltimore,MD)
Does your band have any dates on the East Coast coming up?
Mike Vallely
(2:09 PM)
The band is on a bit of a hiatus. We kind of just threw in the towel. We'd been touring for two years straight and I thought we'd run the course. But music is something that I'm still going to persue. It's hard to put a timeline on it, I'm just focused on other things right now. So, no East Coast dates.
SummerCall (Rock Springs Wyo)
Mike did ya skate with Fred Durst and is he fun tg hang with?
Mike Vallely
(2:10 PM)
Yeah. I've skated with Fred many times, actually. He had a mini ramp in his backyard a few years ago. You'd be surprised, he's a really damn good skateboarder. The first time I met him was in 1988 in Georgia. He showed up to watch me skate. It just so happened that when he showed up with his mom, I was out in the parking lot skating and we had a session then.
Brandon Keslar (Florida)
Hey Mike. Was it fun doing all the tony hawk videogames? What was it like?
Mike Vallely
(2:11 PM)
Being in the Hawk video games were a great honor. Working on them was fun for sure. Getting to work on something that's specific to me is really cool. We've had a lot of fun with it. We've tried to make it a thing all on its own and stand out. In my game, you can kind of follow my career path. You can skate as me in different times in my career. You can follow my career and have the different looks I've had and do the different tricks I've done. It's real specific to me and what I've done through the years.
Michael (Los Angeles)
Your show on FUEL TV is awesome. Love to see you making random stops around the globe sharing the stoke for Skateboarding. Did you have any mentors growing up?
Mike Vallely
(2:12 PM)
I did. I had a lot of mentors and I lot of heros. I think that kind of stuff is important. Peralta was a real heavy influence on me. The early videos gave me a sense of identity and started me on my own path. That's the torch I've always tried to carry as a professional. Getting out there on a grass roots level has always made sense to me.
Jeremiah S (Navarre, FL)
Hey Mike. Long time fan. Are you doing any more seasons of Drive? It's a great show that I'd like to see more of. And you're right Emmit Otters Jugband Christmas is awsome.
Mike Vallely
(2:13 PM)
Cool. It's been a long time since we've done a new episode, but it's something that's still on the table. We're thinking about changing the format a little bit. But the main vibe of the show will stay intact.
Roger Smith (LA)
Mike, I heard that you like running through graveyards with your skateboard, is that true?
Mike Vallely
(2:14 PM)
I've done it once. It wasn't that fun.
Kelly P. (Coatesville, PA)
Have you ever thought about getting into the movie industry as a director or something along those lines with your own movie ideas?
Mike Vallely
(2:15 PM)
Well, I think everyone has that kind of vision, I think. Maybe not, but I do. I've thought along those lines. I've been working on this little screenplay for a while that I'd like to see come to fruition at some point. It's a teenage coming of age story and stuff that I saw growing up in New Jersey. It's funny, but also dark and violent, but it's real. It's a project that I want to see happen at some point. I don't know if that will put me behind the camera.
MLO (Los Angeles)
You've been around to see it all....has the X Games skate competitions just scratched the surface by adding the park course (part pool, more tranny, etc) or have we seen it all at X Games?
Mike Vallely
(2:17 PM)
I don't think we've seen it all being done. I still think there are visionaries in skateboarding that will dream up new stuff. The X Games is a place where skateboarding has progressed and advanced. I have nothing against it, I was one of the guys in 1995 pushing skateboarding into the X Games. Growing skateboarding has always been important to me. I'm excited to see what's next.
Tye (Florida)
What was it like being in Mall cop? Was it fun?
Mike Vallely
(2:18 PM)
It was pretty much what you'd think it would be. It was very loose. I think what was really cool for myself and the action sports athletes in the film is that we were thought of as being intrigal to the film. When some of the action sports scenes were happening, I was asked to stand behind the camera and they asked me what I thought of the shot. That's pretty cool. Hollywood has messed it up so many times when it comes to skateboarding, they wanted to get it right. Plus with Kevin James involved, you know you were going to laugh. It was great.
Mike Vallely
(2:19 PM)
I just want to thank everybody for the support through the years. I'm not done yet. There's a lot more to come. I appreciate everyone standing by me for sure.
THIS WEEK'S CHATS (All Times PT)