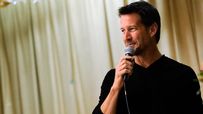 Denton has appeared in over 30 TV shows and movies in his career.
Welcome to SportsNation! On Monday, we're going to help launch ESPNLosAngeles.com with style befitting the City of Angels when actor James Denton stops by to chat.
Denton has played the role of Mike Delfino on "Desperate Housewives" since the show premiered in October 2004. In addition to the TV show, he has appeared in several movies, including "Primary Colors" and "Face/Off."
Denton graduated from the University of Tennessee before getting involved with the community theater in Nashville, while still working for local radio and TV stations. He moved on to North Carolina and eventually Chicago to become a full-time actor. He finally made his way out to California, landing small roles in TV shows and then his big role in "Desperate Housewives."
Send your questions now and join Denton Monday at 12:30 p.m. PT/3:30 p.m. ET!
More ESPNLosAngeles.com: Index | Previous chats | SportsNation
Buzzmaster
(3:17 PM)
"Desperate Housewives" actor James Denton will be here at 3:30 p.m. ET/12:30 p.m. PT to chat!
Buzzmaster
(3:28 PM)
We've got James!
Greg (LA)
James, I always see you playing in celebrity softball games. How much fun are those games? Which one is your favorite to play in?
James Denton
(3:30 PM)
That's far and away the best Desperate Housewives fringe benefit. It's tough. The first one I played in Detroit and I homered. Granted it was softball, but it was a thrill. The other one would have been pitching in Yankee Stadium. Paul Moliter, Ozzie Smith, Chris Rock and Tony Perez were in my infield. As a baseball fan, you have to pinch yourself and ask how in the hell did I get here?
Fred (Dallas)
How lucky do you feel to have been as successful as you have been in your career, after not having been a so-called "child star" and gotten into acting a little later?
James Denton
(3:31 PM)
Yeah, very lucky. I didn't start acting until I was nearly 30 and I was merely a theater guy. I never intended to be in front of a camera. I've just been real lucky here, starting with The Pretender for a few years and some other series before getting into this one. Real lucky.
Dave (Boston)
James, you act in your show with a lot of women, so how does it feel to be doing a chat on a sports website today, being viewed, most likely by a bunch of men?
James Denton
(3:32 PM)
Well, it takes some pressure off, because I don't have to try to be "hunky." The involvement with the sports community has been, by far, the biggest benefit working on Housewives. It's always fun to do sports related things, particularly since we bought this minor league sports team out here the Orange County Fliers.
Brad (Gadsden,Alabama)
James, What is your favorite Christmas Movie?
James Denton
(3:34 PM)
Oh, man. It's got to be the Christmas Story. I've got a little brother, and we used to watch it every year. It's on about 6 times Christmas Day.
zachakens (fairport ny)
hey dude. Growing up in LA who was your favorite athlete?
James Denton
(3:35 PM)
Peyton. Nothing to do with LA, but I went to UT. My brother was at UT when Peyton was there. We've gotten to be friends through charity events. We're going to the Jets game this weekend. He's been nice enough to let us hang around.
Tim (LA)
James, I understand you've done a lot of theater in your career. Which do you prefer, film or theater?
James Denton
(3:37 PM)
Theater, by far. Anything on camera, you're at the mercy of too many other people. If you're good in theater you can be proud, and if you suck, you suck. It's on you.
Joe (LA)
Hi James, give us male sports fans your best pitch to why we should watch Desperate Housewives.
James Denton
(3:37 PM)
Hot chicks.
john scooba (grand rapids mi)
i just wondered how much you enjoy being an actor? what is your favorite part of acting?
James Denton
(3:38 PM)
I worked in advertising as a salesman for years, so I think I appreciate what a great way this is to make a living. I have so much respect for guys who grind it out 40 hours a week and more. We're really lucky to get paid what we do. Then I also get to do things like throw out the first pitch at baseball games, things I never thought I'd get to do. We're very lucky.
Dave
What do you think of the job Lane Kiffin's doing?
James Denton
(3:39 PM)
It's early. I understand why he started out with all of the trash talking, for lack of a better term. It did put the program in the headlines, which it needed. He's backed off, which is smart. They played hard for him. The defense is fun to watch. I think they're off to a good start.
Hayden (Logan, Utah)
What is the coolest Christmas gift you are giving?
James Denton
(3:40 PM)
Coolest Christmas gift I've given? 20 game season ticket package to the new Target field to my brother-in-law in Minneapolis. And I've gotten a Cal Ripken signed baseball from my son.
Mike (LA)
What's your favorite sport to watch?
James Denton
(3:41 PM)
Baseball. Easy. Which is odd, because I was a basketball player when I was in school. I just fell in love with baseball as I got older. 63 days until pitcher and catchers report.
Hayden (Logan, Utah)
do the producers ever try to push you into publicity stunts to get some buzz going?
James Denton
(3:44 PM)
They like us to do press, but nothing too stunty. The women do most of the publicity, because, let's be honest, it's their show. Luckily, I've never been asked to do anything crazy. The women do enough of that.
Joe (MPLS)
Are you going to attend a few games here in the new ballpark?
James Denton
(3:45 PM)
Yeah. I'm definitely going to try and go to the first one. The opener. I go every year. My wife's from Minneapolis. My brother in law lives up there. I'm hoping to get to the opener.
James Denton
(3:46 PM)
Thanks for checking in. I'm not sure why you were talking to me and not Natalie Gulbis, but I appreciate it.