Chat with Clayton Kershaw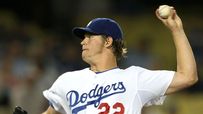 Kershaw finished 8-8 in 2009.
Welcome to SportsNation! On Tuesday, we'll be celebrating this week's launch of ESPNLosAngeles.com with style befitting the City of Angels when Los Angeles Dodgers' pitcher Clayton Kershaw stops by to chat.
Kershaw has quickly established himself as an up-and-coming pitcher for the Dodgers. In two seasons as a starter, he is 13-13 and in 2009, he went 8-8 with a 2.79 ERA, which was fifth in the NL.
The Dodgers selected Kershaw with the seventh overall pick in the 2006 MLB draft, when the lefty was regarded as the top high school prospect in the draft. He finished his 2006 high school baseball season 13-0, with a 0.77 ERA and 139 strikeouts in 64 innings.
Send your questions now and join Kershaw Tuesday at 10 a.m. PT/1 p.m. ET!
More ESPNLosAngeles.com: Index | Previous chats | SportsNation
Clayton Kershaw
(1:00 PM)
Hey, how's everybody doing?
Adriel ((L.A))
Clayton have you learned any new pitches or are you staying with your old ones?
Clayton Kershaw
(1:01 PM)
My main focus this offseason has been working on my changeup. I've always had that pitch, but I've never been confident throwing it. That's what I'm focusing on.
Brandon (Indiana)
How much do you follow the Dodgers during the offseason? Are you the type of player who goes on the internet and reads the paper every day to hear the latest buzz on your team, or do you like to take some time off from baseball without hearing all the rumors and such. Thanks!
Clayton Kershaw
(1:02 PM)
I keep tabs on it from time to time. I wouldn't say I look at it every day, but I check once a week. I do try to take some time off from it during the offseason, though, just to relax.
Gabriel (Rosemead, CA)
What is the one area you think this team could improve?
Clayton Kershaw
(1:03 PM)
We have a great team. I can't speak for the whole team, but I think we need to cut down on our total walks. I personally walked a lot of guys. Rick Honeycutt, our pitching coach, has definitely stressed that.
lorenzo (indio,ca)
who is the funny guy in the dugout?
Clayton Kershaw
(1:04 PM)
In the clubhouse, you kind of see James Loney being the funniest guy...just not on purpose. He's kind of out there and does his own thing. If you watch his antics for 20 minutes, you're completely entertained.
Raul (Long Beach, CA)
What did you learn from 2008, to post a 2.79 ERA in 2009?
Clayton Kershaw
(1:05 PM)
The main thing is just experience. Everyone says the first year of being the big leagues, you learn the most, and it takes time to adjust to the travel, the hitters, the video and information you have -- just the experience of doing it for one year helped a lot.
David (Florida)
Who is the hardest batter you have ever had to pitch against?
Clayton Kershaw
(1:05 PM)
Albert Pujols. He's the best hitter in the game, and I've gotten to face him a few times. There's not one place to pitch him. You get him one way, and the next time, he'll hit a home run off of you.
Christian (Dallas, TX)
Because of climate, did you have to make any changes to your pitching when you moved from right here in Dallas to Los Angeles?
Clayton Kershaw
(1:07 PM)
Not really. Los Angeles is the perfect pitching weather because you don't have to worry about the elements. You can sweat too much in the heat and humidity of Texas, which affects it a bit, but that's not a problem in L.A.
Bryan (Provo, UT)
What are you most likely to be doing on an off-day?
Clayton Kershaw
(1:08 PM)
My off-days are pretty different every day. Right now I'm on the golf course, actually. I play football with some of my buddies and try to be active during the day.
Jerrad (San Diego)
Who would win in a footrace you or Billingsley
Clayton Kershaw
(1:08 PM)
Oh, gosh. That's a good question. It's actually a joke on our team. We call Chad "11-4", because that's what he said his 100-meter time was in high school. I'd probably give him the edge.
Andrew (Somewhere in LA)
Hey Clayton. Do you have a main goal for 2010?
Clayton Kershaw
(1:10 PM)
I don't set any personal goals. I think that can only limit you. Team-wise, everyone's goal is to win. It's your only goal every time you pitch. I don't care how that happens as long as your team wins. We've lost in the playoffs twice, and nobody is satisfied with that. Our ultimate goal is to win.
Bryan (Provo, UT)
What is the oddest thing anyone has asked you to sign?
Clayton Kershaw
(1:10 PM)
Tennis shoes. I went to a middle school in L.A. over Christmas, and one kid decided that, because he didn't have anything to sign, we should sign his shoe, and he started a trend.
Yangel (Puerto Rico)
Is it a great feeling to be playing with Manny?
Clayton Kershaw
(1:11 PM)
It's great. I really respect Manny as a player. Just the way he carries himself in a clubhouse, he makes the game fun, joking around. Everyone can relate to him--we're playing baseball, it's a fun sport, and he brings that atmosphere with him.
Taro (Tokyo, Japan)
What do you think is your greatest strength? And your greatest weakness?
Clayton Kershaw
(1:12 PM)
I'm a very competitive person. I hate to lose, and I guess that could be a strength. As far as a weakness, I guess that could be one too. When things start going badly and things start going my way, I try to keep going hard as opposed to taking things easy. That can lead to big innings for the other team.
Rick Hernandez (Pasadena, CA)
Pluto. Planet or Kuiper belt object?
Clayton Kershaw
(1:13 PM)
I don't know if you know this or not, but my great-uncle discovered Pluto, so I'll stick with his definition of it as a planet.
Andy Hernandez (Los Angeles, Ca)
Were you upset with all of the no decisions you had last year?
Clayton Kershaw
(1:14 PM)
The one thing I always tell myself is that it's just part of baseball, part of being a starter. The one way to control that better is to get deeper in the game. I'll focus on that next year.
Clayton Kershaw
(1:14 PM)
Thanks for coming in and chatting today!