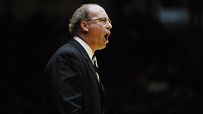 O'Neill and the Trojans have won three straight.
Welcome to SportsNation! On Monday, we're going to help launch ESPNLosAngeles.com with style befitting the City of Angels when USC men's basketball coach Kevin O'Neill stops by to chat.
O'Neill is in his first season at USC after being hired in June, following Tim Floyd's resignation. USC is 5-4 in the early part of the season. He came to the Trojans following a stint as the interim head coach at Arizona. O'Neill has been a basketball coach for nearly 30 years, both collegiately and professionally.
O'Neill was also previously a head coach in college at Marquette, Tennessee and Northwestern and in the NBA with the Toronto Raptors.
Send your questions now and join O'Neill Monday as he comes right off the practice floor, around 5 p.m. PT/8 p.m. ET!
More ESPNLosAngeles.com: Index | Previous chats | SportsNation
Buzzmaster
(7:53 PM)
Hey everyone! Kevin O'Neill will be here at 8:15 p.m. ET/5:15 p.m. PT to take your questions!
Buzzmaster
(8:18 PM)
Kevin is here!
AR (MN)
What has been the greatest challenge to your new job at USC?
Kevin O'Neill
(8:19 PM)
Dealing with the ongoing invesitigation has been really challening. It has basically taken over our team, since we lost so many players. We also have had a lot of players out because of ineligibility. So that's been challening.
Peter (El Segundo, Ca)
Congrats on the big win against Tennessee! With all the shake ups in the Pac-10 pecking order from last year, where do you think SC has to finish in conference to be tournament bound?
Kevin O'Neill
(8:21 PM)
At this point I have no idea. We were fortunate to play this well so far. Mike Gerrity has made a huge difference for our team. I guess we'd have to be in the top four to have a NCAA tournament bid.
David (San Diego)
Like Pete Carroll, do you ever let celebrities make appearances at practice (like Snoop Dogg at USC football practices)? Or invite them to watch courtside during a game?
Kevin O'Neill
(8:22 PM)
Anyone can come to our practices at anytime. There is no invitation neccessary -- they are always open.
Justin Stubel (Alpharetta, GA)
How did you get the team ready for the huge Tenessee game and how do you think you'll do the rest of the way?
Kevin O'Neill
(8:23 PM)
We had a whole week to practice, which helped us. We were able in to focus in on beating their pressure. It remains to be seen how we will play the rest of the way. But we are at a point where I feel we can be competitive.
Ryan ((L.A.))
Hey Kevin, are you looking forward to playing against UCLA and your former team Arizona?
Kevin O'Neill
(8:24 PM)
I'm actually looking forward to playing against everybody. I really haven't thought about UCLA or Arizona yet. The only team I'm thinking about right now is Western Michigan.
Chachi (Compton, CA)
Coach, great win against Tennessee. Talk about the boost Mike Gerrity gave. Does SC finally have a true PG?
Kevin O'Neill
(8:25 PM)
He's really our only true PG. He was obviously a huge boost 12 pts, 10 assists, 10-12 FTs, major major plus for us.
Matthew (Kansas)
This may seem random but who do you think has the best shot at going all the way in April?
Kevin O'Neill
(8:25 PM)
Right now it looks like Kansas has a leg up on some other teams. But a lot of teams have a chance to win it this year. UNC, michigan -- there are 10 teams that have a good shot.
YP (Sc alum) (Los Angeles, CA )
You are known as a great defensive head coach, do you have a defensive philosophy and who influenced you in this area
Kevin O'Neill
(8:27 PM)
Biggest influence on me defensively was Jeff Van Gundy. My philosphy is plain and simple. Play percentage basketball, no lay-ups, no open 3s, contest with 2s only.
AR (MN)
Is it harder to coach in college or in the NBA? Why?
Kevin O'Neill
(8:28 PM)
Both of them have their challenges. Like chess and checkers, it's the same board, but two different games. I love both of them -- and wouldn't say one is any harder than the other.
Dan (Los Angeles, CA)
Did you feel any extra incentive to beat Tennessee, given that you used to coach their? What about looking ahead to Arizona? Have you had that circled on your calendar?
Kevin O'Neill
(8:30 PM)
No, none at all. I tell everybody that it was seven jobs ago for me. I have great respect for UT, I loved my time there. They have some of the greatest fans in the world. I didn't feel any different playing against them than any other team.
Brad (Gadsden,Alabama)
Kevin, What is your favorite Christmas Movie?
Kevin O'Neill
(8:31 PM)
Dirty Harry.
Chase the Trojan (New York City)
Coach, how would you compare your 2010 recruiting class at SC with one of your Top 10 classes you had while at Tennessee?
Kevin O'Neill
(8:33 PM)
I think the class we have coming in at 2010 is the best class I've ever recruited as a head coach. I think we've recruited some really, really great players.
YP (Baldwin Hills, CA)
What are your goals for this season and who do you consider the team leader
Kevin O'Neill
(8:35 PM)
My goals for this season is to be a competitive team when we have all our guys back. Recruit at a high level. And make sure our guys do as well as they can in the classroom.
YP (Los Angeles)
When will L. Washington be eligible to play and will he start right away?
Kevin O'Neill
(8:36 PM)
We are hoping Lenoard will be playing sometime during the end of our tournament. Not sure if he will start or not.
Kevin O'Neill
(8:36 PM)
Thanks for all the questions guys. Fight on!