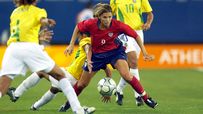 Hamm earned 276 caps in her career.
Welcome to SportsNation! On Tuesday, we'll be celebrating this week's launch of ESPNLosAngeles.com with style befitting the City of Angels when retired international soccer star Mia Hamm stops by to chat.
In her career, Hamm won nine championships, with her four world titles including two Olympic gold medals and two World Cup titles. Hamm holds the record for the most international goals scored by either gender with 158. The 2004 Olympics in Athens, Greece was one of her last appearances and she was the first soccer player to carry the U.S. flag for the closing ceremonies.
In 2003 Hamm made news of a different variety when she wed baseball star Nomar Garciaparra and the couple have a pair of twins. For information on Mia's various charities, visit: Mia Foundation, On Facebook, Soccer Challenge, Challenge tickets.
Send your questions now and join Hamm Tuesday at 1:30 p.m. ET/10:30 a.m. PT!
More ESPNLosAngeles.com: Index | Previous chats | SportsNation
Mia Hamm
(1:33 PM)
Thanks for having me! I wish everyone a Happy Holiday!
Hayden (Logan, Utah)
Mia, huge fan, how are you today?
Mia Hamm
(1:34 PM)
I'm great! Getting ready for Christmas.
Hayden (Logan, Utah)
Mia, will you marry me?
Mia Hamm
(1:34 PM)
(Laughing) Umm ...I think my husband would have a problem with that but I'm very flattered.
Brandon (Vickrey)
When you go out in public, who gets noticed more, you or Nomar?
Mia Hamm
(1:35 PM)
In LA it would be Nomar unless we're at some type of soccer event.
Dino (Chapel Hill)
What did you think about Casey Nogueira winning her third national championship with the Tar Heels? The latest Tar Heel great?
Mia Hamm
(1:36 PM)
I think it's great. I played for that program and I'm extremely proud of her and her teammates.
Bobby (Charlotte)
Which North Carolina player will be the best pro: Whitney Engen, Tobin Heath, Ashlyn Harris or Casey Nogueira?
Mia Hamm
(1:37 PM)
Oh man, they're all so talented. I think whatever team drafts those players are getting not only great players but great people as well. I think all of them will be great professionals.
Mac (New Orleans, LA)
Which current player is your favorite to watch?
Mia Hamm
(1:39 PM)
That's a good question! On the women's side, I love watching Abby Wambach and Marta. On international side I like Kelly Smith. On the men's side I like Lionel Messi.
Olivia (Chicago)
Who was the toughest and best player you have ever played against?
Mia Hamm
(1:41 PM)
There are so many. The toughest player I've faced had to be Groes Elspeth from Norway. She's tough mentally and physically. She doesn't whatever it takes for her team to win.
Wayne (San Diego, CA)
What made you want to do the Soccer Challenge? How did last year's challenge turn out?
Mia Hamm
(1:45 PM)
What made me want to start it in LA is because my husband and I now live in LA. This area is filled with soccer fans and the Home Depot Center is a great venue. It doesn't hurt that LA is Mecca of celebrities. We will have athletes from all different sports and well as actors and other celebrities. For more information go to www.miahammfoundation.org.
Nicki (Bronx, NY)
What was your most memorable accomplishment on the field?
Mia Hamm
(1:47 PM)
I would have to say the 1999 World Cup. The fact that we won and the general atmosphere that brought together so many people was wonderful. To play in that environment in front of a sold out crowd that no body thought would happen was a great feeling.
Lisa (Chapel Hill, NC)
What do you think of Roy Williams calling UNC a women's soccer school and not a men's basketball school?
Mia Hamm
(1:48 PM)
(Laughing) I know Roy and I love him for that. He's always been a big supporter of all the UNC programs and that means so much. He's just a classy guy.
Mary (LA)
When you watch Marta play in Los Angeles, are there things about her game that make even someone like you shake your head in amazement?
Mia Hamm
(1:50 PM)
All the aspects of her game makes me shake my head in amazement and the funny thing is, is that she's only going to get better. As a soccer fan and a Marta fan, I'm excited to see how much better she can get. I'm also excited that she's playing in my own backyard now.
Shane (Idaho)
Mia, thanks for all you have done for women's athletics. What was your most difficult "on the field" obsticle to overcome? How did you do overcome said obsticle?
Mia Hamm
(1:52 PM)
I think the most difficult obstacle is my confidence and that can be altered if I didn't have a good practice, if I'm sore, if I didn't have a good game last time out and things like that. To get over all that, I try to focus on the positive things and not worry about any outside factors.
Glenn (Fresh Meadows)
What needs to happen next to grow the Women's game?
Mia Hamm
(1:54 PM)
I think right now they need to continue to develop the WPS. That will help develop a pool of players outside that National team. They should also make sure that the National team is unified from the youth programs up to the national team.
Jessie (LA)
Did you want to get slimed when you did your skit with Will Ferrell at the Kids Choice Awards in 2005?
Mia Hamm
(1:55 PM)
I didn't get slimed but he did as I was standing next to him. I was able to escape that. Will is as funny in person as he is on TV.
Mia Hamm
(2:53 PM)
Thank you for the questions. If you're in the LA area we will love to see you on January 16th at the Home Depot Center for the 3rd annual Mia Hamm and Nomor Garciaparra Celebrity Soccer Challenge. Come help us raise money for the Children's Hospital of Los Angeles and have a good time doing it. Your favorite athletes and actor will be there as well. For more information go to MiaHammFoundation.org and for tickets visit Ticketmaster.