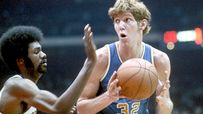 Walton's broadcasting career went from 1990-2009, retiring from ESPN in November.
Welcome to SportsNation! On Wednesday, we'll be celebrating this week's launch of ESPNLosAngeles.com with style befitting the City of Angels when basketball hall of famer Bill Walton stops by to chat.
Walton, who retired from broadcasting in November, played 14 seasons in the NBA, split among the Portland Trail Blazers, San Diego/Los Angeles Clippers and the Boston Celtics. He won two NBA titles, one MVP, one NBA Finals MVP and was named to the NBA's 50th Anniversary Team before he was forced to retire in 1987 due to chronic injuries.
He was elected to the Basketball Hall of Fame in 1993, following a pro career that began when the Blazers chose him with the No. 1 overall pick in the 1974 draft. He won three straight Naismith College Player of the Year awards while at UCLA and was a member of the team that won 88 straight games.
Send your questions now and join Walton Wednesday at 1 p.m. ET/10 a.m. PT!
More ESPNLosAngeles.com: Index | Previous chats | SportsNation
Bill Walton
(1:02 PM)
Welcome to the promised land! It's so wonderful to be here on the edge of western civilization, and with so much going on in the southland today, it's important to have the music to drive our train. The songs of the day are "I'll Take a Melody" by Jerry Garcia, "Black Throated Wind" by the Grateful Dead and "Here Comes Sunshine" by the Grateful Dead, which pretty much sums up the way things are going. We are ready to rock. Who wants to play? Who's got a game? Put me in coach! We are in L.A.
Phil (Los Angeles)
Bill,Who was your favorite person in college and in the NBA to match up against?
Bill Walton
(1:06 PM)
At UCLA, our practices were the most stimulating and challenging experiences because we had so much talent on the team. The competition for playing time was remarkable. Your career was in the hands of John Wooden and to play against players like Swen Nater, Dave Myers, and Marcus Johnson, who all later went on to terrific careers was a huge daily challenge. The best team we played in college was North Carolina State. David Thompson was the greatest college player I ever played against. He was so good, he could have made our team. On the NBA level, Kareem was the absolute greatest. And we are pulling so hard for him with his health issues now. He carried the NBA on those broad shoulders for 20 years. Just spectacular on all fronts. He's got a great event coming up at the basketball hall of fame. January 15th. "An Evening With Kareem." Stay tuned. Going to be a fantastic time. This guy is a master teacher. We can all learn from him.
Freddy (Los Angeles)
What game are you most looking forward to watching on Christmas and what gift would you like?
Freddy (Los Angeles)
What game are you most looking forward to watching on Christmas?
Buzzmaster
(1:37 PM)
Sorry guys but because of our technical difficulties we lost Bill. We'll try to reschedule for later in the week.