Chat with Misty May-Treanor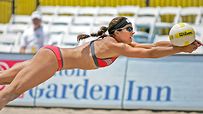 May-Treanor played collegiately at Long Beach State.
Welcome to SportsNation! On Wednesday, we'll be celebrating this week's launch of ESPNLosAngeles.com with style befitting the City of Angels when Olympian and beach volleyball star, and Los Angeles native, Misty May-Treanor stops by to chat.
May-Treanor is one of the most successful women's beach volleyball players of all time, having won 105 career matches. She and her partner, Kerri Walsh, won gold at both the 2004 and 2008 Summer Olympic Games. They also won gold at the 2003, 2005 and 2007 World Championships.
May-Treanor married Milwaukee Brewers' Matt Treanor in 2004. Shortly after the 2008 Olympics, May-Treanor and Walsh took a leave from the pro volleyball circuit to focus on starting families. Walsh is married to beach volleyball player Casey Jennings.
Send your questions now and join May-Treanor Wednesday at 3 p.m. PT/6 p.m. ET!
More ESPNLosAngeles.com: Index | Previous chats | SportsNation
Buzzmaster
(6:00 PM)
Misty May-Treanor will be here shortly to take your questions!
Terry (the 'Burgh)
Okay, they're not beach volleyball, but do any WINTER Olympic Sports make you sit on the edge of your seat? Which one(s)?
Misty May-Treanor
(6:03 PM)
There have been a few Summer Olympians that were Winter Olympians as well. I've always liked the skeleton and bobsled. They're all pretty neat, given the fact that I can't ski and let alone it's hard to stand on ice. Those are my two, if I had an opportunity to do, it would be fun.
Brad (Gadsden,Alabama)
Misty, What is your favorite Christmas Movie?
Misty May-Treanor
(6:04 PM)
There are a lot of good ones. I have two, but I think the earliest one I ever remember watching is the Christmas Story. You never forget "You'll shoot your eye out kid!"
Will (WA)
Which Olympic Games did you enjoy more?
Misty May-Treanor
(6:05 PM)
My most enjoyable one, granted I'll take any Olympics and being able to participate in, but the one that I took the whole experience in was Beijing.
Terry (the 'Burgh)
Will you and Kerri be back together for 2012 in London?
Misty May-Treanor
(6:07 PM)
I don't know. It's so far in the future. I'm just worried about getting back on the court again. I've been out a year. I always make the joke, I haven't seen the movie 2012, if the world ends, what are we going to do? I've accomplished so much in my career and if you had asked me after Athens, about Beijing, I would have said for sure. It's not out of the realm of possibility, but I'd like to focus on today, tomorrow, the next day.
Terry (the 'Burgh)
What takes more courage: diving into hot sand for a digger? Or riding a luge? Related (rhetorical) Q: how much alcohol must one consume to be crazy enough to "skeleton"?
Misty May-Treanor
(6:07 PM)
Or for sure riding a luge. Sand is soft and forgiving, you know that you're going to survive. Luge, there's nothing stopping you besides a wall.
Samantha (LA)
How many gallons of sunscreen do you slog-on during a long tourney like the Olympics. How many times reapplied during a single match?
Misty May-Treanor
(6:09 PM)
Oh gosh, well it depends. Greece, not that much, because we were playing at night. But during the day, it's tough to say in gallons. We're always trying to reapply when we can, but it's difficult, because we only have one timeout and we're always sweating and wiping our faces. When I was sponsored by Banana Boat, and by the end, I had one or two left. I would say we go through a couple of gallons, but not just in one tournament.
Jake (VA)
How are you enjoying your time off?
Misty May-Treanor
(6:10 PM)
It's been nice. It's allowed me to explore other avenues I've been wanting to do in a while. I have two clinics coming up. It's helped me try to focus on spreading my knowledge to other kids and coach. Also, I went back to school and go for my masters. I won't lie, it's been nice to have the time off. It's been my first summer off since I was 12.
Steve (Denver)
I was in Chicago a couple of years ago, and you threw out the fisrt pitch did you enjoy that?
Misty May-Treanor
(6:12 PM)
I did. I loved it. It wasn't my first, first pitch. My first was to my husband at Dolphins Stadium when we came back from Greece. When I threw out the pitch to the White Sox, they won it all that year, so I was good luck. There's nothing like throwing the first pitch out in Chicago because they have such great fans. You never know when the opportunity will come again, so you take advantage.
Hank (Buffalo)
what have you been doing to exercise with no court time?
Misty May-Treanor
(6:14 PM)
I gave a couple of private lessons and I've just been trying to work on my physical aspect of my game, getting my leg back to where it was. Walking, jumping. I played in a co-ed here in Florida. It's usually in the offseason that I focus on my conditioning. When I have to teach someone else a skill, you'll find that your skills never go away. You have to think about it in order to teach another person.
Pam (St. Louis)
Despite the leg injury, would you do Dancing again?
Misty May-Treanor
(6:15 PM)
Oh, for sure. I thought they'd ask me back, but they haven't yet. I didn't get kicked off. I had to stop for injuries, but I didn't get voted off. My husband joked and said he might be interested in taking dance lessons.
Greg (dallas)
what's your favorite olympic sport? Other than volleyball.
Misty May-Treanor
(6:16 PM)
Soccer. I played soccer. And I appreciate track and field. I think they're all fantastic, because I can't compete at the level that they're at. I did go and watch table tennis. They're at another level than the ping pong we played in our garage.
Misty May-Treanor
(6:17 PM)
You can keep track of me at my website, MistyMay.com and I have a facebook page. I just learned to put video on, so things can get crazy. I can't wait to get back out there and see all of your faces!
Buzzmaster
(6:17 PM)
Thanks for chatting Misty!