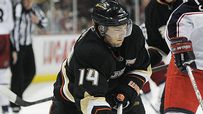 Lupul was the No. 7 overall pick in 2002.
Welcome to SportsNation! On Wednesday, we'll be celebrating this week's launch of ESPNLosAngeles.com with style befitting the City of Angels when Anaheim Ducks winger Joffrey Lupul stops by to chat.
Lupul, who just had back surgery Dec. 17, is the first year of his second stint with Anaheim. He played with the Ducks during the 2003-04 and 2004-05 seasons before returning this season. Prior to his injury, he had 10 goals and four assists in 23 games.
In his sixth year in the NHL, Lupul played the previous two seasons with the Philadelphia Flyers. He was drafted seventh overall in the 2002 draft by Anaheim. He spent two seasons there before moving on to the Edmonton Oilers.
Send your questions now and join Lupul Wednesday at 3:30 p.m. PT/6:30 p.m. ET!
More ESPNLosAngeles.com: Index | Previous chats | SportsNation
Buzzmaster
(5:00 PM)
We're getting Joffrey right now!
Buzzmaster
(5:03 PM)
Just talked to Joffrey. He's still at the doctor's office. We're pushing it back 90 minutes until 3:30 p.m. PT/6:30 p.m. ET.
Buzzmaster
(6:18 PM)
Joffrey should be here shortly!
Buzzmaster
(6:30 PM)
We've got Joffrey!
Brad (Gadsden,Alabama)
Joffrey, Do you have any pre-game rituals?
Joffrey Lupul
(6:32 PM)
I'm not really the pregame ritual type guy. A lot of guys are really creatures of habit, but I just have a little stretching routine and put my iPod on. Nothing like putting the same sock on a certain way.
Greg (Boston)
How do you relax after a game?
Joffrey Lupul
(6:33 PM)
It's tough. It depends what the situation is. Sometimes we relax by going out and having a couple of beers. Sometimes you're playing the next night and you don't have time. It's tough when you're traveling from city to city and it's tough to fall asleep. Sometimes I come home and just play the guitar or something. It takes my mind off the game.
John Vardicks (NY, NY)
How did your surgery go? When do you start rehab? Good Luck!
Joffrey Lupul
(6:34 PM)
Surgery, they thought it was successful at first, but I've been at the doctor and they think it might be a little bit of complications. It might be a little blod clot, or it might be a re-herniation. If it's just a clot, it will clear up. If it's a re-herniation, they have to go back in and it would put me back a few weeks. But it looks like I won't be back until after the Olympic break anyway.
tom (Pitt)
what do the players think of the olympic break?
Joffrey Lupul
(6:35 PM)
I think the guys like it a lot. The guys who get the opportunity to play it's great. It's great for them to play for their countries. For the rest of us, it's great for us. A nice break in a tough part of the season. You get 10 days to get your mind ready and refocus for the stretch drive.
Dave (Atl)
At what time do you miss the game the most?
Joffrey Lupul
(6:36 PM)
Just being around the guys. When you're injured, you're not around the team that much. You miss playing, but also the little things, being in the lockerroom. Being on the road trips. That's what I miss the most right now. You have to try and keep a positive attitude and go about your rehab properly so I can help the team as quick as possible.
Jim (PA)
How much are you around the team when you're hurt?
Joffrey Lupul
(6:38 PM)
For me, my rehab won't take place at the rink until about four weeks from now when I can start lifting weights and things like that. Right now, I'm doing my rehab at a separate location. At this point, I won't see the guys quite a bit. I'm not up and around much, so I can't go to the games. I don't see a lot of the guys. I write them a text message after the game.
Dennis L. (Covina, CA)
Since you will be home resting from your surgery, I'm sure you will be playing a lot of video games coming up. Anything your looking forward to playing?
Joffrey Lupul
(6:38 PM)
No, I don't play any video games.
Kyle (SCV, CA)
What teams do you look forward the most to playing against and which teams do you hate playing?
Joffrey Lupul
(6:39 PM)
A lot of teams in the East. It's fun to get out there and play those teams in those markets. Philadelphia, Chicago, New York, Boston. I guess I'd have to say Madison Square Garden is a fun place to play. There's so much history there.
Dennis L. (Covina, CA)
Hey Lups - Can you talk about the differences of playing hockey up in Canada (like with Edmonton) compared to playing here in California? Do you prefer the crazy-ness of up north or the more laid back approach?
Joffrey Lupul
(6:41 PM)
The fan bases is a lot different. Everyone in Edmonton is a hockey fan and if they're not, they still know all the players. In California, we have a lot of good fans down here, but it's not quite the same as fans up in Edmonton who grow up playing hockey. Not many people grow up playing hockey in California. It's just a different level of privacy down here. Most people don't know who you are. Even if they find out you're a hockey player for the Ducks, the majority wouldn't care, but if you're up in Edmonton, they'd be star struck.
Hayden (Logan, Utah)
Any advice on how to kill the last 20 mins of my workday?
Joffrey Lupul
(6:41 PM)
I'd probably go to YouTube and just start looking up whatever crosses your mind. You'll probably be there more than 20 minutes.
Joffrey Lupul
(6:42 PM)
Thanks for the support for the Ducks this year. We've been struggling through the start of the season, but we're confident we can turn it around.