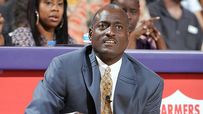 Cooper has gone from Laker to Trojan.
Welcome to SportsNation! On Thursday, ESPNLosAngeles.com has USC Trojans women's basketball coach, and former Laker, Michael Cooper stopping by to chat about the 2009-10 season.
Cooper takes over USC's sideline after eight seasons coaching the Los Angeles Sparks in the WNBA, where he won five Western Conference and two WNBA titles.
Prior to joining the coaching ranks, Cooper was a member of the Los Angeles Lakers from 1979-90. He won five NBA titles with the "Showtime" Lakers, earning a reputation as a defensive stopper.
Send your questions now and join Cooper Thursday at 4 p.m. ET/1 p.m. PT!
More Special Guests: ESPNLosAngeles.com | Previous chats | SportsNation
gary (Myrtle Beach, SC)
Hey Cooper! Where do you rank your team in the Pac 10?
Michael Cooper
(4:13 PM)
I see us as a top five team. ASU, Cal, UCLA, Stanford and USC in no particular order. I like to think we are one of the better teams in the conference right now.
Wanda (Riverside, CA)
How good do you think Jacki can be when she gets healthy?
Michael Cooper
(4:14 PM)
I haven't really seen Jacki play but from what I've heard and the tape that I've seen, she can be one of the top 15 players in the country. The toughest thing will be how she is mentally. Coming back from a knee injury is tough and she's had four of them. I think she is good enough to make a living playing on the next level in the WNBA.
Desiree Catirce Gibbs (Brewton Alabama)
What was it like coaching both Lisa Leslie and Candace Parker.
Michael Cooper
(4:16 PM)
It was one of the greatest experiences that I've had outside of playing with Magic and Kareem. Lisa is the ultimate outgoing inside player and Candance is the ultimate incoming inside-outside player.
Ellis (Atlanta, Ga)
Hell Coach Cooper - I know you are the master at getting players to play to their full potential. But with all the injuries what are some of the things you had to do to keep the players off the court at their full potential?
Michael Cooper
(4:18 PM)
I keep them involved in practice if they are injured. I stop practice and maybe ask them questions to keep them ready mentally. That's a huge part of the game, being prepared mentally.
jimmy snooka (bay area, california)
do u think kobe bryant is better than magic johnson while they are both in their prime?
Michael Cooper
(4:22 PM)
Kobe is a great player. Magic and Kobe are two different players. Kobe is a great scorer and Magic is more of a team player. Not saying the Kobe isn't a team player but Magic made the players around him better at a young age. Kobe is now just starting to make the players around him better. Plus I have a bias against Magic having played with him.
barney macfly (bay area, california)
with the core group of the lakers (bynum, odom, gasol, artest, and kobe) singed for the next few seasons, is another 3peat likely 2 happen in your eyes?
Michael Cooper
(4:23 PM)
I think the Lakers can win another championship but injuries are a big part as you see now.
RJ (Boston)
MC!!!! Great to have you on board boss man!Looking back do you suppose it would be more entertaining to watch film of your matchups with Mo Cheeks or with DJ?
Michael Cooper
(4:24 PM)
I think both of them were very good matchup. Most of the time I didn't guard either one of them but if I had to pick one I would say DJ. Dennis could do a little bit of everything and could get a triple double on you while Mo was a scorer and a defender.
Derrick Williams (Fishers, IN)
Hello Coop! We met at the WNBA Party at the Women's Final Four in Tampa, FL. My question is: Now that you are in a situation where you can build your team through recruits, what skill sets will you look for and what priority do you place on positions? For example, do you look for the best athlete, post, or guard? Thank You.
Michael Cooper
(4:25 PM)
Good question!
Michael Cooper
(4:26 PM)
I would have to say the best athlete because they can play many positions depending on their size.
Annara (Torrance)
What do you think keys are for your game against Stanford on Friday?
Michael Cooper
(4:26 PM)
Rebounds, play tough, rebound and be tough.
Michael Cooper
(4:27 PM)
It's always enjoyable being on ESPN. Thanks for the questions.