Chat with UCLA's 'Joe Bruin'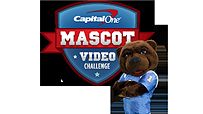 Welcome to SportsNation! On Tuesday, we start look ahead to Week 3 for the college football season with members of the Capital One All-America Mascot Team, who will compete each week to be named the Capital One Mascot of the Year, awarded on Jan. 1 at the Capital One Bowl on ESPN.
Each week of the season, the 16 mascots will face off in eight matchups with fan voting deciding the winner. At the end of the season, the mascots with the best win-loss records advance to the playoffs.
But, why mascots? Why not! They are the unappreciated glue. Plus, the winning mascot earns $20,000 for the school and the praise of the United Coalition of College Mascots.
This week, we've got UCLA's "Joe Bruin," whose signature move is the historic "Bruin Break Dance." He has some intriguing thoughts on his chances for 2010, if he's more bear than man, the UCLA football program, and why he's superior to his competition.
Send your questions now and join "Joe Bruin" Tuesday at 4 p.m. ET!
More Mascot Madness: Capital One Bowl | All-America Mascots | NCAA FB Index
Buzzmaster
(3:55 PM)
UCLA's "Joe Bruin" will be here shortly to take your questions!
Buzzmaster
(3:59 PM)
Joe is here!
Yogi Bear (Woods)
So there's lots of bears in the Capital One Mascot Challenge this year. Are you the most superior bear and why?
UCLA's 'Joe Bruin'
(4:00 PM)
Yogi Bear, of course I am the most dominant bear. I am from LA, and any time a bear can dominant the glamour scene, he has to be the best. I've got all the moves and clearly the best looking one out there.
Nathan (Kentucky)
What do you think your chances are for winning the Capital One Mascot of the Year? Also, are there any secrets to the "Bruin Break Dance"?
UCLA's 'Joe Bruin'
(4:01 PM)
I think I have a very good shot of winning. A lot of people love me. Our school has 40,000 students. They all love me, they all will vote for me.
UCLA's 'Joe Bruin'
(4:01 PM)
As for the dance, it's all about getting down and having fun with it. I'm a fun loving guy, so it's perfect for me.
Kevin (LA)
Do you ever get into any dance offs like in an 80s movie, where you're walking down the street and someone challenges you to dance? And if you do, how often do you win those challenges through your use of your break dancing skills?
UCLA's 'Joe Bruin'
(4:02 PM)
I get challenge to dance offs all the time. I win them. Of course my moves have been updated since the 80s. I've got the jerk, the dougie, I've got it all. I smoke the competition all the time.
Gabe (NEP)
who's a better offensive coordinator - you or Norm Chow?
UCLA's 'Joe Bruin'
(4:03 PM)
I'm pretty good with X's and O's, but I have to defer with Norm on that one. All of the Heisman players he's coached and all the great offenses, he's done well. I'm excted to see what he can do.
Pete (SF)
After last week, are you going to practice to help keep the team's spirits high?
UCLA's 'Joe Bruin'
(4:04 PM)
I've actually been in the weight room with the team, getting them pumped up. If you've seen me, I have huge muscles. I think we just need to get stronger, so I've been in there showing them how to get it done.
Dr. Nick Riviera (Springfield)
So why should you win the Capital One Mascot Challenge? Why should we vote for you?
UCLA's 'Joe Bruin'
(4:05 PM)
All of the mascots, all of my fellow creatures are great competitors, but I'm a class above the rest. I represent UCLA one of the best schools in the country. I am the greatest.
Andrew (Montgomery, AL)
What other schools mascots would you least like to have to get in a fight with?
UCLA's 'Joe Bruin'
(4:05 PM)
I'm a little worried about the Georgia Bulldog. Not that I'm a afraid of him, but he can bite and we've all seen that he can use it.
Big Blue (ODU)
Why do you have so little votes?
UCLA's 'Joe Bruin'
(4:06 PM)
Classes are getting started again. It's a busy time at UCLA. But I know they all love me. They'll get settled and all vote for me tonight. Just wait and see.
Kevin (Dallas)
favorite bruin of all time?
UCLA's 'Joe Bruin'
(4:07 PM)
My favorite player is probably Maurice Jones-Drew. He's fierce, fierce like me. He's fearless. We both show no mercy to our competition. He's the embodiment of me and I'm the embodiment of him.
Kevin
How was the team last week?
UCLA's 'Joe Bruin'
(4:08 PM)
Last week was definitely a tough loss. The team was a little down. The fans were a little down, but that's why I'm here. I'm here to keep them up. Keep it in perspective and remind them that at the end of the season we have that team, the Trojans that we have to face. We are better than them.
jim (fl)
just how big of a rivalry is the USC-UCLA
UCLA's 'Joe Bruin'
(4:09 PM)
Oh, it's huge. We live 10 miles apart from each other. I'm a bear, I need a lot of space. I don't like sharing my space with anyone. It's a giant rivalry with all of the sports. And we beat them most of the time.
Steve (washington)
best game of the year on the schedule?
UCLA's 'Joe Bruin'
(4:10 PM)
I'm really looking forward to the Oregon team. They have a fast team. That will be a good matchup. Their mascot is, a quack. But that and the USC game, I relish that game like I relish a T-bone steak.
paul (la)
as a bear, how much do you ahve to eat prior to a game?
UCLA's 'Joe Bruin'
(4:11 PM)
As a bear, I actually never stop eating. I am unique that unlike other bears I don't hibernate. I eat all the time. My favorite food is the tears and broken hearts of Trojan fans after we beat them.
reid (la)
have you mailed the trojans a haha letter cuzy ou're in this competition and he's not?
UCLA's 'Joe Bruin'
(4:12 PM)
As you know, the SC football team is on sanctions, and that means him too, so there was no letter needed, he couldn't compete in this competition. That was embarrassment enough.
ang (la)
other than the trojan who is your favorite to pick on?
UCLA's 'Joe Bruin'
(4:13 PM)
Hmmmmmm....I've got to say the Arizona State Sun Devil. What is a Sun Devil? I ask him that every time. But I'm still waiting for him to get back to me with an answer.
tim (la)
what other mascots do you think have a shot at winning?
UCLA's 'Joe Bruin'
(4:14 PM)
I've gotta to give a shoutout to my fellow Pac-10 guy the Oregon Duck. It might come down to the two of us, with some Pac-10 representation in the finals.
UCLA's 'Joe Bruin'
(4:15 PM)
I would just like to thank all of the fans for logging in and asking me some questions. I hope to see you out at some games this year. Go Bruins! Keep voting in the Capital One Mascot Challenge.