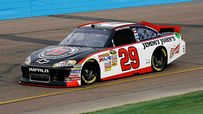 Harvick has one top-5 finish in his four starts this season.
Welcome to SportsNation! On Monday, we'll be chatting with Kevin Harvick as he prepares for the Sprint Cup's Auto Club 400 as well as the Nationwide Series' Royal Purple 300.
Both races will be run at the Auto Club Speedway in Fontana, Calif. For the Sprint Cup race, Harvick will be driving his RCR No. 29 Jimmy John's Chevrolet. Harvick finished third in the points race last year for the second time in his career.
Fans can find out more about this weekend's races on the Auto Club Speedway's Facebook page and on Twitter: @ACSupdates.
Send your questions now and join Harvick Monday at 3 p.m. ET!
More Special Guests: Previous chats | SportsNation
Buzzmaster
(2:57 PM)
Kevin will be here at the top of the hour to take your questions!
Buzzmaster
(3:00 PM)
Kevin is here!
Carl (San Diego)
How do you like running the California race? What do you like about the track?
Kevin Harvick
(3:01 PM)
As its aged over the years, the grooves have become really wide. The set up for the cars is becoming really important. For the drivers, it's become a lot of fun to race on.
Matthew (Columbia, NJ)
Hey Kevin, i know you had a winning car yesterday, but how do you feel about rebounding from the spin to get a top 6 finish?
Kevin Harvick
(3:02 PM)
I think from a team standpoint it really shows the maturity to fix the car and do the things we needed to that when it went back out we were competitive. We've had a rough four weeks, but once the luck turns a little bit, things are going pretty well on a performance side.
Dustin Harmer (Elkton, MD)
What is the biggest issue that you are striving to overcome this year in the Sprint Cup as a driver and in the Nationwide Series as a Team Owner?
Kevin Harvick
(3:03 PM)
I definitely think as far as the Sprint Cup goes is doing the things we've done in the past and overcoming the things that's thrown at us. I feel comfortable with how the Nationwide team is doing. They should be in good shape. The 33 team will take some work, but we'll have to make the necessary adjustments to get it to where I want.
max mclaughlin (new york)
hey are you watching the ncaa tourny. if so who do you have winning
Kevin Harvick
(3:04 PM)
My brackets aren't looking great. But I don't think anyone's is looking great. I haven't had a chance to watch many games, though we've watched a lot of the North Carolina games. It's fun to watch.
Kenny P (Buffalo,ny)
would you trade your daytona 500 and brickyard 400 wins for a championship?
Kevin Harvick
(3:04 PM)
I'm greedy. I'd rather have them all.
eric (rome,ga)
how has the new points system affected how you have raced so far this season
Kevin Harvick
(3:05 PM)
There is a lot of talk about the points system, but honestly, it doesn't effect what we do. We go out and race as hard as we can each week and get the best result we can. We wouldn't race any different no matter how it was structured.
Kenny P (Buffalo,ny)
With a basically all new pit crew do you feel your team has picked up right where you left off last season?
Kevin Harvick
(3:06 PM)
Yeah, I think that's been the best thing we did in the offseason. Our pit crew has just been on it all of the races. They've been having good pit stops every time. That's one thing we won't have to worry about this year. Very comforting.
Wyatt Hubbard (Buchanan VA)
Do you like the change to the points system?
Kevin Harvick
(3:06 PM)
I think it's much simpler to follow when you know each position is one point. The intent of the point system was to make it simpler. I think it's done fine and exactly what they intended it too.
David (Boston)
are you excited for Cali? Not just the racing, but the weather?
Kevin Harvick
(3:07 PM)
Well, I don't know. I know there's been a lot of rain out there. The temperature looks like it will be OK. It seems like the weatehr has been more unpredictable out there than on the East Coast.
Jimmie (NY)
What do you think your chances are for California?
Kevin Harvick
(3:08 PM)
We ran really well in both races there last year. We should have won the first race, but I made a mistake. That's been one of our better race tracks over the last couple of eyars.
Kevin Harvick
(3:08 PM)
We're looking forward to going out there this weekend.
James (Rochester, NY)
How do you feel about the season so far?
Kevin Harvick
(3:09 PM)
It's been an intersting start to the season. We started Daytona with an engine failure. We've run well every week. It's been an interesting way to get the finishes we've gotten so far but the good thing is we've had fast cars.
Brian Hoppe (Great Falls MT)
What would you call your favorite track to race on?
Kevin Harvick
(3:09 PM)
I really enjoy going to Richmond and Phoenix. I grew up on the west coast with the flat tracks. They've always been good for us.
Jason (Valencia, Ca)
Have you fixed your golf swing yet, or are you still coming over the top?
Kevin Harvick
(3:10 PM)
Not yet. That's a full time job and I don't have the full time to devote to it just yet.
Kevin Harvick
(3:10 PM)
I hear you're working on yours too.
Kenny P (Buffalo,ny)
Do you still feel pressure to win at your hometrack, or has that gone away over the years?
Kevin Harvick
(3:11 PM)
It would be nice to win there. We've been close in the Nationwide and Cup car. It would be nice to close the deal. I have a lot of family and friends that come to watch. Hopefully we can get that done sooner rather than later, especially since we only have one shot this year.
Doug (Bradenton, FL)
You seem to now have great control of your emotions compared to Kevin of old. You still have the urge to get face-to-face with someone who wrongs you on the track?
Kevin Harvick
(3:12 PM)
Yeah, well, it's a lot easier to not be in trouble than worry about that stuff some times. I'm pretty emotional. You just have to control yourself to do the best job for your team. Sometimes it gets the best of me.
Dylan Johnson (Miami, FL)
Hey Kevin I'm a giant fan of yours! Do you think you can challenge for the title this year?
Kevin Harvick
(3:13 PM)
I think after last year, it gave everyone on the team a lot of confidence. I feel everyone's confident with each other. We can overcome a lot of things. I feel confident we have the team to do it.
Lucy Lou (NC)
Hey Kevin! Just gotta ask: Why do you give poor DeLana a hard time over her Heels!!! She is a VERY GOOD woman to put up with you!! LOL
Kevin Harvick
(3:14 PM)
She likes to give me grief over a lot of things. She likes to root against the Yankees and the teams that I root for. It's more fun to watch the games if I can give her grief about her Heels.
Vita (DC)
Kevin, thanks for answering our questions. Any drivers that the average fan might not be aware of that has impressed you this year?
Kevin Harvick
(3:15 PM)
There hasn't been a lot of change in the drivers over the last couple of years. Obviously, the Red Bull car with Kasey has gotten better because they had a lot of changes. But that didn't really surprise anybody. Obviously, Trevor Bayne winning Daytona was a bit of a surprise for everybody.
Kevin Harvick
(3:16 PM)
Hopefully, if you're on the West Coast, you will have a chance to come out to the Auto Club Speedway in California either Saturday or Sunday this weekend to watch the races, because it will be the only race there this year. If not, you can watch it on Fox.
Buzzmaster
(3:16 PM)
Thanks Kevin!
THIS WEEK'S CHATS (All Times PT)