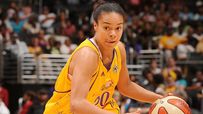 Toliver won an NCAA title with Maryland in the 2005-06 season.
Welcome to SportsNation! On Friday, we'll have Los Angeles Sparks guard Kristi Toliver stopping by to chat.
In her third season in the WNBA, Toliver is making a name for herself as a valuable player off the bench. She is third on the team in scoring with a 13.3 ppg average. She is shooting over 50% from the field and over 50% on 3-pointers.
With Father's Day coming up, Toliver and the WNBA are celebrating dads everywhere with the WNBA's Dads and Daughters program. The league's 12 teams will host events and promotions over the next few weeks to honor fathers. Kristi credits her dad, George, a former NBA referee, for her love of basketball.
Send your questions now and join Toliver Friday at noon ET!
More Special Guests: Previous chats | SportsNation
Buzzmaster
(12:00 PM)
Kristi is here!
Mackenzie (Wisconsin)
What do you say to your team n the huddle when you're losing to pick them back up?
Kristi Toliver
(12:00 PM)
We have a lot of veteran leadership on this team. Depending on game situation, if I need to say something, I will. Whatever we need to get out of the funk we're in.
Tom (Laurel, MD)
Would you ever consider being a ref one day? Do you think you'd be good at it?
Kristi Toliver
(12:01 PM)
I'm not sure. I think the route I want to go in after I'm done playing is in coaching. I've been around refs my whole life and I know their job is too difficult for me. I'm too indecisive sometimes.
Brad (Gadsden,Alabama)
Kristi, Do you have any pre-game rituals?
Kristi Toliver
(12:02 PM)
Not really. We have shoot around before every game. We watch film. I get home, have lunch, take a nap, wake up, shower. I'm always at the gym three hours before, doing some shooting.
Bajjjlyrique (Barbados)
Toliver...What was your initial reaction on hearing the news of your trade to the Sparks ?
Kristi Toliver
(12:03 PM)
Relief. It was a choice that I made. I wanted to be treated. The fact that I was able to go to L.A. and a prestigous organization and be in the title hunt. I was excited.
Katie (Chicago, IL)
I was at the Nike Camp when you spoke to us and thought it was really cool how you said it was great to play for Coach Frese. What's it been like having different coaches as a pro after having the same for 4 years?
Kristi Toliver
(12:04 PM)
It's difficult. It's a little bit of an adjustment. You have to get to know the person, their basketball minds. I loved being at Maryland and playing there. But the coach we have here is quite similar. It's nice to have that similarity.
Testudo (College Park, MD)
We love you. Comcast Center was just voted one of the 10 toughest places to play in CBB. Do you have a favorite Comcast Center memory? Thanks for all you did for Maryland!
Kristi Toliver
(12:05 PM)
There are so many in that gym. One of them I will never forget is senior night against BC. And also probably the win we had against Duke. We didn't beat Duke on our home court very often, but senior year beating them was very special.
Nathan (Kentucky)
Kristi, what were your expectations coming into this season?
Kristi Toliver
(12:06 PM)
I wanted this to be a break through year for me. I wanted to play well and show my abilities with this team. I think this is a championship team. So far, I think we're on track. We're extremely talented team. A big team. We can give other teams fits with our size and athleticism. Hopefully we can keep the momentum up.
Andrew Schubert (Arcadia, CA)
How is it like working with superstars like Candace Parker and Tina Thompson?
Kristi Toliver
(12:07 PM)
This team is full of great players. Candace is one. Tina has been in the league as long as its existed. There is a lot of talent and knowledge and experience on this team. I credit that for how this team runs and how I've grown in this league.
lisa (CA)
Whats your favorite WNBA city to go to or do you perfer Los Angeles?
Kristi Toliver
(12:08 PM)
I like going to DC, that's right near U of Maryland. Seeing familiar faces.
Gee (Los Angeles)
The Sparks look deep this season. What is you overall of the 2011 Sparks. Does this team have the pieces in place to win the Championship.
Kristi Toliver
(12:09 PM)
Depth is extremely important. The Dallas Mavericks showed that more than anybody. You have to have a good group and core. That's one of our strengths as we try to win a championship.
Gee (Los Angeles)
Kristi, you game is spot on so far this season. What did you do in the off season? What do you think of the 2011 Sparks
Kristi Toliver
(12:10 PM)
I took the first half of the offseason off before going overseas. I worked on my individual skills. The second half, I went to Turkey to play. I think that was a good balance. Taking the time off and then getting back into the swing of things. I'm sure I'll do something similar this offseason.
Karlo Garcia (Melbourne(Australia))
What's it like having a healthy Candice Parker & thoughts bout New York-LA game where it all started 15 years ago.
Kristi Toliver
(12:11 PM)
It's important. Everyone on this team has equal value. Our balance with our bench and depth. She's a huge part of putting the pieces together. We want everyone to stay healthy. Hopefully that can happen.
Brionna A. (maryland)
What are some important things to do if your trying to get to your position (the WNBA)??
Kristi Toliver
(12:12 PM)
First and foremost, deciding to play at Maryland. That was a big part of getting to the next level. Playing with the caliber players I played with. Playing in the caliber conference that I did. That was a huge part of getting to where I am today.
Kristi Toliver
(12:13 PM)
Thanks for the support. Hopefully you'll see us with a championship ring at the end of the season.