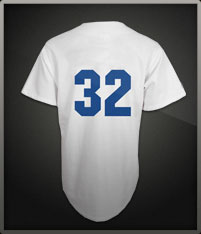 Sandy Koufax
Dodgers (1955-1966)
Oh, what could have been. And what was.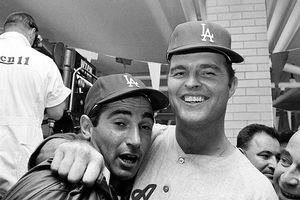 ESPN
Sandy Koufax, left, and Don Drysdale celebrate after the Dodgers defeated the Twins in Minneapolis to capture the 1965 World Series. Koufax was the winning pitcher in Game 7.
Sandy Koufax was arguably the top pitcher in baseball when he retired at 30 years old due to an arthritic condition, leaving the Dodgers without one of the most dominant left-handers in history. Suddenly, Los Angeles had lost a sports icon at the peak of his career. Despite the early departure, Koufax did more than enough during his playing days. The lefty from Brooklyn, N.Y., won a then-record three Cy Young Awards during a dominant stretch from 1962 to 1966 in which he was 97-27 with a 1.86 ERA. He became the youngest player ever elected to the Hall of Fame at age 36. "I think it's incredible because there were guys like [Willie] Mays and [Mickey] Mantle and Henry Aaron who were great players for 10 years," Koufax once said. "I only had four or five good years." Let's use his stellar 1963 campaign as an example of a pitcher's dream season. Koufax carried the Dodgers to a World Series sweep of the Yankees that year and, in the process, completed a trifecta of sorts by winning the National League MVP, World Series MVP and Cy Young Award. He also took home the pitcher's triple crown that season, leading the league in wins (25), strikeouts (306) and ERA (1.88). In 1965, Koufax tossed a perfect game despite the lingering issues in his throwing arm: "On his fourth no-hitter he made it a perfect game," Dodgers broadcaster Vin Scully said that night. "And Sandy Koufax, whose name will always remind you of strikeouts, did it with a flurry. He struck out the last six consecutive batters. So when he wrote his name in capital letters in the record books, that 'K' stands out even more than the O-U-F-A-X." As Pirates slugger Willie Stargell once said, "Trying to hit [Koufax] was like trying to drink coffee with a fork."
2011 L.A. Hall of Fame classmates: Magic Johnson | John Wooden | Kareem Abdul-Jabbar | Wayne Gretzky