New York • Dallas • Chicago • Boston • L.A.
Vote now for the 2011
ESPN Los Angeles
Hall of Fame
The five inductees to the 2011 ESPN Los Angeles Hall of Fame (with percent of votes):
1. Magic Johnson (79.1)
2. John Wooden (64.9)
3. Kareem Abdul-Jabbar (62.8)
4. Wayne Gretzky (42.7)
5. Sandy Koufax (38.2).
How do you think you did?

Note: If they're still active, they're not eligible.
Visit the discussion page to talk about who you think should be considered for the inaugural Hall of Fame class.
• Welcome! Stay around for a while

• ESPNLA Hall of Fame: The 20 men and women

• Woj: An impossible mission »
• Markazi: Who's next? The odds are ... »
• Shelburne: Vin in a class by himself »
• Markazi and Shelburne: The great debate »
• Markazi: Hey, it's harder than it looks »
• Shelburne: Time out! Moments of clarity »
• Springer: You should know Bob Waterfield »
• Markazi: Kareem Abdul-Jabbar's complexity »
• Kareem Abdul-Jabbar on Kareem »
• Debate: Is Phil more L.A. or Chicago »
• Adande: The importance of legacy »

• ESPNLA Hall of Fame: The Panel


• J.A. Adande defends his picks: On the clock


• Steve Mason defends his picks: On the clock


• Arash Markazi defends his picks: On the clock


• Ramona Shelburne defends her picks: On the clock


• Steve Springer defends his picks: On the clock

• Some of the great Latinos in L.A. sports


• Who are some of the best and worst owners?


• Who is iconic is debatable. Moments are perfect


• The Bo Jackson Effect: Our streaking stars


• Football's rich history in Los Angeles


• Some overrated players in L.A. history


• Some active icons that are destined


• Some of the great women in L.A. sports

• Mason & Ireland: Hall of Fame one-hour special


• The nominees: A rundown of the Hall of Fame


• Should three Lakers make the first five?


• Who are the automatics once they retire?


• The greatest moments in L.A. sports history?

Vin's in when eligible! Buss? Kobe?
The best of the best, Scully will get in. But what about others?

By Ramona Shelburne
ESPNLosAngeles.com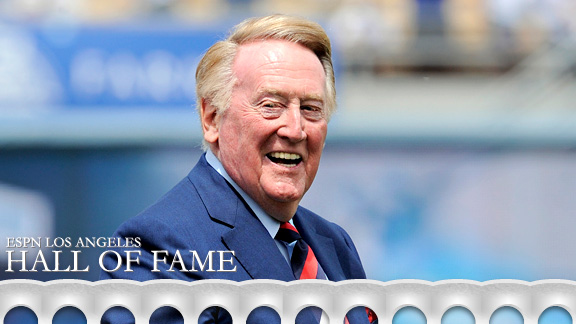 Vin Scully wasn't eligible for the inaugural class of the ESPNLA Hall of Fame:
Watch

The rules were pretty simple, but we could not repeat them enough. Only retired players, coaches, broadcasters and owners were eligible for induction into our first-annual ESPN Los Angeles Hall of Fame. And yet every email, tweet, Facebook post or comment on any story we posted elicited 12 versions of the same question:
WHAT ABOUT VIN?
Whenever I'd remind folks that legendary Dodgers broadcaster Vin Scully wasn't eligible this year because he's still broadcasting, I could almost feel the relief on the other end of the Twitter feed. One commenter this week put it best: "Well, then I hope Vin is never eligible." From your Twitter feed to Vin's ears. Alas, there will come a day -- hopefully a long, long time from now -- when Scully will be eligible for our humble Hall and be voted in on the first ballot. But what other current sports figures should we reserve a space for? Will Kobe Bryant be a first-ballot inductee? He seems like a shoe-in until you look at this year's results and realize that Phil Jackson, Chick Hearn and Jerry West didn't make it in this year. With five titles on his resume and an entire brilliant career in Los Angeles, Bryant would seem like an automatic first-ballot HOFer, but what if his time with the Lakers ends badly? What if he ends his career elsewhere? Will Shaquille O'Neal, who retired after our nomination deadline and wasn't on the ballot this year, get in next year ahead of Jackson, Chick or Jerry West? How about Lakers owner Jerry Buss? Or Tiger Woods? Buss' place in basketball history is unquestioned, and his standing as the gold standard of Los Angeles sports owners will never be challenged. But what if the Lakers aren't successful in the next five or 10 years. What if Buss' run as Lakers owner ends in a whimper? It's strange to even think about, until you see how far Woods continues to fall. Then there's the case of legendary Dodgers manager Tommy Lasorda, who was left off our ballot this year. In my opinion, Lasorda absolutely should've been among our top 20 after leading the Dodgers to World Series titles in 1981 and 1988 and serving as a beloved ambassador for the club ever since. Will Lasorda make it in next year after being snubbed this year? The more questions I ask, the more I think of and the harder next year's vote already seems. But I guess there is one thing to be thankful for: There's a good reason Scully's not eligible yet.
Ramona Shelburne is a columnists for ESPNLA.com