Send your questions to NBA Countdown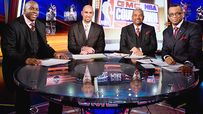 Our NBA Countdown crew will be covering the NBA Finals, and are willing to share their years of expertise with you, SportsNation!
After each game of the NBA Finals, Magic Johnson, Jon Barry, Michael Wilbon, and Stuart Scott will be answering one user-submitted question in a special video response. If you're lucky, your question will be one of those selected.
Submit your question now, and tune in to see NBA Countdown's response!