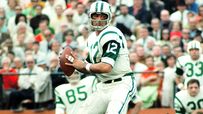 Namath was drafted No. 1 overall in the AFL draft in 1965.
Welcome to SportsNation! On Wednesday, to help celebrate the new ESPNNewYork.com, we have former New York Jet Joe Namath stopping by to chat.
Namath is probably best remembered for making good on his guarantee of victory over the heavily favored Baltimore Colts in Super Bowl III. Namath was named AFL player of the year following that 1968 season, which was just his fourth year in the league.
Namath threw for over 3,000 yards three times in his first four years in the AFL, including being the first to throw for more than 4,000 yards. For his career, he had 27,663 passing yards and 173 passing TDs.
Fans can follow him on both his Facebook page as well as his Twitter feed: @RealJoeNamath.
Send your questions now and join Namath Wednesday at noon ET!
More Special Guests: Namath on Facebook | @RealJoeNamath | Previous chats | SportsNation
Joe Namath
(11:54 AM)
I"m excited to be talking with the New York area sports fans. I love you guys for the most part. I'm looking forward to the upcoming football season as well as seeing what the Mets and Yankees can do this year.
Reverend Bill (Lot 5A East ruthrford, NJ)
Joe, How do you feel about the Jets chances of making a deep run into the playoffs now that Sanchez is in his 2nd season with the backfield of LT and Greene? Are we still missing an edge rusher at DE and could that hurt us?
Joe Namath
(11:58 AM)
I think we need to improve to be a serious contender. Last season was a wonderful growth for the team. I believe the best thing we got out of last season as fans was optimism going into this coming season. The fact of the matter is the Patriots will be a challenge as well as the Dolphins. We haven't proved by any stretch that we are the best team in the eastern division.
Joe Namath
(12:00 PM)
As far as Mark Sanchez goes, I must confess I was pleasantly surprised on how he was able to advance his game last season. From what I know he is a dedicated young man to the Jets organization and as long as Lady Luck resides (talking about staying healthy), Sanchez is going to be a dark night QB.
Benjamin (Westfield, NJ)
What is your opinion of the Jets current head coach Rex Ryan? Do you like his attitude and approach to the game of football?
Joe Namath
(12:03 PM)
I don't think any of us dislike his attitude or approach to football. I love what he has done for this team and the city of New York in the short time he's been here.
Adam (Detroit)
Hey Joe! Which football team do you believe owns NY at this point in time, the Jets or Giants?
Joe Namath
(12:05 PM)
There was a time that no doubt the Giants owned the city when it came to football. Now we're talking about who owns New York from the state of New Jersey and the state of Connecticut. I'll let the fans decide who owns what. Bottom line, winners own the town or state in this case. So naturally ownership can be seasonal these days.
Eric (Orlando)
Do you think Sanchez can lead the Jets to the Super Bowl within the next few years?
Joe Namath
(12:06 PM)
After watching Mark perform with the Jets, I know he can if the team is good enough to get there. It's not a one man show.
Scott Streeter (Beaverton, Michigan)
What do you think is the biggest difference between QB's now and QB's back in the day???
Joe Namath
(12:08 PM)
Other than the size factor, they've all played football in recent history by having a coach call the plays for them. Consequently, the overall analytical side of the QB's mind isn't developed as quickly.
Jeffrey (New Jersey)
Hey Joe! Huge Jets fan!We all remember your famous pantyhose commercial back in the day. Do you think Mark Sanchez could pull off the same commercial!?
Joe Namath
(12:08 PM)
I would LOVE to see that!
Averyel (New Jersey)
What postion do you think we should aim for in the upcoming draft?
Joe Namath
(12:10 PM)
Being a quarterback, I would always like to see offensive linemen come into the team provided we can use them. Personally, not being there on a daily basis I don't know what they really need.
Bob Johnston (Great Neck, NY)
Hi Joe, I'm a life-long Jets fan and it all started because of you, so I want to thank you. My question to you is:If you only had time for one play and you needed a touchdown to win, which receiver in NFL history would you most want to throw to?
Joe Namath
(12:11 PM)
(Laughing) The one that is open!
Bill (NYC)
Are you mad that the Jets left Hofstra?
Joe Namath
(12:12 PM)
I have a soft spot in my heart for Long Island and Manhattan. I'm not happy for the people out in Long Island that have supported us over the years. Change is always coming and I guess the Jets felt it was time for a change. I hope we get something else out there because the people of Long Island are great.
MyNJJets (Florham Park, NJ)
Any plans for any upcoming visits/appearances in NY/NJ?
Joe Namath
(12:13 PM)
Not in the near future but I am looking forward to when I do get there.
Joe Namath
(12:14 PM)
Let's stay in touch folks. I love to visit.