Chat with Cappie Pondexter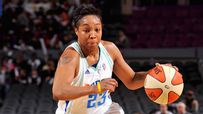 Pondexter has won two WNBA titles in four seasons.
Welcome to SportsNation! On Wednesday, New York Liberty guard Cappie Pondexter stops by to chat about the WNBA season as well as winning the Eastern Conference Player of the Week award.
The Liberty finished the week 2-1, while Pondexter led the league in scoring (25.3 ppg), averaging 4.3 assists per game (third in the East), shooting 62 percent from the field. This is the sixth time Pondexter's won the weekly award, last winning it during July 2009 when she won three straight.
Pondexter came to New York via a three-team trade in March. She had been the No. 2 overall pick of the Phoenix Mercury in the 2006 draft. Pondexter helped Phoenix win titles in 2007 and 2009, while earning WNBA Finals MVP in 2009. Fans can follow Pondexter on her website CappiePondexter.com or on Twitter: @cappa23.
Send your questions now and join Pondexter Wednesday at 2 p.m. ET!
More Special Guests: Previous chats | SportsNation
Buzzmaster
(1:57 PM)
Cappie's here!
Cappie Pondexter
(1:59 PM)
Thanks to all my fans for all the support. Hope you continue to follow the New York Liberty.
Jessica (Chicago)
Hey Cappie, Congrats on good start to the season! What drives your motivation to win and be the best?
Cappie Pondexter
(1:59 PM)
I want to be the best player that I possibly can be and that's what drives me.
BJ Washington (Phoenix, AZ)
Hi Cappie! Miss you! It's about winning the game and we had a winning team with you here in Phoenix. I was heart broken you left. What is the REAL reason you left Phoenix?
Cappie Pondexter
(2:00 PM)
Wow! I miss you as well. It was a tough decision to make. I Nothing against Phoenix but going to New York was a better career move for me.
Karlo Garcia (Australia,Melbourne)
Congrats on winning the eastern conf player of the week award. When did u start playing bball.
Cappie Pondexter
(2:01 PM)
Thank you! I started playing basketball when I was 10 years old.
Kalyn Brown (St.Louis, Missouri)
Hey Cappie, What do you miss most about playing for the Mercury?
Cappie Pondexter
(2:02 PM)
I love Phoenix and my time there was awesome. I now play for the New York Liberty and I'm enjoying my time here now.
Jonathan (Cortlandt Manor)
You are arguably one of the best players in the league. What do the Liberty need to do to go on a winning streak?
Cappie Pondexter
(2:03 PM)
I think we need to consistently get better each and everyday.
Janel (Atlanta, GA)
Hey Cappie, Congratulations on being named POW last week. What are any similarities and differences playing in the WNBA and playing overseas?
Cappie Pondexter
(2:04 PM)
Thank you! Honestly the difference is the physicality. In the WNBA you're playing with the best players in the world night in and night out. I think that is the biggest difference.
Hannah (Seattle)
Are you looking forward to Friday's game against Seattle, since they seem to be the team to beat right now?
Cappie Pondexter
(2:05 PM)
I'm defiantly looking forward to our next game. We are coming off a tough loss and I'm looking to revenge that loss.
Jessica (Michigan)
hey Cap! Talk about what Plenette Pierson means to the Liberty. Thanks!
Cappie Pondexter
(2:06 PM)
Plenette is out latest addition. She's a tough presence that can play physical inside. She also brings a lot of experience to the team.
kevin (macon ga)
Lakers or Celtics?
Cappie Pondexter
(2:07 PM)
(Laughing) That's a tough one. I'd have to say Boston but I'm definably a Phil Jackson-Kobe Bryant fan.
Chip (Queens,NY)
Do you feel more comfortable playing the point or the 2?
Cappie Pondexter
(2:07 PM)
I like playing both positions. I'll play either, it's about what coach wants me to do.
AR (Phoenix,AZ)
Hey Cappie! How are you? My question for you is your favorite sport besides basketball and What made you go to the Liberty, why not any other team?
Cappie Pondexter
(2:08 PM)
I'm good. I enjoy tennis and soccer.
Tatti (New Paltz, NY)
Since your in NY and we all know you love fashion are you planning to open your own clothing store?
Cappie Pondexter
(2:09 PM)
Maybe in the future but that is something that I would love to do. Right now I'm focused on winning with the Liberty.
Kelsy (New York)
How is having Anne Donovan as a coach? Is she a amazing coach that she lives up to be?
Cappie Pondexter
(2:10 PM)
Defiantly, Anne Donovan is a great coach. She's a teacher, a players coach and she's defiantly a winner.
kevin (macon ga)
Do you think you might go into coaching when your playing days are done?
Cappie Pondexter
(2:10 PM)
No, that's not a avenue that I want to take. I love being around the game of basketball but I don't think coaching is for me.
Cappie Pondexter
(2:11 PM)
Thanks for tuning in. I enjoyed chatting with you today. Please continue to support the New York Liberty!