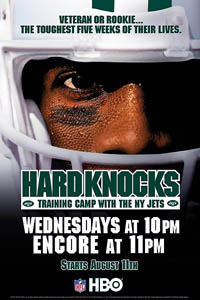 Welcome to SportsNation! On Friday, we'll have New York Jets center Nick Mangold stopping by to chat about the upcoming NFL season.
Mangold enters his fifth season with the Jets, earning a spot on the Pro Bowl team the last two seasons. The Jets selected him with the 29th overall pick in the 2006 NFL draft.
The 26-year-old Ohio State product will be featured, along with the rest of the Jets, on HBO's all-access reality series "Hard Knocks: Training Camp with the New York Jets." The five-episode series is in its sixth season and runs Wednesday night at 10 p.m. ET/PT on HBO.
Send in all your questions now and join Nick Mangold on Friday at 11:15 a.m. ET!
More Special Guests: Previous chats | SportsNation
Nick Mangold
(11:16 AM)
Thank you for joining me today. I hope I can get to everyone's questions.
Brad (Gadsden,Alabama)
Nick, Do you have a pre-game ritual?
Nick Mangold
(11:17 AM)
No, but I do have a certain way I get dressed.
Lori (Bronx, NY)
What did you think when you first heard that the Jets where going to be on this season's Hard Knocks?
Nick Mangold
(11:18 AM)
I thought it was a great opportunity for the fans to see what we go though.
stephanie (cincy)
Hey Nick, how do you like having your former teammate Santonio Holmes as a fellow Jet?O-H!!
Nick Mangold
(11:18 AM)
It's fantastic. We played together for four years so I know how good he is. I'm excited to see what he will do here in New York.
Malcolm (New Jersey)
How much have you seen Sanchez change from last year as a rookie and to now as a leader of this team?
Nick Mangold
(11:19 AM)
He's much more confident in the offense and he has a much better command on what everybody is doing.
Sam (New York)
What's the one word you would use to describe coach Mangini?
Nick Mangold
(11:20 AM)
Discipline.
Tom (Brooklyn)
Hey Nick with all these new wide recievers do you guys still see yourselves as a run first offense?
Nick Mangold
(11:21 AM)
Definitely, our run game is our bread and butter but now we can beat you on the ground and in the air.
Courtney jackson (Lindenwold, NJ)
Hi nick, how do the others players feel about the jets not giving revis the contract he wants?
Nick Mangold
(11:21 AM)
Revis and his contract situation is between him and the front office. It's something all players go though. We just try to stay out of it as much as possible.
Jeff (Chicago)
Being an offensive lineman what personal goals do you set for yourself?
Nick Mangold
(11:22 AM)
To keep my quarterback upright and to help my running back get a lot of notoriety and accolades.
Bao (Connecticut)
How do you feel about the offensive line's ability to match last year's results?
Nick Mangold
(11:23 AM)
We're exciting about this year. We had a good foundation the past two years and we want to continue to build on the success we've had the past two seasons.
Chuck (NYC)
What do you think of Rex Ryan running his mouth all the time? don't you guys get sick of his antics?
Nick Mangold
(11:24 AM)
No, we just find it funny. We enjoy waiting to see what he's going to say next.
Ken (VA)
Do you think coach Ryan is just ham'ing it up for the cameras or is this what he's always like?
Nick Mangold
(11:25 AM)
No, he's always like this. You're getting what you see.
Hayden (Logan, Utah)
What should we expect from hard knocks?
Nick Mangold
(11:26 AM)
Just seeing the work that we put in and the fun we have in working towards reaching the Super Bowl.
Marc (Charlotte)
Most important question of the chat: Gas or Charcoal?
Nick Mangold
(11:26 AM)
Aww ...Gas, charcoal is only for when you have people over for a BBQ.
Chuck (NYC)
how do you feel about the AFC east? seems like it's back to the old days when at least 3 out of the 4 teams are all playoff contenders. Just like the nfc east, we beat up on each other all year...kinda sucks...
Nick Mangold
(11:27 AM)
We're playing in a great division this year. It will be a heck of a battle to win a division championship this year.
Erick (Staten Island)
After having Alan Faneca at your left side for so many snaps, is there a trust issue between you and whoever wins the LT position?
Nick Mangold
(11:28 AM)
I don't think it's a trust issue, we just have to work on obtaining the communication and comfort that Alan an I had.
John (Columbus, OH)
Nick - you're the man! How good is Shonn Greene?
Nick Mangold
(11:29 AM)
Shonn is a heck of a running back. We're excited to see him run people over this year.
Nick Mangold
(11:30 AM)
I thank all of you for your questions. If you have anymore just hit me up on twitter @NickMangold.