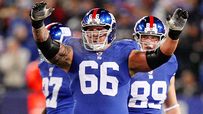 Diehl started every game for the first seven years of his career.
Welcome to SportsNation! On Monday, New York Giants offensive lineman David Diehl stops by to chat about the NFL lockout and this week's NFL draft.
Diehl entered the NFL as a fifth round pick by the Giants in the 2003 draft. He was the 160th overall pick out of Illinois. During the 2003 season, he became the first Giants rookie to start all 16 games since Mark Bavaro in 1985. He was a member of the Giants team that upset the New England Patriots in Super Bowl XLII.
Send your questions now and join Diehl Monday at 1 p.m. ET!
More Special Guests: Previous chats | SportsNation
Buzzmaster
(1:00 PM)
David's here!
Nathan (Kentucky)
Hey David, what was your favorite and least favorite part about the draft process when you were getting ready to come into the league?
David Diehl
(1:03 PM)
I think the favorite part was getting prepared for it. The training, the lifting, the workouts. I was doing something that I always dreamed of doing. I worked as hard as I could from high school and college to give myself the best possible chance. The worst possible is the not knowing. You don't know where you're going. That's the one time as a player where your destiny is not up to you. You pick where you go to high school and college and you hope to get to the best situation possible.
Jeremy (Chicago, IL)
What is the one thing that you have to do before every game?
David Diehl
(1:04 PM)
Before every game, I have our equipment manager write my fathers' initials on my gloves. The last song I listen to before I go out is the theme song from the Last of the Mohicans.
Tyler (Atlanta)
David Don't you think O Lineman should be the highest payed people on the field because that to me is the roughest position to play in sports?
David Diehl
(1:05 PM)
Physically, it's the roughest position to play in sports. Each and every play is basically a car crash. You have two 300-pounders throwing each other around. But don't get me wrong, you have to be smart and know what the other four guys are doing. But the QB is the toughest position. You're the leader, everyone is looking to you. That's an important role on the team. Some people forget how hard it is because when you win it's your fault and when you lose it's your fault.
Nathan (Kentucky)
Hey David, what has your offseason consisted of and are you optimistic about having a season this year?
David Diehl
(1:07 PM)
My offseason has actually been very good for me. I tore my hamstring during the season. I came back for the last four games, even though I wasn't 100%. I'm back from that injury. This lockout has given me more time with my daughter. This lockout, even though I didn't want it to happen because I'm a fan of the game, it's helped me extend my career.
Shakoor (Newark,NJ)
Hey David, Do you think the Giants should wait til the later rounds to grab an O-Lineman since you guys only gave up 16 sacks last season and it dosen't seem like it should be a priority?
David Diehl
(1:08 PM)
I think the Giants draft is based on the best player available. Last year, even though we only gave up 16 sacks, down the stretch we showed that our depth wasn't as good as it should be. If there's a guy there that can help us there, that would be the best thing for our team. Our group will come back strong and it will try to be the best line out there.
Brendon (New Jersey)
David, what was it like to win that epic Super Bowl against the Patriots after playing such hard fought battle? By the way you are easily one of the most under-rated offensive linemen in the league.
David Diehl
(1:10 PM)
That's what you dream of as a kid is catching that TD pass and holding that trophy. The reality of it didn't hit me until I saw Tyree's catch. I had no idea he caught it off his helmet. After Plaxico caught the TD catch and we were on the sidelines, I saw the replay and that's when I thought we just won the Super Bowl. That's why you play this game.
Cheesehead Sports Nut (Chicago, IL)
It looks like a new CBA will not be reached before the draft so teams will be unable to sign undrafted free agents. Do you think that will alter how teams approach the last few picks of the draft? Does that suddenly increase the value of the Mr. Irrelevant pick?
David Diehl
(1:11 PM)
I think it will change the dynamic of it and free agency. At this point you have the core free agents that you've signed. Now, we don't know who the free agents are going to be. The question, who's going to be the QB of the Redskins or the 49ers? We don't know that. Now teams have to prepare for when free agency does start it will be a mad dash. It's completely changed the dynamics of this draft.
Nathan (Missouri)
David, who do you consider your biggest rival and is that week any different than the others?
David Diehl
(1:13 PM)
The NFC East is a rival in itself. All four teams have been playing each other for...I don't even know how many years. Each win against a division opponent is that important. But to pick one, I would say the Eagles. They're right down the turnpike from us. That's always the one that the preparation for that game is always different. That game is a fistfight and whichever team has the ball in the end will win.
Ben (Morristown, NJ)
David, I know that you came in from a Big Ten program and that helped prepare you for the talent level in you saw in your first training camp. Do you think that late round draft picks from lesser conferences will have a tougher time making squads this year with a shortened or eliminated training camp?
David Diehl
(1:15 PM)
I think it all depends on what type of system they ran in college. When I was at Illinois, I run a pro offense. When I got to the Giants, I just had to change terminology. That helped me to start all 16 games in the season. That's more important. If you come to a college big or small, if you ran a pro offense, you know how it works. If you've come from a spread or a wildcat offense, it's totally different.
Kevin (CT)
How much time do you spend thinking about the lockout? How worried are you about playing this upcoming season?
David Diehl
(1:16 PM)
I hope that the owners as well as the players that we all put our personal intersts aside and do what's best for the game in the long run. I was a fan of this game long before I was a player. It would kill me if we don't have games on Sundays. Just think about all of the great memories you have of sports in general. I have great memories of eating pizza at Super Bowl parties. Taking away that from the fans would be a tragedy.
Matthew (Los Angeles,CA)
Which NFL player did you idolize growing up?
David Diehl
(1:17 PM)
Walter Payton. Still to this day, growing up on the south side of Chicago. Still the best RB that every played. And off the field as well. I'll never forget when I met him for the first time, I was in awe and he treated everybody the same. You never know how many people's lives along the way you can make a difference in.
David Diehl
(1:18 PM)
Thanks for all the support while I've been recovering since my injury.