Chat with Braylon Edwards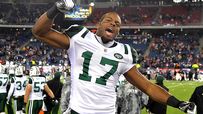 The Browns drafted Edwards third overall in 2005.
Welcome to SportsNation! On Friday, New York Jets wide receiver Braylon Edwards stops by to chat about the EA Sports NCAA Football Traditions vote, which pits Michigan v. Florida State in the final matchup.
The Traditions vote started with a bracket of 16 of the best college football traditions and SportsNation's vote determined which one advanced. The winning school will receive hundreds of copies of EA's "NCAA Football '12" on the day of the game's release (July 12), courtesy of SportsNation and EA Sports!
Edwards played at Michigan from 2001-04, experiencing the Wolverines' tradition of the "Go Blue" banner during his career. He left Michigan as the first Big Ten player to have 1,000 or more receiving yards three straight years.
Send your questions now and join Edwards Friday at 2 p.m. ET!
More NCAA Football Traditions: Warrick Dunn chat, 3 ET | Vote!
Buzzmaster
(1:57 PM)
New York Jets WR and former Michigan star Braylon Edwards will be here in a few mintues to take your questions!
Buzzmaster
(2:02 PM)
Braylon's here!
Brad (Gadsden,Alabama)
Braylon, Do you have any pre-game rituals?
Braylon Edwards
(2:03 PM)
I always eat gummy bears before every game. That's about the only thing. Probably when I'm in the lockerroom when I first get to the stadium.
Nick (MN)
What do you think makes the Michigan football tradition more special: The "Go Blue" banner or the 100,000+ fans who come to the game every Saturday?
Braylon Edwards
(2:04 PM)
I would say the winged helmet, even though that wasn't part of the question. But out of those two, I would say the 100,000-plus fan. That makes it pretty special. But the helmet is the most recognizable in sports.
Chris (New Jersey)
What is your all time best memory playing football at michigan?
Braylon Edwards
(2:05 PM)
Probably just coming down that tunnel, week in, week out. That tunnel gave you chills. The funny thing is that it never stops. Freshman, sophomore, never stopped. Even now as a spectator. That was my best memory, walking up that tunnel.
Jeremy (Chicago, IL)
How often do you play video games and what specific games do you play?
Braylon Edwards
(2:06 PM)
I play video games. That's actually what I was doing before this chat. I don't play a lot, but not sports games. Call of Duty. I tend to be not very good at sports games.
Nathan (Missouri)
How optimistic are you that a labor deal will get done soon?
Braylon Edwards
(2:07 PM)
Very optimistic. I have a lot of faith in what the PA and NFL owners are trying to accomplish. They're getting to a point where this is lasting too long. I think we'll have a deal done in the next two weeks.
Amaan (New Jersey)
Do you think Florida State has the next best tradition to Michigan, assuming you think Michigan is the best? And will Michigan be the only team you play with in NCAA 12?
Braylon Edwards
(2:08 PM)
Florida State has a very good tradition. They've established themselves over the years. Are they the next best after us? I think there are some others that have the longevity. I think there are some others ahead of FSU.
Nathan (Kentucky)
With the Hard Knocks marathon going on on NFL Network, what was your favorite part about the experience?
Braylon Edwards
(2:08 PM)
To be honest, I really just think the exposure and how the country reacts to us the rest of the season. Because of the show, you have people cheering for the Jets and pulling for the Jets and the opposite. But regardless, more people are watching the Jets.
Nathan (Kentucky)
In your mind, what is the percentage of the Michigan/Florida State NCAA Football Traditions matchup?
Braylon Edwards
(2:09 PM)
I would probably say 67-33 Michigan.
Rachel (Hattiesburg)
Hi Braylon, been a big fan since Michigan. What's it like to play for a team like the Jets and Rex Ryan? Would you like to stay in NY? Thanks!
Braylon Edwards
(2:10 PM)
It's very cool. You have a player's coach. That's what players want. And at the same time, I don't want to say lax, because that would make it seem like we're disciplined, but we're relaxed. We have a fun atmosphere and to be in and play in.
Jeremy (Chicago, IL)
Are there two or three NFL teams that you get more fired up to play?
Braylon Edwards
(2:12 PM)
Playing the Lions is one, because I'm from Detroit. Any chance I get to play here, it's fun. It might not rank high on others' lists, but I like to come back. Going to historical stadiums, going to Green Bay. You feel that air. You feel Vince Lombardi, Brett Favre. That's still there. Playing there gets me fired up. Playing the Cowboys is always fun.
Bryan (Lancaster)
You seem to be one of the best blocking WRs, do you take a lot of pride in your downfield blocking? Has that always been a big part of your game?
Braylon Edwards
(2:13 PM)
It has been. One reason is at Michigan my coach Eric Campbell preached it, blocking, blocking, blocking. Help your teammate out. It's about teamwork. I guess I just got good at it. And it's fun. It keeps you in the game. Especially with our team, we have so many guys that can make plays, you have to find ways to help the team. And it's fun.
Drew (NY)
what are your favorite vacation spots?
Braylon Edwards
(2:14 PM)
Actually, I was in St. Thomas for the better part of two months. I love it out there. I love the weather. The water is crystal clear. There are a couple of nice hotels. The islands are close. If you go to St. Thomas, you can sail off to the other islands, they're all within boating range.
Braylon Edwards
(2:15 PM)
I appreciate the support over the years. Know that we're working hard to get the deal done. Once it's done, know that I'll do my best to give another good year on the field.