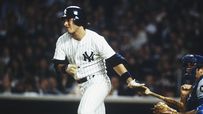 Dent was a three-time All-Star.
Welcome to SportsNation! On Monday, we'll be chatting with former Yankee Bucky Dent, as the 2011 MLB season gets set for its final two months.
Dent spent 12 seasons in MLB, including parts of six with the New York Yankees. He is probably best remembered for his home run that led the Yankees to win the 1978 AL East tiebreaker over the Boston Red Sox. Dent won World Series titles with the Yankees in 1977-78, winning the 1978 World Series MVP.
This summer, Dent has been helping the SUBWAY Baseball DeSIGNS tour which collects baseballs designed by Little Leaguers and autographed by celebrities to be auctioned off to benefit the Little League Urban Initiative. Celebrities that have autographed baseballs this year include the cast of "Glee," Katy Perry, Zac Efron, Ashley Greene, Blake Griffin, Michael Phelps, Ryan Howard, and Drew Brees, among others.
Send your questions now and join Dent Monday at 3 p.m. ET!
More Special Guests: Previous chats | SportsNation
Buzzmaster
(2:55 PM)
Former Yankee Bucky Dent will be here in a few minutes to take your questions!
Buzzmaster
(2:59 PM)
Bucky is here!
Nick (MN)
Have you ever wondered how things would have played out if you hadn't hit the home run... maybe the curse would have been reversed a few decades sooner?
Bucky Dent
(3:00 PM)
Yeah, I've thought about that, the possibility of looking back and what if we would have lost. That would have been devastating. Those teams that I played on, I don't think that would have happened.
Josh (NYC)
Bucky, you played for other teams than the Yankees, but you're most remembered as a Yankee. ARe you OK with that?
Bucky Dent
(3:01 PM)
I think being remembered as a Yankee, this is where I won two world championships. It was a team that I always wanted to play for. I liked playing for those other teams, but the Yankees were special.
Jeff (RI)
How did you get involved with Little LEague?
Bucky Dent
(3:02 PM)
This is my third year. It's been a great program to be a part of. I've been involved with Little League my whole life. I think it's a great program. Great company. Baseball Designs I thought was an interesting way to raise money for them. I'm glad to be a part of it all these years.
Charlie (Miami)
Bucky, are you amazed that after all of these years that Boston fans still know your middle name?
Bucky Dent
(3:02 PM)
I love it! That's part of that game. That magnitude of that game it doesn't happen that often. A one game playoff. Everyone was watching. They're special moments. I'm glad to be a part of that history.
Carl (Chicago)
How did that season go for you? did you think you could end the playoff series like that?
Bucky Dent
(3:03 PM)
We came from behind. We just lost on the last day. It was a one-game playoff for all of the marbles. We were the world champions the year before and we wanted to do it again.
Cheesehead Sports Nut (Chicago, IL)
The Milwaukee Brewers built a new stadium and although I like Miller Park, I miss County Stadium. Do you feel the same way about Yankee Stadium?
Bucky Dent
(3:04 PM)
Oh yeah. The old stadium is where all of my memories were. I like the old stadium, but I miss the old one. That's where I played, that's where all of the tradition and history was. It will always be a special place for me.
Aaron Cordial (Watertown NY)
Being a Yankee fan. Should the panic button be hit for the Yankee's who seem to not be able to slam the door on the red socks. Has the red socks finally make the right moves to be on top of the Yankees or is this another Yankee championship sleeper?
Bucky Dent
(3:05 PM)
Oh, I don't think there's any time to panic. The Red Sox were picked to win the division with all that they have. The Yankees have shown some grit. You have to give them credit for that. They can be a sleeper this year.
BigDog (EL)
Will you ever go to fenway park again and could you explain the biggest hit? PS this is a sox fan
Bucky Dent
(3:06 PM)
During the hit, I was just trying to hit the ball hard some place. We had a couple of guys on base and I was trying to drive a run in. I was back for the 25th anniversary of my hit. I saw a game from the wall. It was a pretty neat place to watch a game.
Greg (CA)
Have you and Aaron Boone ever gotten together?
Bucky Dent
(3:07 PM)
Yeah, actually, we threw out the first pitch at one of the playoff games last year. We've talked about his home run.
Kevin (Gainesville, FL)
Did you have in Omaha watching your son at the College World Series?
Bucky Dent
(3:07 PM)
Yes. I was very nervous. He played for Florida. He got beat in the championship against South Carolina. As a dad watching your kid, there is a lot of pride there.
Josh (ME)
What do you think of the Yankees this year?
Bucky Dent
(3:08 PM)
I think when they started out, their bullpen was going to be strong, but they had some injuries. Now they're starting to get them back. They were fine until they had injuries taking over. For them to be where they're at, they've done a tremendous job.
Tim (MD)
Other than the HR, best MLB memory?
Bucky Dent
(3:10 PM)
It would probably be just walking into the Yankee Stadium and putting the pinstripes on for the first time. Being a Yankee and then playing in my first game in Milwaukee. It was my first game I ever saw in a stadium. That was special also.
Bucky Dent
(3:11 PM)
Thanks for all of the questions. Check out the Subway Baseball DeSIGNS tour. It's been fun the last three years seeing the things the kids made and helping the program. It's been a lot of fun.