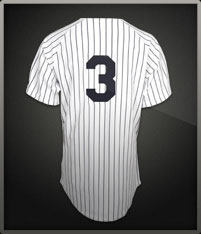 Babe Ruth
Yankees (1920-34)
George Herman "Babe" Ruth was larger than life, a transcendent figure, a baseball icon.
Ruth dominated the game like no one else has -- and no one ever will.
He was a Cy Young-caliber pitcher before there were Cy Young Awards, then a power hitter before there was such a thing.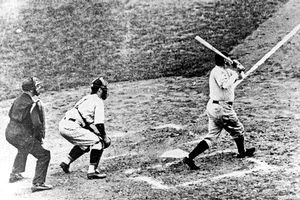 ESPN
Whether or not he called his legendary home run, there is no disputing Babe Ruth crushed the next pitch in Game 3 of the 1932 World Series.
There was the dead-ball era. And then there was the Ruth era.
Ruth (94-46, 2.28 ERA) could have gone down as one of the greatest pitchers in baseball history. But the Boston Red Sox determined he was too prolific a hitter to waste away on the bench between starts.
So they turned him into an everyday player -- and the rest, as they say, is history.
Boston sold Ruth's contract to the New York Yankees for $125,000 on Dec. 26, 1919. Just like that, "The Curse" was born; the Red Sox, who won three World Series titles while Ruth was there, wouldn't win another until 2004. The Yankees won 26 of their 27 during that span, the first four during Ruth's career.
Ruth clubbed 54 homers in 1920, his first season in pinstripes. By comparison, the Phillies had 64 -- and they hit more homers that season than anyone but the Yankees.
The "Great Bambino," as Ruth was dubbed, continued to swat colossal blasts at an astronomical rate. From 1920 to '33, he clubbed 637 homers, an average of 45.5 per season. Ten times during that span, he led the American League in homers, and 11 times, he hit more than 40. Four times, he amassed more than 50.
He hit a career-high 60 homers in 1927, a single-season record that stood for 34 years. By the time his career ended in 1935, he'd hit 714 round-trippers, a record that stood for nearly 40 years.
Ruth hit another 15 homers in the postseason -- including his "Called Shot" in Game 3 of 1932 World Series. The home run was real; whether Ruth actually called it, perhaps we'll never know.
Ruth wound up playing 15 years with the Yankees (1920-34), compiling four World Series titles and an AL MVP award. His .690 career slugging percentage and 1.164 career on-base-plus-slugging percentage are records that still stand to this day. Only Hank Aaron drove in more runs that Ruth's 2,213.
Ruth, a .342 career hitter, was a member of the Baseball Hall of Fame's inaugural class.
Babe Ruth, who died in 1948 at age 53, was one of America's first true celebrities. He was a legend in the first half of the 20th century.
He remains a legend -- possibly an even greater one -- now.
-- Mike Mazzeo
2011 New York Hall of Fame classmates: Lou Gehrig | Joe DiMaggio | Mickey Mantle | Jackie Robinson