Now the fun really begins.
The ESPN New York Hall of Fame's inaugural class has been inducted. There's no more room for debate, no more time for you to vote. Babe Ruth, Joe DiMaggio, Lou Gehrig, Mickey Mantle and Jackie Robinson are in.
And it's hard to argue with those five. After all, we're talking about New York baseball's Mount Rushmore here.
Back in 2012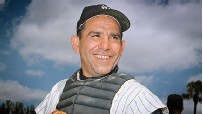 These names will appear on the ballot:
• Yogi Berra
• Mike Bossy
• Walt Frazier
• Christy Mathewson
• Willie Mays
• Joe McCarthy
• Mark Messier
• Joe Namath
• Mel Ott
• Willis Reed
• Tom Seaver
• George Steinbrenner
• Casey Stengel
• Lawrence Taylor
• Mike Tyson
New Finalists?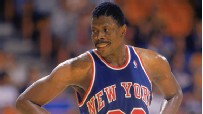 Among those vying for one of the five available spots on the ballot will be:
• Patrick Ewing
• Whitey Ford
• Althea Gibson
• Frank Gifford
• Don Maynard
• John McEnroe
• Sugar Ray Robinson
• Billy Smith
• Duke Snider
• Michael Strahan
But next year, things should get even more interesting.
There are still sure things out there -- Willie Mays comes to mind -- but the debate should heat up a bit in 2012 when you have to make choices between all-time greats from sports other than baseball.
It's one thing to compare a center fielder to a first baseman. But how do you accurately weigh the accomplishments of Patrick Ewing against those of Mike Tyson?
Some will say that because Ewing never won a title, he doesn't deserve to get inducted in Year 2 of our Hall. Others will counter with the fact that Ewing -- who wasn't even a finalist this year -- was one of the greatest centers of his time, not to mention the Knicks' career leader in points, rebounds, blocks and steals.
Some might say that Tyson -- who was 10th in this year's balloting -- ultimately squandered his talent. Others will say the Brooklyn native's star burned too brightly during his prime to be ignored.
Both arguments will be sound. But if it comes down to a choice between Ewing or Tyson, who you got?
It's gray areas such as these that make this exercise so much fun.
After all, we love debating sports like we love arguing over where in town to find the best slice of pizza. Patsy's or Grimaldi's? Mark Sanchez or Eli Manning?
Both are conversations that can last for days.
The same can be said of the debate over our 2012 Hall of Fame class. The 15 finalists who weren't elected this year will be on the ballot again, joined by five newcomers. Let's take a look at a few (not all) of the candidates:
• Rangers icon Mark Messier led the Blueshirts to the 1994 Stanley Cup, ending an infamous 54-year run of futility.
• Jets legend Joe Namath guaranteed a victory in Super Bowl III and delivered, giving credibility to the AFL and cementing his own celebrity.
• Lawrence Taylor revolutionized the linebacker position with a maniacal pursuit of the quarterback. Taylor also helped the Giants to two Super Bowl victories. But how will his off-field troubles affect his candidacy? That's for you to decide.
Of course, our Hall of Fame isn't going to be an Augusta-like all-boys club. Althea Gibson, the Harlem-raised tennis pro who was the first African-American woman to win a Grand Slam event, will certainly be in the conversation for the 2012 ballot.
And what a conversation it will be. Five spots, so many candidates.
The first year was the easy part. Now the fun begins.