Rank 'Em: Worst NY Owners
Created: February 1, 2011, 2:20 PM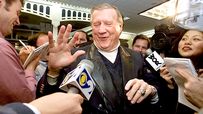 Things weren't always to successful for The Boss in the Bronx.
In light of Fred Wilpon's financial problems, which may lead him to sell a minority stake in the New York Mets, we got to thinking about the state of ownership of New York sports teams.
New York has seen its share of team successes, which corresponded with strong, stable leadership from the owners. However, the city's teams, and owners, have also seen some not-so-good days, and even victorious guys at the top (George Steinbrenner, pre-Derek Jeter; The Mara Family feud) have experienced some lean years.
So, we're asking you, SportsNation, to rank New York's worst owners, whether it's one who lasted just a few months (John Spano) or one who earned championships after some meager years (Steinbrenner).
Simply click on the names below to start your rankings (your worst owner goes to the No. 1 spot).