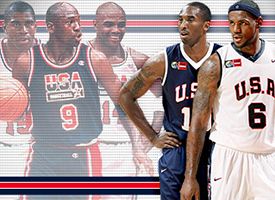 How does the 2007 Team USA match up against the Dream Team?
The lackluster results for Team USA on the international basketball scene the last five years (failing to medal at the 2002 World Championship and a bronze medal in the 2004 Summer Olympics) has left hoops fans everywhere clamoring for the days of 40-digit blowouts and a cakewalk to the gold medal that the 1992 Dream Team of Michael Jordan and company provided with ease.
The 2007 version of Team USA, consisting of starters LeBron James, Carmelo Anthony, Dwight Howard, Jason Kidd and Kobe Bryant, has fans wondering if this could be the collection of talent we've been waiting for. An average margin of victory of 39 points on their way to a championship at the FIBA America tournament on Sunday has raised the expectations to nothing less than gold at the 2008 Summer Olympics in Beijing. But will the team deliver?
Let's start by comparing this squad with the Dream Team and see where we stand. Is a 23-year-old Carmelo Anthony a better weapon than a 29-year-old Karl Malone? What about a 22-year-old LeBron James up against an aging Larry Bird? And is Mike Krzyzewski, never having coached in the NBA, an upgrade or downgrade over Chuck Daly?
Cast your votes below and compare your answers to that of SportsNation!