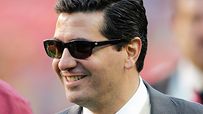 Does Daniel Snyder know what he's doing with his franchise?
It didn't drag on quite as long as the search to fill the looming vacancy in the White House promises to, but the search to fill the "other" big job in Washington D.C. certainly took some time. As confirmed by ESPN.com's John Clayton,
Jim Zorn will be named as the next coach
of the Washington Redskins. Zorn was only recently hired as the team's new offensive coordinator, but he earned a quick promotion after a search that included names like Jim Fassel and Giants defensive coordinator Steve Spagnuolo came up empty. So what's your take on the franchise, SportsNation? Is Daniel Snyder running the Redskins into the ground, or has the owner with big pockets finally found the man to get his team to the big game?