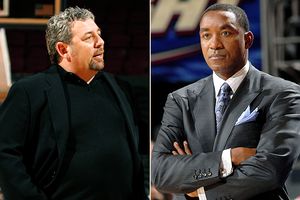 Will James Dolan and Isiah Thomas last?
Love is in the air, SportsNation, and that can mean only one thing: Valentine's Day is here! To celebrate this occasion we have come up with a list of the hottest pairings in sports, and we're asking you to predict which of these relationships will last and which ones will crumble.
Now, any healthy relationship takes work, no matter how much love (or lack thereof) is involved. Over the past year, the sports world has displayed this through the rocky relationships of Isiah Thomas and the city of New York as well as Chad Johnson and the Cincinnati Bengals. Sometimes these relationships are fruitful despite the bitterness, but more often than not they come to an unproductive end (just ask Bobby Petrino).
So cast your vote below! It doesn't matter if you think Valentine's Day is merely a commercial scam, a candy and flower industry conspiracy, or if you believe that it is a day where true love can flourish, because in the end we can all agree that predicting the longevity of other people's relationships is always a lot of fun - especially in the drama-filled world of sports.
Also, make sure you take a look at last year's Valentine's Day results! Shame on you for thinking Terrell Owens and Wade Phillips wouldn't make it!